My name is Lisa Sochet and I am Senior Account Executive of Brand Innovation and Strategic Partnerships for Royal Caribbean International.  I know it's a long title, but it primarily pertains to working with our various Hotel Operations teams to introduce innovative guest facing product features and services.
Since many of our guests don't realize that we have such a wide variety of dining choices onboard I was asked to increase guest awareness of our specialty dining and new Main Dining Room enhancements.
We were getting ready to host a Crown & Anchor Society member cruise and I thought this would be an ideal opportunity to conduct an onboard culinary-themed activity for our members.   A Member Cruise is a cruise where members of the Crown & Anchor Society are invited to join us for a sailing that offers members-only events and activities, including opportunities to socialize with other Crown & Anchor Society members.  Our recent Member Cruise took place on Explorer of the Seas sailing on an 11 Night Southern Caribbean cruise out of the Cape Liberty Cruise Port in Bayonne, New Jersey.
I worked with Ken Taylor, Associate Vice President of Food & Beverage to brainstorm about different activities.  Originally we were going to produce a one man show with Chef Travis Kamyama, our Executive Chef & Consultant for Izumi.  But then we decided that it would be more fun, engaging and interactive to have two chefs compete just like you see on TV.
Chef Lorenzo Dearie is the Executive Chef onboard Explorer of the Seas.  Chef Dearie has worked in 5-star hotel kitchens in Scotland and London as well as Michelin-starred restaurants.  Chef Dearie has competed in several culinary competitions during his career so we knew this could be an interesting challenge if we selected the right competitor.  Chef Travis opened his own restaurant at age 29 and he has also contracted with the Los Angeles Dodgers and Ritz-Carlton Hotels.  The chefs each have very different backgrounds.  Also, Sushi cooking is very different than the type of cooking Chef Dearie oversees in all the complimentary and specialty dining venues that serve our guests on Explorer of the Seas.  We all agreed both chefs were perfect for this event.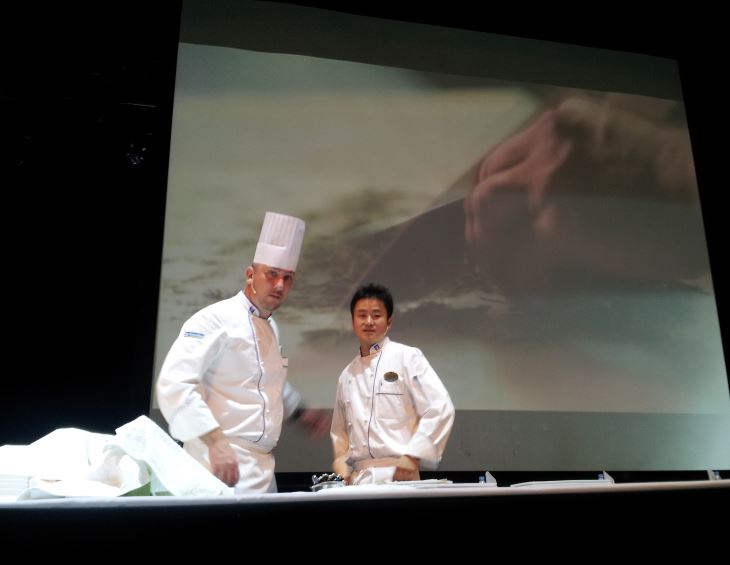 Once we agreed on the concept and received confirmation from the chefs I needed to develop a plan to stage the event onboard.  We wanted to stage the event in Studio B, our indoor ice rink; however it was already reserved for another activity.  Our only option was to figure out a way to stage this exclusive Crown & Anchor Society event in the Palace Theater on Deck 3.  This was challenging since the theater is designed for entertainment but not for cooking.  Chef Dearie's team helped us through the entire set up.  The most important task was to make sure all of the tables were securely fastened to the floor as the chefs would be using cooking equipment, including knives, and we needed to provide a stable work space.  There was a large screen behind the chefs on stage, which allowed the Crown & Anchor Society Members to view each dish close-in and see the full detail from the comfort of their theater seats.
Before the event began we selected the event judges.  We needed to make sure the judges did not have allergies to fish or nuts as the dishes may contain these ingredients.  They also could not have an objection to eating raw fish.  Gary Davis, the Hotel Director and Mario Salcedo a top cruiser were both confirmed.  We had a raffle to randomly select the third judge.  Diane Granitz a Crown & Anchor Society member from Allentown, Pennsylvania was selected and immediately accepted.
Richard Spacey, the Cruise Director, was the Master of Ceremonies and the fourth judge on the panel.  Richard was responsible for keeping the audience interested and engaged during the 45 minute competition.  Richard immediately split the audience in half to make sure each chef had a cheering section during the entire challenge, and named them "Travis' Tempura" and "Lorenzo's Oil".  Richard also used the time to share details of our recent Main Dining Room enhancements including revamped menus with more choices, new recipes and timeless classics.
Finally we were ready to begin!  Earlier in the day I had been very excited when Chef Dearie recommended that we unveil the secret ingredient in a dramatic fashion using smoke from dry ice and the audience loved it.
The featured ingredient was tuna loin, an ingredient both chefs use onboard. The chefs were asked to prepare one appetizer and one main entrée in a total of 45 minutes.  The Activities Manager, Frankie Portera had a stop watch and kept time.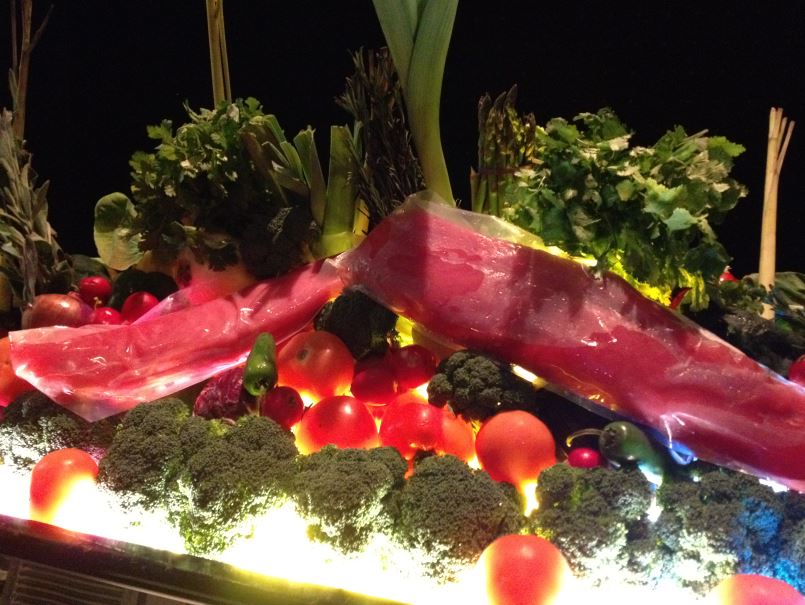 Chef Travis made Tuna Carpaccio with Wasabi Aioli as an appetizer in a record setting eight minutes.  Granted, it is a cold sushi item and Chef Travis began his sushi making education at the age of 14, but that was incredibly fast.   The judges immediately began sampling and scoring the dish.  Chef Travis followed that up with Maki, Nigri and a Boxed Tuna Trio (Tuna tataki roll, Tuna Nigiri, and Boxed Tuna).
Chef Lorenzo prepared Sesame Seared Tuna with Tuna Tartare in Poached Tomatoes and Pea Puree, Rouille and Wasabi Meringues as appetizers.  Chef Lorenzo followed that up with Rare Seared Tuna with Scallop Ceviche, and Enoki on Lobster Noodles in Warm Tomato and Lemongrass Jelly as a main course.
Each judge could award up to 20 points per dish; consisting of 10 points for taste, 5 for plating (the appearance or presentation of the dishes) and 5 for originality.
Our Crown & Anchor Society members gave great feedback about the event.  They thought it seemed very much like a TV culinary competition, but they consistently said they were disappointed that they were not invited to taste the food.  This is something we considered when we were planning the competition, but from an operational standpoint we just couldn't facilitate such a large tasting.
After the judges tasted all of the dishes the results were tallied and Richard announced that Chef Dearie was the winner!  Both chefs received an apron with the Crown & Anchor Society logo and a certificate of appreciation.  In addition Chef Dearie received a bottle of champagne along with a trophy for winning the Culinary Challenge.
Following the show, cookbooks were available for sale and we had a book signing event with both chefs.  The chefs also took lots of photos with our Crown & Anchor Society members.
I've worked on several Member Cruises during my career at Royal Caribbean but of all the events I've produced onboard the Culinary Challenge was definitely one of my favorites.   I felt very proud when I found out that after the event we experienced an increase in traffic in our Main Dining Room onboard Explorer of the Seas and the guests seemed to have a greater appreciation after learning about the new menu offerings.