A few more quick notes:
Note 1: Done. Done. Done. Florida Governor Rick Scott signed our concussion legislation into law on April 26th. Yes!! We are very happy that beginning July 1st the youth athletes of Florida will be more protected against the dangers of head trauma from sports-related concussions.
Note 2: Ran 19:20 at the Corporate Run, my best time so far in this race but only good enough for 2nd place in the CEO Division for the 3rd year in a row (in 2009 I won with a time of 19:35). Our co-ed team (two male, two female) that I am part of is once again city champions. Congratulations to my teammates Kevin, Bo and Rachel. Overall I finished 55th out of 23,000. I'm proud of the Royal Caribbean "Cruisers" for a very fine showing.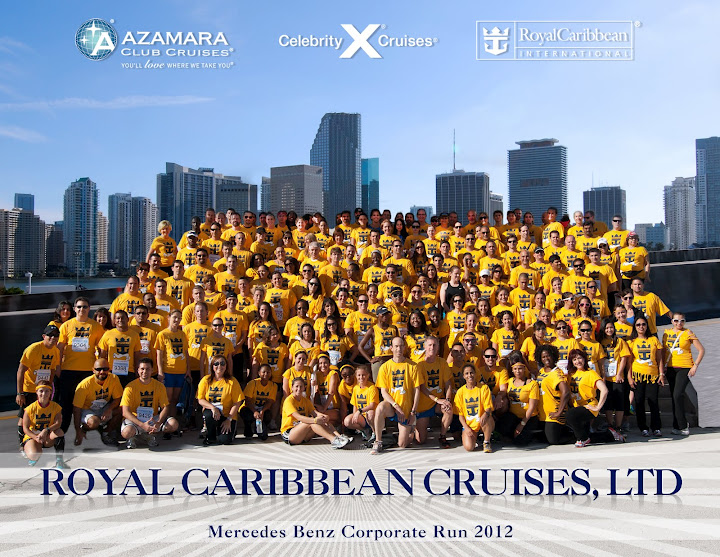 Note 3: We recently had our nearly annual Conference of International Representatives in Miami. These are the people/companies who represent Royal Caribbean, Celebrity and Azamara Club for sales and marketing purposes in about 45 countries where we do not have company offices. I have known many of these wonderful people from across the globe for over 20 years. Their evident pride and joy in representing our brands is a beautiful thing. In some cases they have grown our number of customers from a few dozen per year to thousands per year. In many of these family owned businesses there has been a passing of a generational baton over the years. I would like to thank them here for all of their efforts over the years on our behalf.
Note 4: My little sister Laura (way younger than I am!) got married on April 28th to a great guy named Tom Hayes who serves as a doctor in the United States Navy. It was perfect except for my father not being there to see his little girl all grown up. I walked her down the aisle along with my two brothers. I wish Laura and Tom all the best.