Oasis of the Seas for three nights may not be as much fun as Oasis of the Seas for seven nights, but I'm only allowed so much enjoyment at one time especially when I am working.  So I took my three nights and am happy to report I'm pleased with what I experienced at sea and on land.
The primary purpose of the trip was to see Falmouth, Jamaica.  The secondary purposes were to get reacquainted with Oasis of the Seas and to see the latest at Labadee.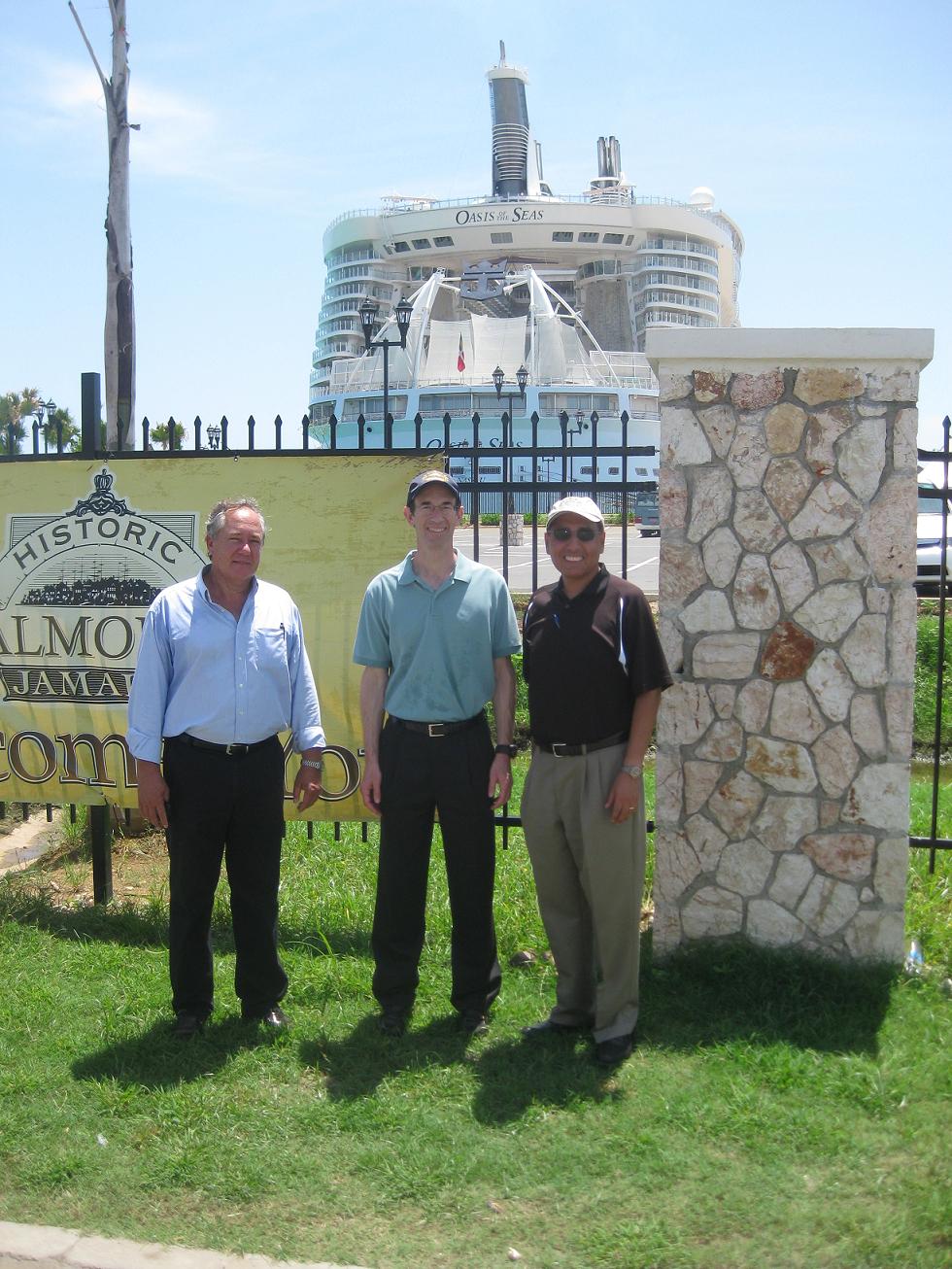 Starting with the ship, as always, I have to give credit to the men and women who deliver our product.  The Wow for our guests may be a photo with Shrek or watching an AquaTheater show or surfing the FlowRider or enjoying Chef Daniel Fein's menu at 150 Central Park.  The Wow for me is seeing how our operation on Oasis-class ships has matured in 18 months to become a natural part of what we do.  Our shipboard leaders are relaxed and confident about their responsibilities and our front line people are smiling and doing their thing.  This is true notwithstanding that there are always one or two major change projects taking place behind the scenes.
Are there things for me to comment on?  Of course.  It would be shocking if I had nothing to say after observing our product for 23 years.  I make notes as I go along and write them up for the Hotel Director and Lisa Bauer.  In this case, there were relatively few comments, but I did state in no uncertain terms that I was less than pleased with certain aspects of our art program.  But with that set of glitches noted, the product on Oasis is spectacular.
Labadee shined in sunny, hot weather.  Even with Oasis' 6,250 guests checking out our private paradise, there was more than enough room.  The Dragon's Breath Flight Line zip wire was going all day.  People were coming down the mountain on the coaster ride.  Jet skis were silently (from where I was!) buzzing about.  The cabanas at Barefoot Beach were fully occupied. From many vantage points the top of the ship rose out of the trees in a surreal way.  I got a tour of the back of the house from Site Manager David Southby, visited our lovely elementary school which just went out of session last week and spent some time with the island management team.  My takeaway is we need to do an even better job of marketing what Labadee is.  I spoke to someone who had visited a number of the cruise industry's private destinations prior to coming to Labadee.  He said he and his people were just not prepared for how much there is at Labadee.
Falmouth was what I hoped it would be.  A dramatic development that is unique in the Caribbean.  The scope of the undertaking is really impressive.  Today it is about 90% done.  The most important building that needs to be completed is the arrival/departure terminal building.  This has taken longer than it should have and I am told it will be finished in September. 
The next most important element that requires completion is the occupancy of the retail space by all of the tenants.  The day I was there, Diamonds International was open and busy and so was House of Diamonds.  We are expecting about 70% of the available retail space to be occupied and open for business in the upcoming weeks.  Following this we will put a couple of restaurants in place. 
The town itself is interesting.  By all accounts Falmouth has made amazing progress in cleaning, painting and signage since the citizens came to believe our project was really happening.  On the other hand, Falmouth is a real town with real people living in it and it will need to continue rehabilitating its historical architecture and sprucing up other aspects as time goes on.  It is worth noting that this new port gives ready access to shore excursions from Ocho Rios to Montego Bay.  This has not been possible in the past.
The combination of Oasis itself, Labadee, Falmouth and Cozumel makes for a fantastic Western Caribbean 7 night vacation.  Please try it soon!
Post script – yes there was some Presidential table tennis action onboard.  I'm definitely improving and thinking about what I could do if I weren't so focused on my running.