My travels recently took me to Sydney, Hong Kong, Tianjin and Shanghai.  It was a productive trip that reconfirmed how compelling the cruise market development is in that part of the world.  It was also a reminder of the region's vast distances.  In total I spent just under 60 hours in the air and probably set a new personal record of six consecutive nights of dinners on airplanes.  In fact, I was on a plane 10 days in a row and never stayed in the same place for two consecutive nights!
The cruise market in Australia has been growing by leaps and bounds in recent years.  The country has a strong maritime tradition and an innate ability to justify taking long breaks from work in order to go on holidays in the vicinity of Australia as well as throughout the world.  There are great places to see and the people are extremely friendly and upbeat.  The challenge in Australia, as I have mentioned in previous entries in this space, is the need for Sydney in particular to augment its infrastructure so that the industry's newer, larger ships can homeport there.  As always when I am in Sydney, I meet with government officials in New South Wales to advocate for infrastructure investment.  Another thing I get to do when I am there is a long run in and around the Opera House and the Botanic Gardens.  That is really special.
The purpose of my fly-by of Hong Kong was to see the new, almost finished Kai Tak cruise terminal.  Wow, this is really going to be an impressive facility when it is completed this fall.  In mid-June we tested it out as a port of call when Mariner of the Seas was making her way to China.  This fall the new terminal will serve as a homeport for a few sailings in between the northern summer season in China and the southern summer season in Singapore and Australia.  If you are a cruiser you want to have the experience of sailing in or out of Hong Kong Harbor.  The new terminal at Kai Tak will massively enhance this experience.  Note to long time Royal Caribbean loyalists – the former Sun Viking was at anchor in Hong Kong harbor.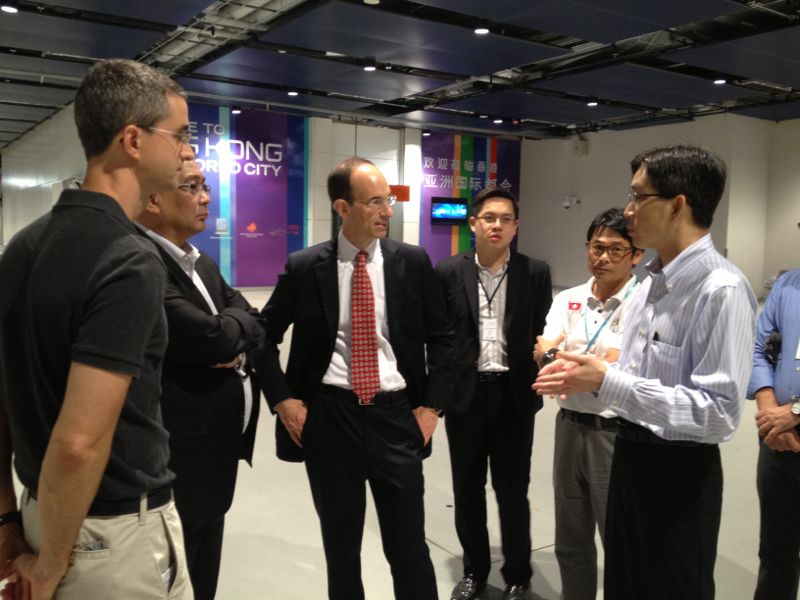 In Tianjin we officially inaugurated our new training facility in conjunction with Tianjin Maritime College.  Both my hosts from Tianjin and my colleagues from Human resources were beaming with pride as we planted two "friendship trees" outside the new campus and spoke to the current student body which is there to train for all sectors of shipping.  The "Royal Operations Training Center" will provide thousands of well-prepared future crew to Royal Caribbean ships in the Asia/Pacific region and around the fleet.  For those of you who have not heard of Tianjin before or only know it as the port city for the Beijing region, it is a city of 13 million people!
In Shanghai the focus was the first call of Mariner of the Seas to Wusongkou terminal in the Baoshan District of Shanghai, i.e., the large new terminal that juts into the Yangtze River.  It was a festive occasion onboard hosted by Captain Nielsen, Hotel Director Shenk and Mariner's outstanding officers and crew. The DreamWorks characters added to the proceedings on a hot, sunny day in Shanghai.  At the airport at night I ran into one of our guests who had cruised on Mariner from Galveston to Shanghai.  He showed me a group photo of the 20 or so hardy souls who made that 17,725 nautical mile journey.  Tough life!
If you're in North America and you're thinking you would like to visit Asia but it's so far away, I have some advice for you.  Go.  Especially to one of our ships in the region.