Hi everybody!  I'm Paula Nicol, Adventure Ocean Manager on the Serenade of the Seas and my hometown is Sackville, NB, Canada.  I'm proud to tell you that I have been working at sea and with Royal Caribbean International for 12 years now.   What is an Adventure Ocean Manager you may ask? Well I oversee the Adventure Ocean program and it's my job to keep all our junior cruisers, 17 years old and under entertained and to ensure they have a great vacation onboard!  How do I do that? I'm lucky to say I work closely with highly qualified Youth Staff, and together we provide an exciting activities-based Adventure Ocean youth program to the kids and teens onboard all our Royal Caribbean International ships.  As our company has grown and our ships have evolved, so has (I'm happy to say!) the Adventure Ocean program.  This means my job is never boring and always changing.  Onboard I oversee 7 different age group programs, starting with kids as young as 6 months, through the oldest, who are our 17 year olds. As an Adventure Ocean Manager it's important we offer fun, creative, and engaging activities that are age appropriate for each group, thus we always have to keep our finger on the pulse of what the kids and teens love to do!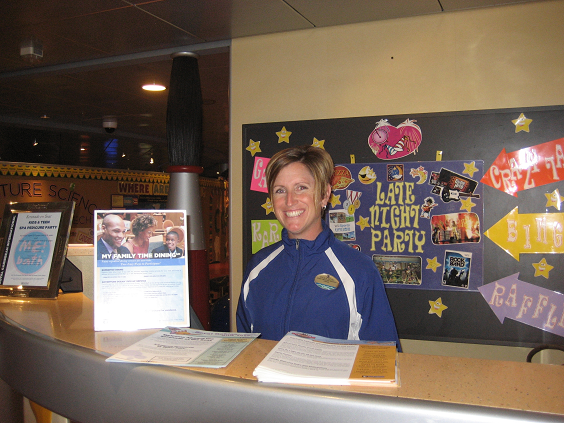 Guests often say to me "You have the best job, you get to play with kids all day".  My answer "You're right…I do have the best job in the world".  Having said this, although I do get to play and host activities for the kids and teens, there is also a lot that goes on behind the scenes for an Adventure Ocean Manager, which often takes place before and after the doors to Adventure Ocean open (very early in the morning) and close (very late at night)!  I'm responsible for planning the daily activities and organizing the kids & teens cruise compasses, creating and implementing innovative activities, facility inspections for safety and security, training and development of the Youth Staff, equipment inventory, customer service, budgets and supply management just to name a few.
Another question I get asked a lot is "how did you end up doing this job?" After I earned my Bachelor of Science degree with a major in Physical Education and a minor in French, I entered the world of teaching.  After teaching for awhile I had the travel bug and while on a sailing trip with friends to the British Virgin Islands we saw a cruise ship (Nordic Empress) docked in Tortola.  Three months later I was working as a Youth Staff onboard that same ship, the Nordic Empress.  Fortunately I have been able to combine my passion for working with kids and traveling into a very rewarding career at sea!
What does a typical day look like for me? Well everyday is different, depending on whether we're at sea or in port, high or low kid counts, however a typical, first seaday of the cruise would be something like this:
7:15 am -  Rise n' Shine
7:45 am -  Breakfast
8:15 am -  AO/Fuel walk through and office time to make sure everything is set for the day.
9:00 am – Noon -   Registration in Adventure Ocean.
Noon -  Check on Fuel and the Adventure Beach Waterslide area.
12:15 pm -  Lunch
1:00 pm -  Office time.
2:00 pm -  Float through Adventure Ocean to support the teams running the afternoon sessions and check in on our afternoon Fisher-Price® programs.
5:00 pm -  Off to the gym for me!
7:30 pm -  Back to AO to either support the teams where necessary.
10:30 pm -  Wrap up in the office to ensure things are set for the following day.
11:30 pm -  Check in on the Late Night sessions and on the Fuel teen programs.
Midnight -  Done for the night.
Although our days can be long and we do typically work 4 months straight without a day off, there is so much to smile about at the end of the day that you want to get up and do it all over again tomorrow.  There is nothing better than seeing the big smiles on the kid's faces during activities and hearing the laughter & shrieks of excitement as I pass through the Adventure Ocean facilities.  The best compliment we get is when we hear the kids tell their parents "We don't want to leave!"