What do you call a blog entry when it is one more than your colleagues are expecting from you? A special edition, I suppose.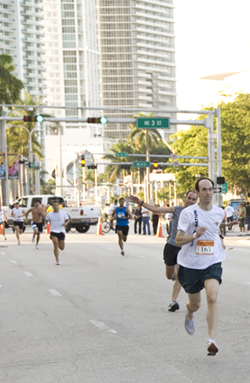 In my first entry I mentioned I was preparing for Miami's Corporate Run. That's not a big deal since 17,240 people participated in the Corporate Run this year. However, Royal Caribbean's quest for excellence encompasses the dedication of our runners, and our competition with Carnival plays out on the 5k race course, not just on the water. Although I'm old enough to be a parent of the best runners in the city, I trained HARD for this race for two years. I missed last year because we were introducing Independence of the Seas in the U.K. More significantly, thanks to a bad back, I did virtually nothing at all athletically from the early 1980's until 2006.
Things changed three years ago when we introduced Freedom of the Seas and I lived onboard for 31 nights. During that month I learned what an elliptical (cross-trainer) machine was. Better yet, I learned I could work out on it for 10 minutes on level one without pain. Now I own one and between elliptical workouts and running twice a week I'm back to racing 5k's almost as fast as I did in high school. No wonder the fitness center is my favorite feature on Freedom-class ships and I recommend it to you on your next Freedom-class cruise. The fitness center on those ships is marvelous indeed.
So what happened? We did great. I won the CEO division by quite a bit with a time of 19.35 on a slightly shortened course. The Miami Herald did a nice story on the race, which you can find here.
More importantly, since I like team events, I was one of four who together won the Co-ed city championship. Our amazing women also won the city championship. And our men came in second in the city by only 36 seconds behind you know who. No mercy next year. Since this is a special edition, I'll add that I'm finding blogging to be good fun. As long as you're interested and engaged in this blog I am happy to continue. Thanks!