Hi — My name is Jeannie Newton and I'm a Staff Accountant in the Royal Caribbean Cruises Ltd. Accounts Payable department. After 42 amazing years with Royal Caribbean, I am planning to retire this summer. While I'm very excited about my retirement plans, it is truly a bittersweet experience for me as I have grown up with this wonderful company.
I came to Miami in 1970 from Delaware and began working for Royal Caribbean about a year later.  My first job was in the Accounts Receivable department and I was quickly promoted to the Assistant Controller position in Accounts Payable.  In 1971, Royal Caribbean's Accounting department consisted of five employees and was located in a trailer on Biscayne Boulevard.  There were probably a total of only 40 shoreside employees at that time.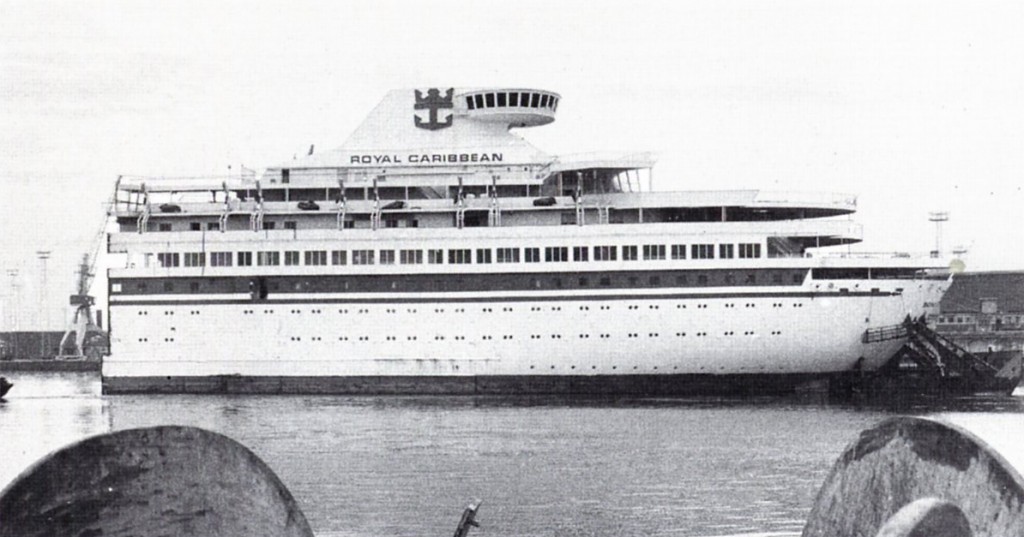 At the beginning, as you can imagine, everything was done manually. I typed checks on a manual typewriter and then had to leave our building and walk down the pier to another building just to have the checks signed.  We had a huge NCR Accounting Machine that we used to post all receivables onto large ledger cards. Each time a ship returned from a voyage, the ledger had to be reconciled down to the penny. If it didn't reconcile, we had to go back and do it again as many times as it took to manually reconcile the report. Of course, we had to have that done before the ship arrived back into port because we had to ensure that all cruise fares had been accounted for. The one thing I remember about that machine was how big and loud it was. Sometimes, we'd open the windows to the trailer to get some fresh air which created more of a problem as the manual stacks of papers sorted by vendor name blew around everywhere. We laughed a lot in that trailer. Who would have ever thought that by 2013 we would be almost "paperless"?
In January of 1972, our office moved to our first new small building at the Port of Miami. We didn't have assigned seating and were told to find a spot on the floor and they eventually put our desks there.  For the first time, all shoreside employees were together under the same roof.  The company was still relatively small and it truly felt like we were a family. Back then, there was only one ship, The Song of Norway, and we worked Tuesday to Saturday each week since we were responsible for going onboard to recount the money by hand. We also counted all the coins in the slot machines, bagged it up and prepared it for a secure pick up, which was fun. Can you imagine thousands of dimes in a bag and then the bag breaks loose from the coil counter and ends up on the tile floor? Yes, many times we ended up recounting. As more ships were added to the fleet, the job became much more hectic. After we got off the ship we were never too tired to watch the ship set sail — we always waved to the guests and the crew before heading back to the marina for a cold drink.
While I have always challenged myself professionally when it comes to speed and accuracy, in the early days at Royal Caribbean, I was continually challenged with many different things. Everyone did much more than their "job description" required by doing anything that was needed. We all put in a lot of late nights to make sure all of the work was done. The individual job responsibilities were broader back then which is why we all seemed to have our hands in everything. This made each day go by much faster than if we'd done the same job day after day. Thanks to caring and having my hands in everything, I am today considered the "go-to person" by my colleagues, because if I don't have the answer I will, at least, be able to direct you to the person you need to speak with. I take pride in being able to assist others in the office, shipboard and outside of the company.
In 1986, I was told that I needed to work in Norway for one week as we were moving all of the accounts payable functions for foreign currency to Miami. I was in charge of this "move" and was told to sit with our Norwegian colleagues to make sure I understood all of it. I have a fear of flying, and incidentally I'm not too fond of water, so I was terrified. Once on the plane from New York to Norway, I was in tears. I had to remind myself that I was the first female employee sent to our parent company in Norway and I was the person in charge, so I could not fail my company! I'm happy to share that I went on the trip, learned a lot and had a great time. Thanks to my Norwegian friends, I even learned a few words; for example "god dag" meaning good day. Wow! I really thought I now could speak the language — until I began getting letters in Norwegian. After having "letters" of fun, my friends finally sent me books to help translate.  Now they really put me to work when they sent all correspondence in Norwegian.
I had completed only one year of college when I came to work for Royal Caribbean.  Once I was promoted to a Manager, I was required to go back to school and earn my Bachelor's degree. So at the age of 39 I went back to school, which was yet another challenge. I went to school every night during the week except Friday. One semester, I was going every other Saturday, as well, and after a few years I earned my degree. The day I walked across the stage and received my diploma was the proudest moment for me.  It proves that when you work hard for something, you learn to appreciate it.
Today, my main responsibility is the issuance of checks, including accounts payable and refunds, and I audit the address book setups, which control the funds distribution. I also took on another responsibility which pertains to locating crew members that are on vacation or have left the fleet and have payments due to them. Many crew members provide a mailing address when they apply for positions and when they are hired but by the time they end their contract with us their permanent mailing address has changed.  Verifying addresses in foreign countries is difficult and I'm currently working on a plan to streamline this process before my retirement. Thank goodness for e-mail, as it makes it much easier to locate many of our crew members when they are off the ships. I feel a huge sense of accomplishment when I'm able to take care of the crew.
All in all, I am so happy to be part of this great company and serving our ships over the last 42 years.   I'm happy to say that I've also grown a lot, appreciate all of the fine contributions I have made through my tenure with RCL and most of all the friends both shoreside and shipboard that I'm still friends with today, which is one of the things I am most grateful for and will truly miss.