Some updates from Royal Caribbean's world:
The tragic events in Japan have posed a number of challenges to us as it relates to
Legend of the Seas'
Asia program
.  Before I get into those, I will re-emphasize that our thoughts and prayers remain with the people who have suffered from the effects of one or more of the earthquake, tsunami and nuclear power plant breakdown. 
Because we were enthusiastic to get going with our North Asia program in 2011, we had picked an early start date – March 14th – to begin our cruises from Shanghai to Japan and Korea.  The series of disastrous events unfolded right as the program was beginning.  Eventually, we had no choice but to relocate
Legend
to Hong Kong and Singapore for the spring and early summer period.  That means we had to start from scratch to offer cruises that no one had anticipated selling or buying.  While this year will not be what we thought it could be for
Legend
, I am incredibly proud of the efforts of our colleagues in China and Singapore for the way they have taken up the multiple challenges of dealing with this situation.  Fortunately, China's government has rescinded the travel ban to Japan and we look forward to resuming our scheduled program from Tianjin in July.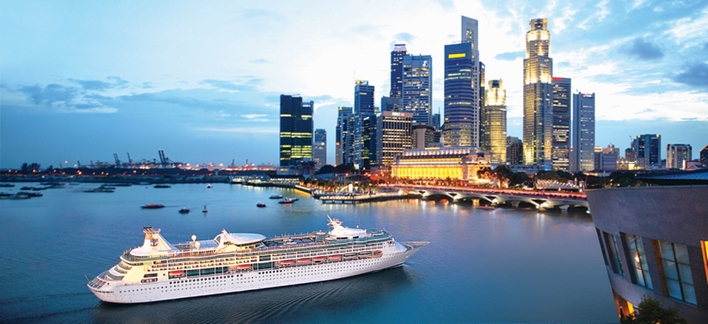 "It might be 20 years too late for my wife and me, but Royal Caribbean now has a honeymoon registry website at
RoyalCaribbeanHoneymoon.com
. I won't even try to compete with the copy writers for this new offering: "(it) will be a site that allows brides and grooms to register to have guests make contributions to their honeymoon onboard one of our ships as their wedding gift. The couple will be able to register for items such as spa treatments, specialty dining, shores excursions, Gifts and Gear, onboard credits or cash contributions towards the cruise fare." Having missed our chance by two decades, we'll have to find out if it's possible to register for a vow renewal.
I'm happy to say that thanks to the release of iPhone app
v1.1
we have expanded our global reach to Brazil and Spain and this blog is now available in the mobile world.  Please do not read my blog while you are driving! Also, if you are inclined to book your next cruise on
our website
, you can get inspired by our new
destination pages
and you can now hold up to four staterooms simultaneously whereas until now you needed to book one room at a time. You can even split the payment among different credit cards!
Finally, you can watch our two mini-movies,
"Royal Reunion"
directed by and starring James Brolin, and
"The Allure of Love"
directed by and starring Jenny McCarthy, at any time by going to our web site or just by searching "Ocean Views films". They are about 11 minutes each, or less time than it will take to make and eat the popcorn."