Greetings from Splendour of the Seas!
This week I had the opportunity to visit Splendour of the Seas while she was in dry dock in Cadiz, Spain.  It actually felt more like being at a yard for a new build than at a refurbishment.  In almost all public areas, the ship was stripped down to the steel.  This picture of the pool deck showing the tremendous amounts of debris is a good gauge of the amount of "deconstruction" that had to take place before the new venues and revitalizations could take place.  The team had 450 containers of garbage!  We underestimated the amount of materials that would be taken off the ship, and the containers were smaller than we usually use, so this put us a little behind schedule at the beginning.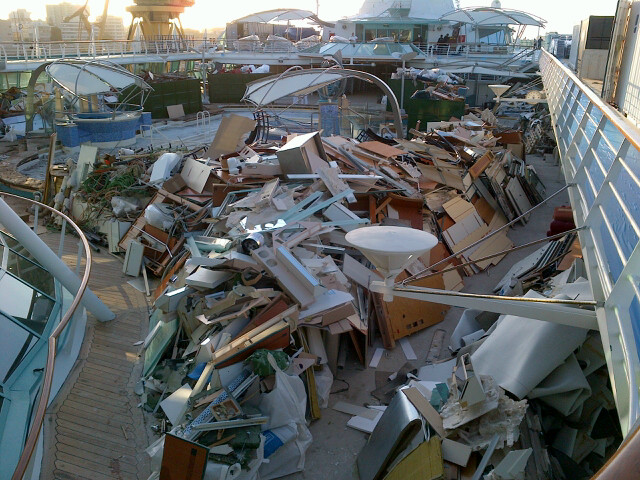 The biggest projects are the transformation of the Viking Crown Lounge into Chops Grille, Izumi; a new night club; dramatic changes to the Centrum; and every stateroom getting completely refurbished, including all new bathrooms.  Watching the ship install the 124 new balcony staterooms was very interesting.  It is a true testament to the industrialization process, because historically we would have to add each component separately, and now the balconies are pre constructed and the entire balcony is raised to the ship.  It was fascinating to watch and the balconies look like they were always part of the ship!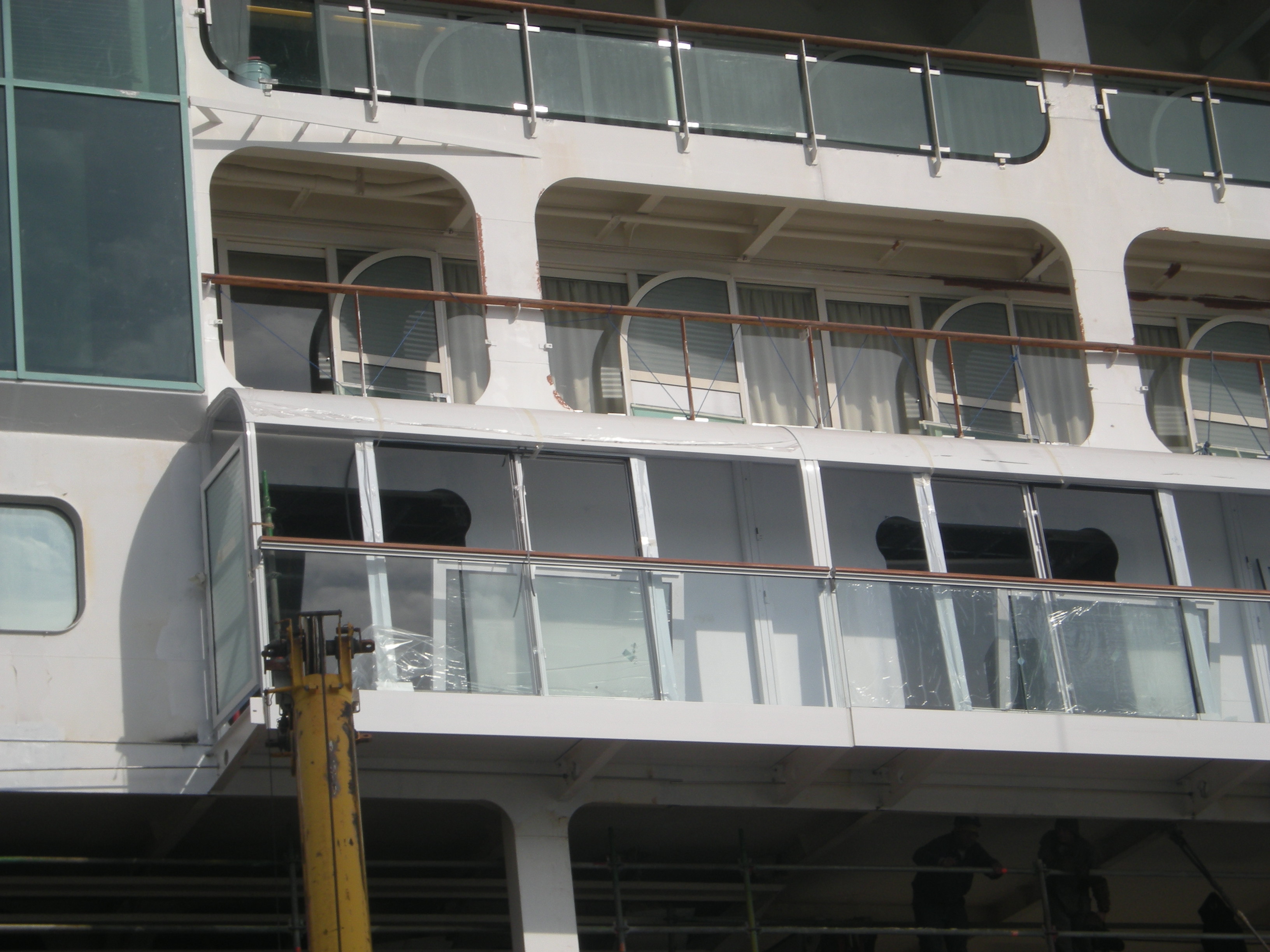 Here are a few photos I took of the new nightclub/bar in the Viking Crown Lounge and all the scaffolding in the Centrum.  (Photography is not a key skill of mine).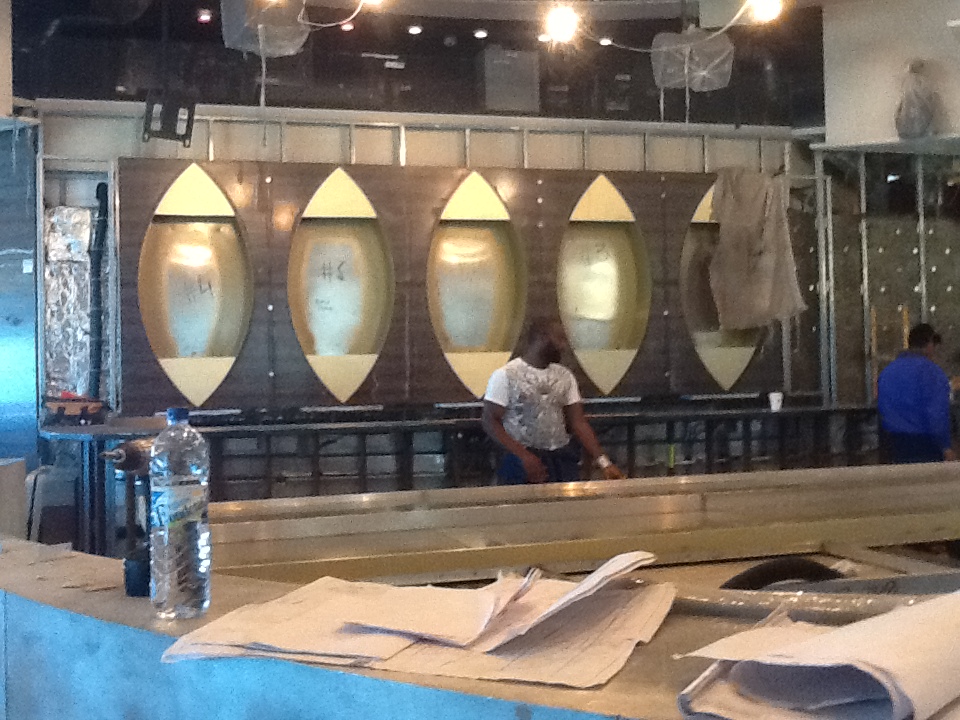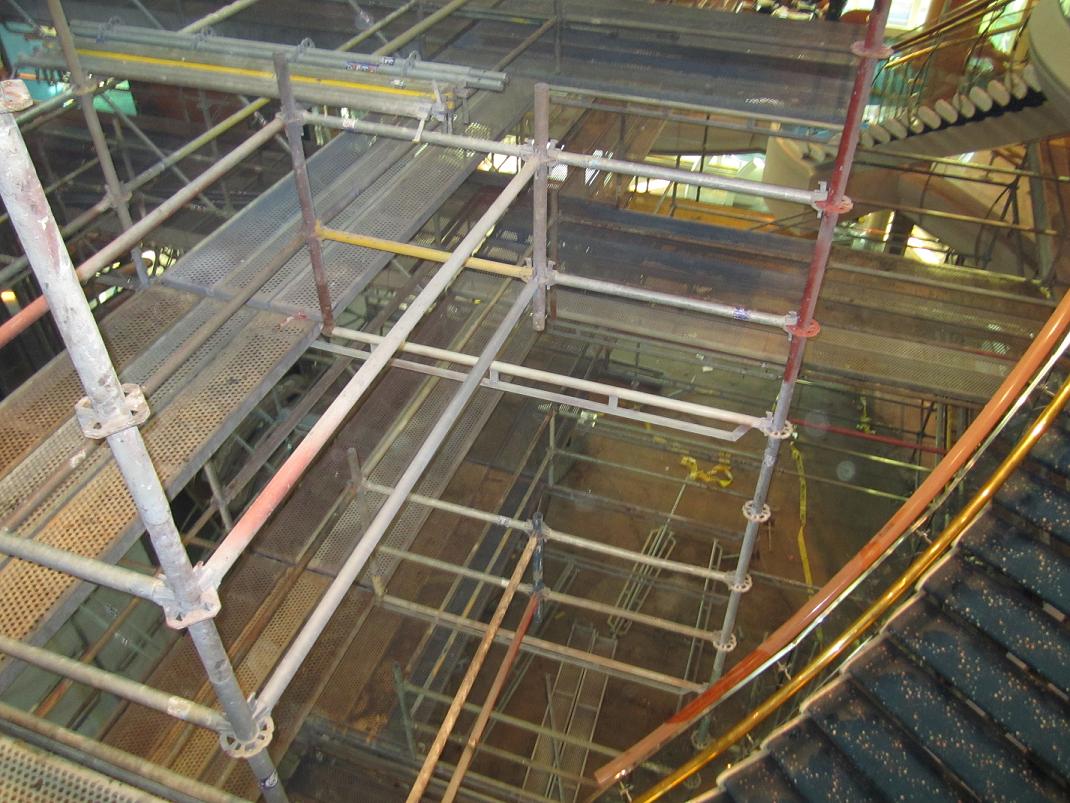 The crew morale and attitude was great.  They are enjoying Cadiz and taking the train to Seville when they have a day off.  The city of Cadiz has been very welcoming and offering many crew specials and reduced pricing which they greatly appreciate.  
Due to the magnitude of the work, we not only have our crew of 800 plus 200 of our "riding" crew from other ships in the fleet, we also have 800 contractors onboard and 200 workers from the yard.  To say this requires a well orchestrated plan is an understatement.  We are currently serving the meals in the Windjammer Cafe and it is a full operation.
The team is feeling very good about the progress so far, and I am looking forward to rejoining the ship when she arrives in Brazil to see the finished product.  More pictures to come!