Autism friendly. Two seemingly simple words, but they are having a huge impact for our guests and the autism community.
My name is Ron Pettit and I'm ADA and Access Compliance Consultant at Royal Caribbean International. Don't let the Consultant title confuse you, I'm actually a full time employee and have been for over eight years. Since April is Autism Awareness Month, I was asked to write about our Autism Friendly initiative, and about the fact we were named the first ever Autism Friendly cruise line last February.
We started on our Autism friendly initiative over a year ago. It's been a very interesting journey. When the idea first came up, it was a very simple concept. We saw several land based hotels and theaters that made their products and services "autism friendly" and we wanted to replicate that same kind of success and awareness to the Royal Caribbean International brand.
When people think of accessibility, they tend to think about mobility, hearing and visual disabilities. Developmental and cognitive disabilities are hidden, and less easily understood. Part of my job is to help find new opportunities beyond just compliance, and in this situation, beyond the envelope of traditional accessibility. Accessibility is about accommodating all disabilities, not just the top three.
Because of our work with Autism on the Seas since 2007, we as a brand have learned what it takes to accommodate families with autism and other developmental disabilities. Many of the autism friendly features we have been doing for years such as priority check-in, boarding, and departure; special dietary offerings including gluten-free; and Adventure Ocean flexible age grouping (by ability rather than age) among others.
So when the Autism Friendly idea came around, we looked at what we could do better. We knew as a brand that we could successfully deliver these types of accommodations – which is why we committed to a certification program that would provide recognition and awareness to the things we were already doing. Then, we took it one step further and added additional autism friendly features such as autism friendly movies and a cruising social story in order to achieve certification.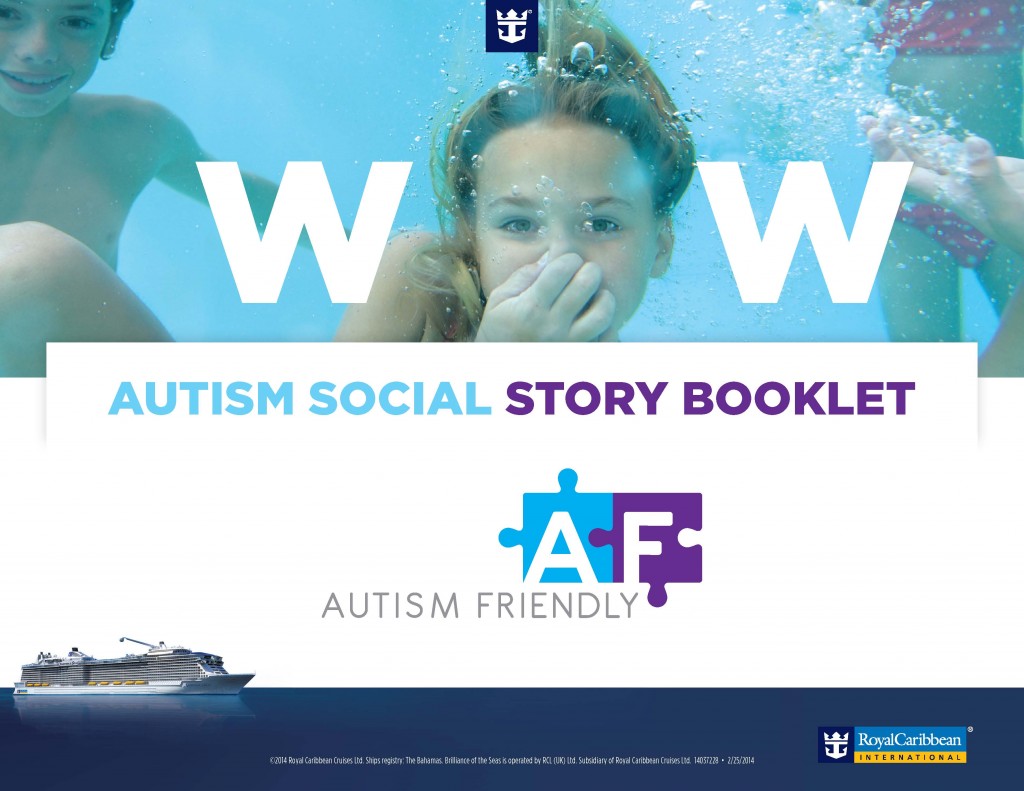 Autism friendly movies are great. We make a few simple modifications: light is low-lit, not totally dark; sound is not quite so loud; and people are encouraged to freely talk and walk around during the movie. Everything you are supposed to do at a movie – we don't do! We beta tested these movies on Oasis of the Seas last year and got great results.
Some of you may already know that a social story is a written or visual guide describing various social interactions, situations, behaviors, etc. We now offer a social story about cruising to help families with autism prepare for their cruise vacation. This alone is such a great hit. Autism families just love the fact we have introduced this. To download our Cruising Social Story, please go here.
As we developed the autism friendly concept, we discovered we wanted expand the concept beyond just simply accommodating "individuals" with autism, because guests with autism travel with their families and we are really providing an autism friendly experience for the entire family.
Autism Friendly features in Adventure Ocean do two things: it gives the parents the confidence to leave their child in our program, and provides the parents an opportunity to have a short respite to relax by the pool, take in a spa appointment or have a relaxing dinner by themselves – something they may not be able to do on land.
The Rock Climbing Walls, ice skating rinks, Flow Rider surf simulators, H20 Zone water parks and other activities we have onboard also give families with autism opportunity to do things together – in a welcoming and autism friendly environment.
Are we done? No. We have the next tier of certification to accomplish – autism awareness training of all our youth staff onboard. We expect to complete this by end of 2014. As we launched our initiative, we saw all the wonderful and positive feedback from our guests and the autism community. One in particular stood out to me because it was sent on the day of our Autism Friendly announcement:
"I just want to thank you for your efforts to become an expert in dealing with autistic children. My wife and I have adopted several children with special needs, most on the Autism spectrum and this is truly an amazing thing. Thank you so much for this as a dad." – James D.
This is why I love what I do…at the first-ever Autism Friendly cruise line.