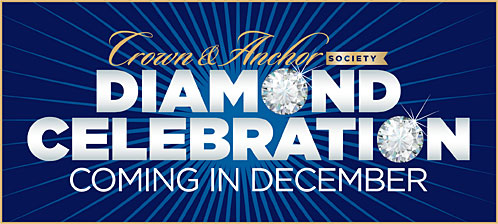 In June we announced some significant changes to the Crown & Anchor Society Loyalty Program that were member-driven including a new onboard booking bonus as well as enhanced onboard benefits by tier. We know how important our repeat guests are and we are proud to have so many loyal to Royal members. Last year, we launched the Diamond Celebration in December to recognize our two top tiers in the Crown & Anchor program. These very special cruisers have sailed with us a minimum of 11 times and our Diamond Plus members have sailed at least 25 times. We are fortunate to have several thousand members who have achieved this very special status within our program, and we decided that we needed to celebrate them.
The idea started because we were launching Oasis of the Seas last year, and we know that our most frequent cruisers like to sail our newest ships so we thought we could make it even more of a special occasion. But then my colleague Lisa Bauer, SVP Operations, said, "Why don't we do this on all of the ships for the month of December?" and we all thought it was a great idea.
Royal Caribbean values our guests who return to us again and again for the Royal treatment, and the Crown & Anchor Society's Diamond Celebration is our special way of honoring and thanking our most frequent guests for their loyalty.
During our December Diamond Celebration, Diamond and Diamond Plus-member guests can attend the special nightly Diamond event, during which Crown & Anchor Society members can mingle with senior ship officers and staff, and with each other. In addition to the standard benefits, Diamond and Diamond Plus-level members will be recognized and pampered by the entire Royal Caribbean Gold Anchor staff and crew with commemorative Crown & Anchor Society gifts and other surprising onboard elements. Crown & Anchor Society members will also receive one additional Crown & Anchor Society cruise credit for sailing during the December Diamond Celebration.
Last year we had many Diamond and Diamond Plus members sail in the month of December. We received so many lovely comments and emails thanking us for all of the special events and gifts. Every ship competed for the best scores from our guests and Voyager of the Seas  and Legend of the Seas  tied for first place.
Of course, this year we hope even more of our members will join the December Diamond Celebration and I'll be sure to report back and let you know.  We already know that several of our members have booked both the Dec 1 and the Dec 5 sailing on our newest ship, Allure of the Seas.  Our crew onboard all 22 of our ships are already thinking about how they're going to surprise and delight our loyal to Royal guests.