My name is Nicholas James Thomas McMahon, and I am the Aqua Captain of the Aqua cast onboard Allure of the Seas.   While growing up my interest in the sport of diving grew every summer that I spent at our local pool in Cincinnati, Ohio.  My dad dived in college and was very successful (at one point ranked 22nd in the NCAA).  
My interest for diving grew and I began taking lessons.  I started competitive club diving around age 12, dove all through high school and earned a scholarship to dive at Florida Atlantic University in Boca Raton, Florida.  As a NCAA Division I athlete, I dove for 4 years and was a two time NCAA Zone qualifier.  I enjoyed living in Florida and having a diving scholarship made me very happy.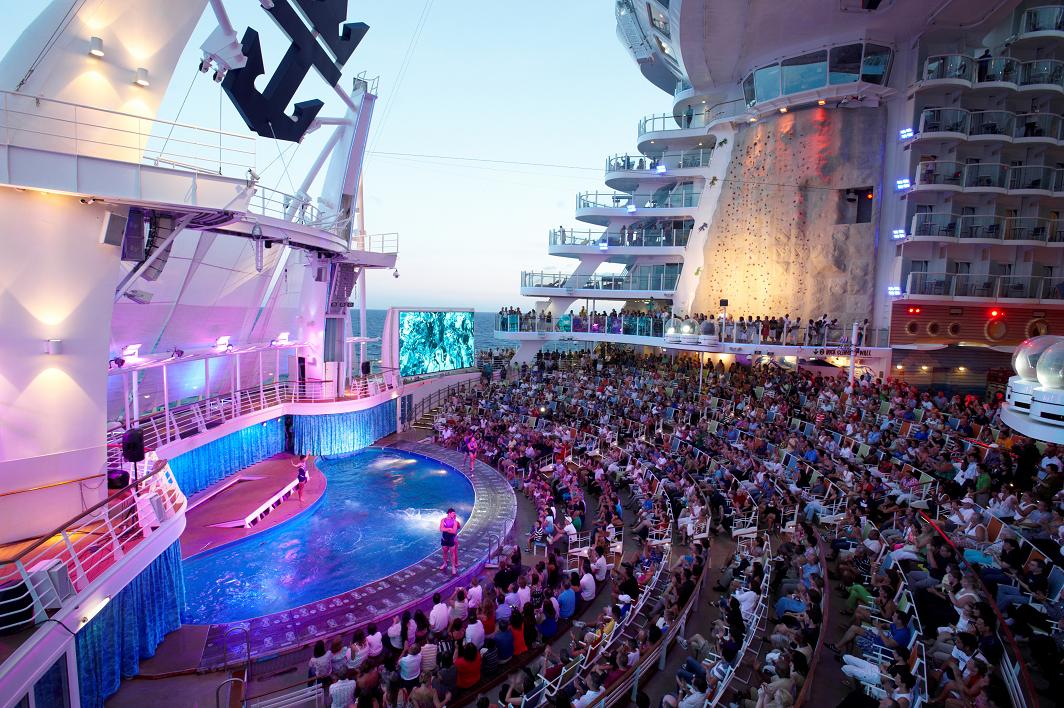 Since I was very young I was extremely curious about the ocean and the life teeming within it.  For 4.5 years, I studied Marine Biology at FAU and graduated in December 2008 with a B.S. degree in Marine Biology.  So on top of diving in Florida, I was able to study my favorite subject and learn about the ocean first hand!  I am very fortunate to have such an amazing college experience.  After college I found a job working in the Florida Keys as a Marine Science Instructor, and stayed there for one year before boarding Allure. 
Competitive diving at the university level takes place on 1 and 3 meter springboards, and also on a 10 meter platform.  The three levels we have in our aqua shows, "Ocean Aria" and "Let You Entertain Me", are a 3 meter springboard, and a 10 and 17 meter platform.  All of the divers in our cast dive from the 3m springboard, and the 10m platform. However, only our two featured high divers can dive from the 17m high dive.
Before each Ocean Aria performance, we have a half hour warm up period where the lifts and boards are down so we can do a few dives.  At 8 o'clock the stage staff presets the props underwater, so we have to get out of the pool.  After this we have an hour to stretch and warm up until the show starts at 9:00 PM.  In between shows we usually grab a bite to eat, and if necessary, fix any problems that occurred in the first show.  During the course of a regular week, we have two "Ocean Aria" performances on Sunday, Monday, and Tuesday, and two "Let You Entertain Me" shows on Saturday. 
However this is not where the fun ends for us; we have many other jobs throughout the week to keep us busy.  We spotlight and dress two to three ice shows weekly, as well as spotlight one Blue Planet performance.  We also, are in the DreamWorks parade twice a week.  On day three of every cruise, we have an "Open Dive" session, where we are required to come to the aqua theater and practice our dives for the show, learn new dives, or do diving drills to keep our skills top notch.  As performers, we are expected to stay in peak physical shape for our shows.  We are required to workout a minimum of five days a week for at least one hour at a time.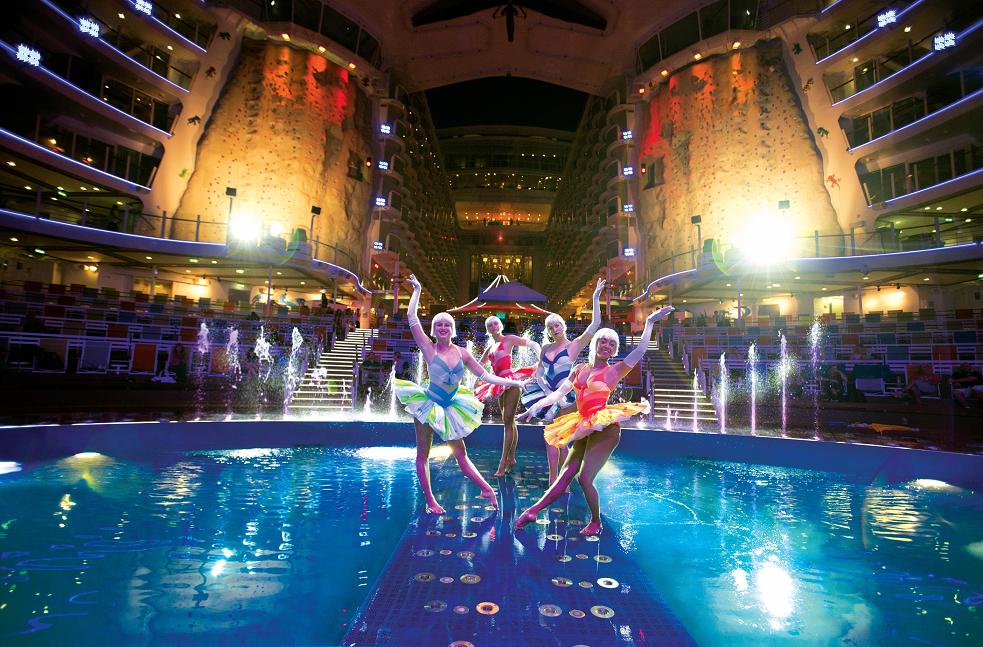 However, ask any diver on the aqua cast what their favorite day of the week is, any the answer will NEVER be Saturday.  This is the day where we do at least 1 of each of the things I just mentioned above, back to back to back, etc.  So here is the typical Saturday of not only a diver from the Aqua Cast onboard Allure of the Seas, but more specifically a Saturday as the Aqua Captain . . .
• 9:15 am  Workout (sometimes)
• 10:30 am  Breakfast
• 11:00 am  Cast Call for Let You Entertain Me
• Warm up, put on make-up, preset costumes for the show
• 12:00 & 1:30 pm "Let You Entertain Me" Aqua Show Performance
• 2:15 pm  Grab a bite to eat for lunch and go to room to change
• 2:45 pm  Call time: Spotlight or Dress the 3 pm Ice Games ice show
• 4:45 pm  Call time: Spotlight 5 pm Blue Planet performance
• 6:05 pm  Put finishing touches on next week's schedule, finish weekly report of aqua shows, and prepare notes for the cast
• 7:30 pm  Meet in Amber theater for Call time: 7:45 DreamWorks Move it Move it! Parade
• Get in costume
• 8:30 pm  Dinner, check email, print schedules
• 9:00 pm  Meet in Aqua Theater with the entire cast of Ocean Aria
• Give notes on timing, placement, aerial numbers and any issues with the show to the cast
• 9:30 pm  Technical Run of Ocean Aria: A full run of the show, not in costume, to make sure all technical aspects of the show are safe and running smoothly for the following week of shows. 
• 10:30 pm  RELAX.  Maybe get on the internet to catch up on life at home, and connect with family in Cincinnati
I think back on all of those summers growing up, watching my Dad get up on the boards at our local swimming pool.  I never imagined that my growing passion for diving would help secure a college scholarship, lead to a position as a Marine Science Instructor and then allow me to perform on this magnificent ship.