Adam Goldstein asked me to think about how the entertainment offered on our ships has evolved since I joined the Cruise industry.  As I reflected on this I started remembering that when I was a young man I was a California Dreamer "Boy Singer" living in Los Angeles trying to be the next Jack Jones  (If you don't know who Jack Jones is think a taller, better looking Michael Buble… just kidding Michael).  The only problem was there already was a Jack Jones so when I was offered a gig on a cruise ship sailing from Miami, I jumped at it.  I had never been on a cruise ship so I really wasn't prepared for what I discovered. 
After I boarded my assigned ship I walked off three times looking for the show room!  The ship had originally been a combination cruise ship and car ferry sailing between South Hampton and Gibraltar where the sea could be pretty rough.  The "stage" also served as the dance floor.  Railings were built around the dance floor in case people lost their balance in the heavy seas on the way to Gibraltar.  The effect was that the stage looked like a boxing ring with a very low ceiling.  I remember I was considered a bit of a prima donna because I asked for a black out after "my big closing number".  The Cruise Director at the time said "Sure you can have a black out.  Just reach up and turn the toggle switch off".  Since the ceiling was so low it wasn't too hard! 
Needless to say cruise ships and entertainment facilities have come a long way since the early 1970s.  Today's vessels are not your father's cruise ships!   But it took a while to get here.  I eventually moved to Royal Caribbean International where the first generation of ships, and the rest of the industry for that matter, had relatively limited entertainment facilities.  The ceilings were quite low and the theatrical equipment minimal. The theaters were multipurpose lounges for shows, dancing and activities.  The best site lines, or best "seats" in the house for viewing the shows, were FROM the stage.  By the next class of ships, however, we started to upgrade.   
The Sovereign class ships introduced large theaters with good sight lines and better facilities.       Thanks to these enhancements and growing management commitment to entertainment productions onboard, the shows were produced with elaborate sets and costumes including video walls and featured larger casts.  Royal Caribbean Productions was born in 1990 committing us to in-house produced shows designed specifically for our ships and guest demographics.  Prior to that we staged shows by outside producers which were also playing elsewhere and not designed for our audiences.  Following the Sovereign class ships each new class of ship introduced even more theatricality and we continued to evolve our commitment to our entertainment product.  The Vision class ships introduced orchestra pits, enhanced show automation, and even better sight lines and back stage facilities.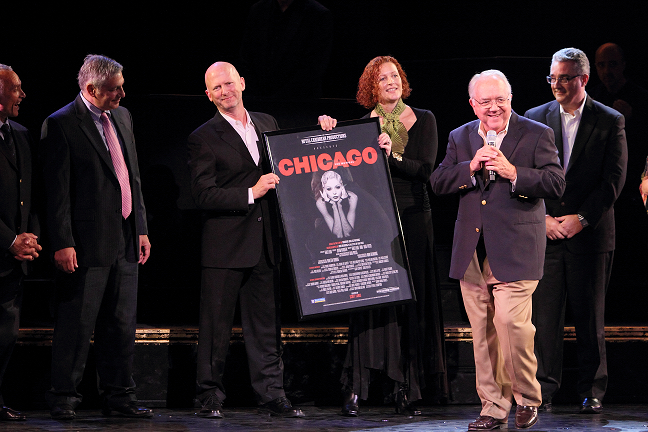 Who knew then that we were headed for the Voyager Class and ultimately the Oasis class ships which would feature more elaborate theaters, introduce ice shows, parades, Aqua Theaters or that we would enter into partnerships with the likes of DreamWorks and iconic Broadway producers for Chicago, Hair Spray and Saturday Night Fever?  The journey through the evolution of our entertainment facilities and programming was an exciting creative trip made possible by the relationships developed with visionary architects, designers, creative staffs, consultants and a committed senior management who encouraged and supported us with the necessary resources along the way. 
The lines between entertainment and guest activities have blurred and merged delivering exciting personal experiences through land based quality sports facilities, full court basketball, rock climbing walls, FlowRiders, zip lines, mini-golf courses and yes – Presidential table tennis facilities.
The ideas for all these innovations are the result of many creative minds with the help of serendipitous occasions during the process.  One of my favorites, for example, includes when we introduced concepts to our management team for activity in Studio B, our onboard Ice Skating rinks.   We mentioned we might even do some limited glice skating as a demonstration for our guests. When Richard Fain saw this he said "No way!  If you are going to do that we will have a REAL ICE RING there"   Needless to say my staff and I would never have had the nerve to ask for the first ice rink at sea.  
The same sort of surprise occurred the first time we saw the drawings for the aft space of the Oasis of the Seas.  The architects had placed a pool in the open deck.  Everyone in the room upon seeing the suggestion for the first time shouted that it looked like a perfect amphitheater.  This space, of course, became the focal point AquaTheater for the Boardwalks onboard our Oasis and Allure cruise ships.
This story, quite naturally, leads to an exploration and discussion of all the great talent, personalities, designers, and entertainment concept development teams who have brought all these spaces to life. The introduction of those talented characters (and I mean characters in the most respectful and fun way) is a story I'll save for another time!