My name is Beth Painter and I'm a Director for the Shore Excursions department.  Our team coordinates the various tours that guests can participate in during their cruise vacations in ports all over the world.  I've always loved to travel, a passion I inherited from my parents, so working for Royal Caribbean was a great opportunity.  I've had the opportunity to cruise to and visit many ports in the Caribbean. I particularly love the western Caribbean for the diversity of experiences it offers and here are some of the reasons why:
Cozumel, Mexico is frequently included on western Caribbean cruises for a variety of reasons, one of which is the wide range of activities available. If you've been to Cozumel before, you may think you've seen what this port has to offer but Cozumel has more tours available than any other port of call for a good reason.  Most people are aware that the beaches and snorkeling / diving in Cozumel are fantastic and many know that this is a great location from which to explore Mayan ruins – all of which is true.  There are up to 4 Mayan ruins sites currently available to visit through the shore excursion program depending on which ship you are sailing onboard.  The 3 larger sites, Chichen Itza, Coba and Tulum, are on the mainland with one of the ruins sites, San Gervasio, on the island of Cozumel. But Cozumel is also a great place for water-based animal encounters including dolphins, sea lions, manatees, whale sharks, stingrays, and sea turtles. Or if you're looking for adventure, try something new like riding an ATV, dune buggy or Segway.  Vacation is a great time to try something new and I rode an ATV for the first time in Cozumel.  It was a little intimidating at first but that's the best part of this type of situation – lots of other people were first timers as well so I was able to relax early on and really enjoy myself.  More of a foodie? Learn how to make local dishes during a cooking demonstration or taste several varieties of tequila. Cozumel has something for everyone whether you're looking to relax on the beach or get your blood pumping on a new adventure.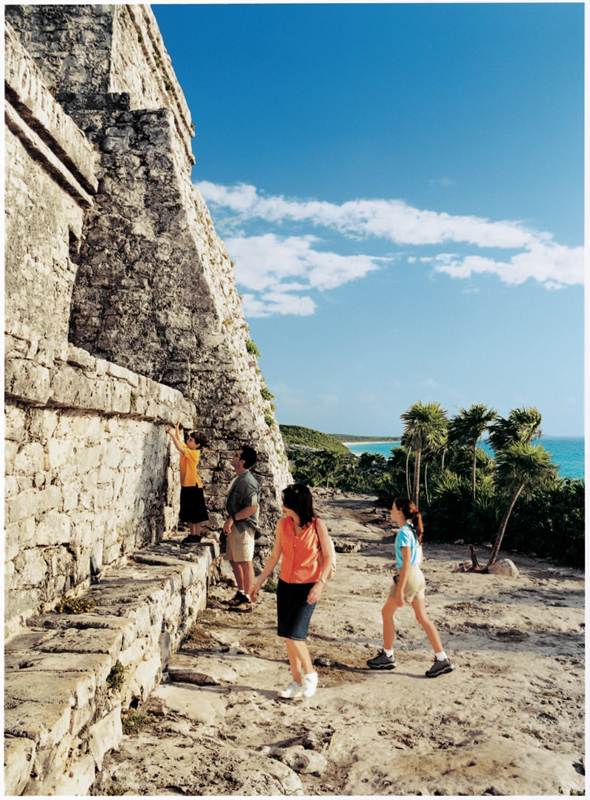 Falmouth, Jamaica is a relatively new port to the cruising world but is perfectly situated as the gateway to the 3 tourism meccas of Ocho Rios, Montego Bay and Negril.  The most popular activity in Jamaica is to view or climb Dunn's River Falls. Been there, done that? Jamaica has many beautiful rivers where you can kayak, go tubing or rafting. Rafting down the Martha Brae on a bamboo raft is a uniquely Jamaican experience. Given its history in the sugar trade, there are also many former plantation houses available for touring, including Good Hope Estate which is a short distance from the Falmouth pier. In addition to being able to tour the property and greathouse, Good Hope is home to several adventure tours including ziplining, dune buggies, and a 4×4 tour. Looking to get off the beaten path? Check out the birthplace and final resting place of reggae legend, Bob Marley. Or take in the views of Jamaica from a totally different perspective – on a helicopter tour. Make sure to take advantage of Jamaica's rich culture and history or its diverse offerings in fun and excitement.
Labadee, Haiti, Royal Caribbean's own paradise beach resort makes it easy to combine a relaxing day on the beach with fun activities for guests of all ages. Labadee offers long-standing guest favorites like the Wave Jet Tour, parasailing, kayaking, the Arawak Aqua Park, and several snorkeling options. There are also newer adventures to get your blood pumping like the Dragon's Breath Flight Line, the Dragon's Tail Coaster and the newest addition, the Dragon's Splash Water Slide – 300 feet of slip sliding fun.  The view of Labadee and the surrounding area from the departure area of the Flight Line is worth the butterflies you might feel.  And I would recommend going down the coaster at least twice – I was too busy laughing and screaming to appreciate the view the first time.  And if you're curious why so many things are named after a dragon, make sure to stop by and meet the real Labadee dragon in person at Dragon's Point Lookout.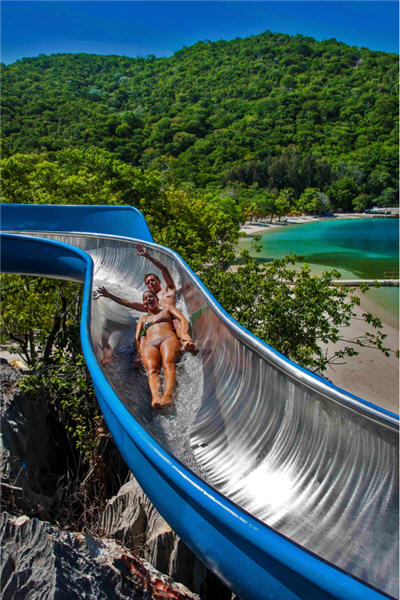 Grand Cayman is most famous for beautiful Seven Mile Beach and Stingray City and many of the tours we offer include these two attractions – in fact, it may seem like every tour has one or both of these in the name but there are actually many different combinations to meet everyone's interests. Both should be at the top of every first time visitor's to do list. The first time I visited Stingray City was after Hurricane Ivan devastated the island and I was part of a site inspection team to determine if we could start returning with cruise ships.  The companies that take visitors out to Stingray City had continued to feed the rays but there was no way to match the quantity they normally received so the rays were hungry. Those stingrays definitely don't understand the concept of personal space!! The other well-known aspect of Grand Cayman is the amazing underwater world which is accessible to snorkelers and divers. If you're interested in SCUBA diving but not certified, check out the helmet dive, SNUBA and Discover Diving options to take advantage of your time in one of the best diving locations in the world.
Belize is also a well-known dive location and great for snorkelers but I love it for its adventure options. Other than Costa Rica, this was the coolest zipline I've done and nothing compared to seeing my 60-something year old mother scream her way through the jungle.  At the end though, she was disappointed the tour was over! Cave tubing was also part of this combo tour and great fun. Belize also offers an opportunity to explore the Mayan ruins of Xunantunich, Lamanai, Cahal Pech, and Altun Ha. And there is plenty of wildlife viewing opportunities, in a protected sanctuary or from an airboat, including crocodiles, jaguars, pumas, tapirs, black howler monkeys, and more. And as with many of the ports already described, the snorkeling and diving are legendary in Belize as well.
Each of us vacations for a different reason – sometimes it's to relax and unwind and sometimes it's all about adventure and fun. What I love about the western Caribbean is that it's perfect for both or a combination. Check off the destination highlights for each port or try something new or sit back and take in the views.  Enjoy!