My name is Roberto Ramos and I am the Human Resources Specialist onboard Liberty of the Seas, which means that I have the amazing task of making life onboard as fun-filled and entertaining as possible for all of our crew.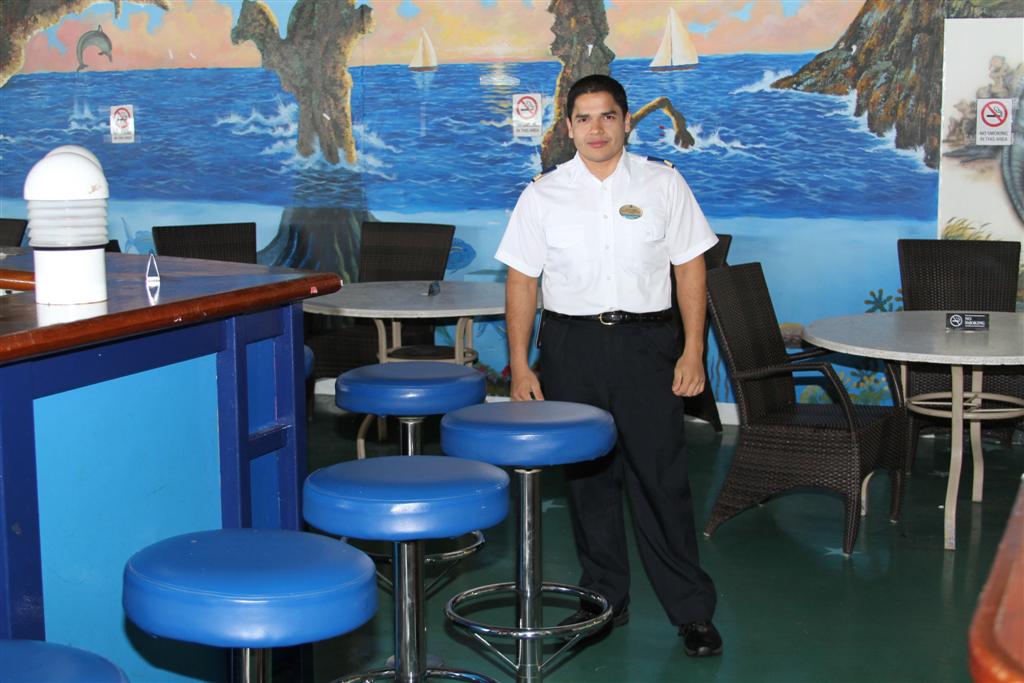 When I started working for Royal Caribbean International, I never thought that I would end up being the one person with the most fascinating job on the seven seas: looking after the lives of the terrific crew members that we have! So let me take you on my journey and share with you some of the best-kept secrets of our ships: what actually goes on behind all those "CREW ONLY" doors you see… Come with me and discover life on the other side!
In my home country, Honduras, I worked as a production manager for a television station.  Prior to that, I worked for one of the most important hotels in my country which gave me experience servicing guests.   Wanting to make a change in my life and to travel more I decided to look for any type of job on a large cruise ship. Only 12 short months ago I was hired by Royal Caribbean as a facility cleaner.
A cleaner on a cruise ship carries out a range of duties from cleaning and vacuuming the public areas of the ship to folding and issuing pool towels and helping out on the pool deck. It was very exciting to be part of the team that is responsible for keeping the ship sparkling clean.  It was not easy work but the kind of work that made you feel you had accomplished something at the end of the day.  I always liked doing the special projects like cleaning the tops of all the elevators, and all of the ledges on the inside of the glass doors.  My second favorite task was to help on the pool deck in particular at the towel station.
Being able to interact with our guests was something that resonated very strongly with me and I took great pride in everything I did.  I remember being able to assist one guest who happened to notice the computer I was using to issue the pool towels and started talking about computers.  Unknown to him, my technical background is in digital production and editing, so I was able to not only answer all of his questions but also give him a list of options and advice for all his future needs. The look on his face was amazing and it was very satisfying knowing that I made such a difference to him.
A short while later my supervisor and manager decided to move me into the office in a position called a Dispatcher.  This is the person that answers the phone for all maintenance related items, enters it into our automated job management system so it can be "dispatched" to our technical teams for repair. I also liked this job because I got to talk to and help lots of guests and crew everyday.  It also helped me increase my knowledge about all areas of our ship. Then a great opportunity came my way: the position of Human Resources Specialist opened up and this was where I knew I would have the opportunity to make things happen for the people without whom the ship would never function – the 1,422 crew members.
Thinking back on my experience so far, I can honestly say that this has been an incredible journey: from joining as a cleaner, being a Dispatcher, to now a 2-stripe Officer, I really don't know any other company which offers so many great opportunities for their crew to grow and succeed. I know that a happy and dedicated crew is the key to making our guests' experience even better and this is why I am proud to have such a pivotal role in ensuring that our crew get the recognition and thanks that they deserve.
In my new role I organize things to make life onboard for our crew members better.  I produced a crew activities calendar which includes activities such as wine and cheese events, Wii game tournaments, DJ music, "Officers serve Crepes" Night, to all crew BBQs and parties. I am also primarily responsible for looking after all the crew facilities which include a "back deck" relaxation area (shown above), a crew coffee café and bar, a convenience store, the video games, foosball games, table tennis games and a pool table.  There are also two fitness facilities just for crew and two crew-only restaurants which we call the mess rooms. There is a special sun bathing area too.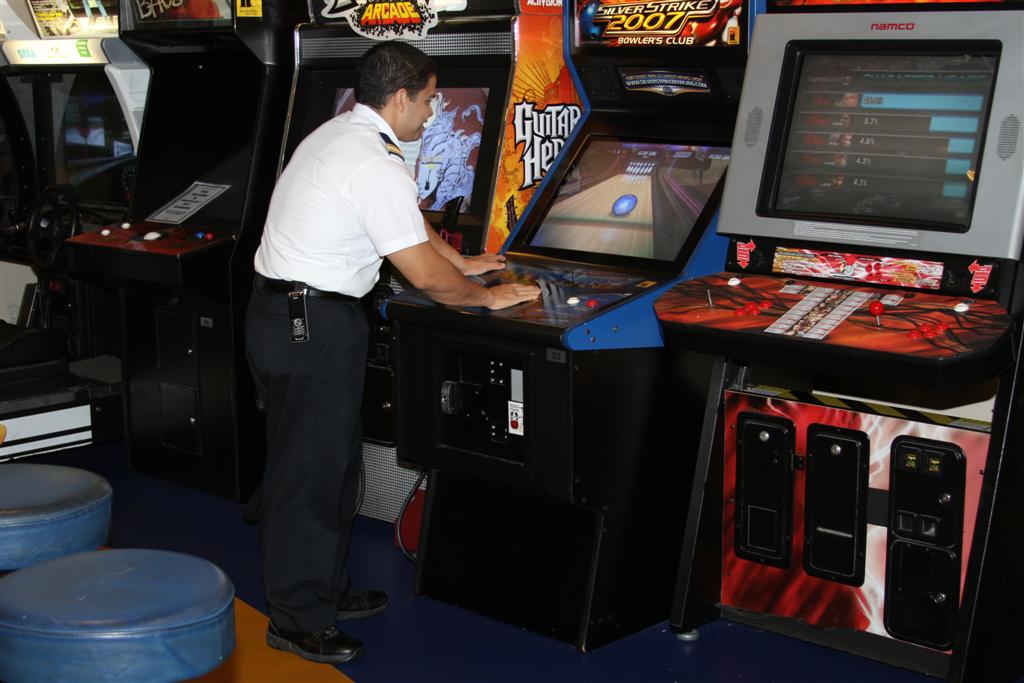 I have to say I think I have the best job onboard because I get to do good things for people everyday and many of them have become my friends.
One small thing I get to do for crew members that really makes them happy is every time a new crew member signs on the ship for the first time we give them a $10 phone card so they can phone home and let everyone know they have arrived safely.  The look on a new crew member's face always makes me very happy when I get to tell them it's free and welcome to the team. It's just a little thing but it goes a long way.