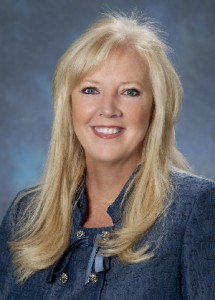 Captain Bill and I just completed our Anchored in Excellence (AIE) visit to Freedom of the Seas.  Freedom just came out of dry dock on Sunday, March 27th, so we wanted to see the result of how everything looked and was operating.   One of the other objectives on our AIE visit was to see what else we could be doing to support the ship with any key operational challenges they were facing.
We boarded the ship in Port Canaveral, there we found some definite challenges with the check in process and the security screening.  I was very concerned by the security processes and lack of customer service.   When something like this happens that is part of another division, we reach out the department head and raise the issue, then we get together to discuss the situation or challenge.   In this case, I immediately raised the issue to Gary Bald, our SVP of Safety, Security, Medical and Public Health, and we will be jointly reviewing our fleet wide security screening standards and expectations.   We have a Shoreside Executive Committee that is comprised of all the department heads that support the operation and it is great to be able to reach out and receive the support to address whatever issues we have cross functionally.
Once onboard, we did a full ship tour to see the new venues.  Our guests were already enjoying the new outdoor screens.  They were watching the NCAA Tournament and having a great time.  Because our guests have been enjoying the outdoor screens so much, we've decided to add them to Radiance and Splendour later in the year as well.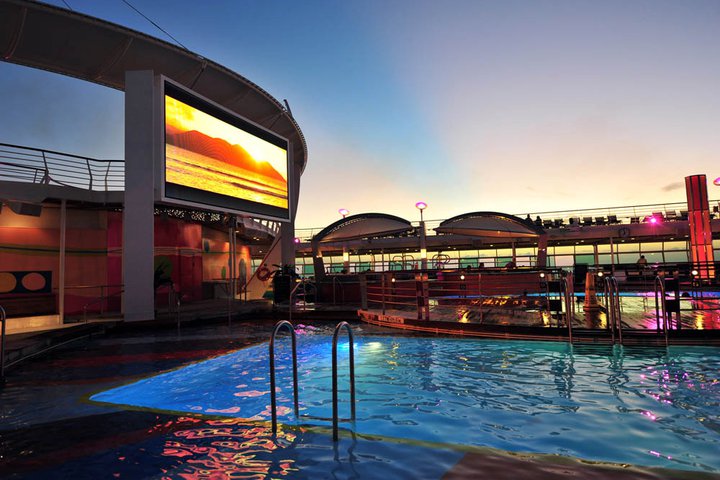 I was doing my full walk around and ran into two guests that were looking for the screening room.  I walked them over and showed them where it was, and they asked me how I knew where it was since it wasn't on our signage or the new digital signage.  I laughed and said I should know where it is because I work here, and thanked them profusely for the feedback that we had indeed neglected to list the screening room in our signage and our new digital screens.   Guest feedback is always appreciated and it helps us become our best! 
While onboard, we also had the opportunity to try the new Chops Grille menu.  I heard lots of great commentary from the guests on the new menu additions, and I personally loved the new goat cheese soufflé and the red velvet cake.  I didn't think it would have been possible to find a better dessert than the Mississippi Mud Pie in Chops, but somehow Chef Josef came up with the Red Velvet Cake and it is amazing.  I actually think he was inspired by the Cupcake Cupboard because the Red Velvet cupcakes continue to be the top seller, which is closely followed by the Turtle Cupcake.  By the way, the new Cupcake Cupboard on Freedom was greatly received by the guests and we sold out of cupcakes the first day!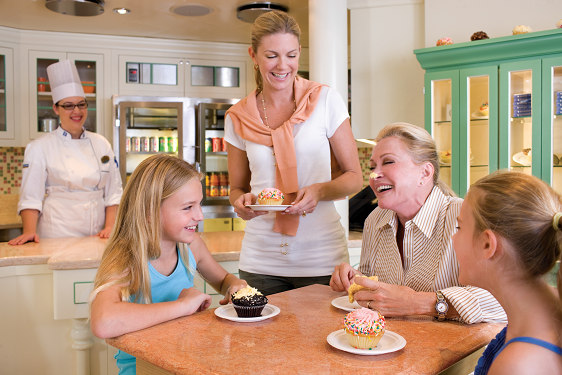 We met with the division heads, and updated everyone on our key areas of focus for 2011 and then they brought areas to light where we can provide more support.   An area that surfaced was our new pervasive Wi-Fi.  While the entire ship now has pervasive Wi-Fi, we are still limited by the number of users that can be on the system at one time.  When we encounter an issue like this, we bring it back to Miami and meet with our IT team to address and then solve the issue.  We get great support from Bill Martin and his team who have already begun working on a solution so the ship will be able to take full advantage of the enhanced Wi-Fi coverage.
On Freedom, we are adding a Britto Gallery like we have on Allure of the Seas. It is right on the Royal Promenade and I believe it will be very popular with our guests. 
Overall it was a great visit.  The crew is very proud of what they have accomplished in dry dock, and are also very excited about the new areas and programming.   Freedom was already an amazing ship, and with these new additions under the Royal Advantage program, she offers even more now than ever.