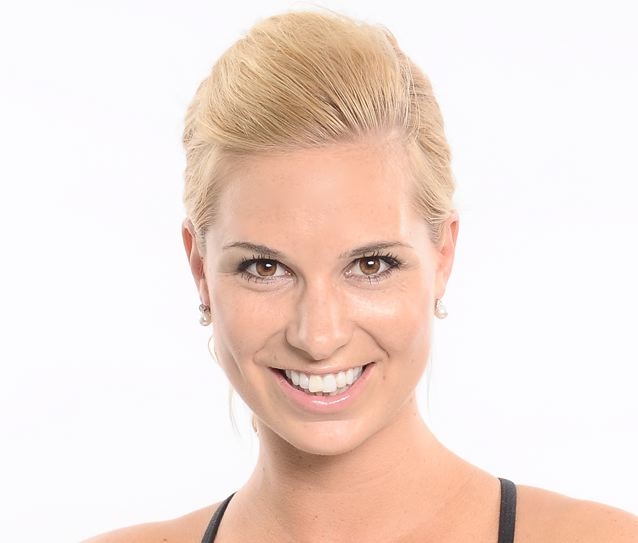 My name is Åsa Persson, I am from Sweden and I am the Ice Captain onboard Allure of the Seas. I was five years old when I started to skate and little did I know back then that my ice skating was going to give me a career onboard a cruise ship! I started in the local skating club because my sisters skated and I thought that it looked like a lot of fun. I ended up loving the sport.  When I was ten I was selected by the Swedish Figure Skating Association to be part of a small group of young skaters who showed a lot of promise.  At the age of 13 I won my first National Championship and before I retired as an amateur I won four National titles and had been a finalist at the World Championships.
I traveled all over the World for International competitions and I am very fortunate for all the amazing experiences my skating had given me.  However, my last couple of years as an amateur were difficult for me because I kept getting injured.  Any sport at a high international level is very strenuous on the body and mine couldn't handle it. I lived and trained in Canada at the time and I started to worry that I was going to become injured for life.

I started to loose my love and passion for the sport and skating became a job. I then realized that I had to make the very hard decision to stop competing. I still wanted to skate though and I almost felt like I owed it to the sport to get my passion back before I really retired. I looked into the option of performing in shows but I was tired of living out of a suitcase while traveling from one hotel to the next. The cruise ship option came up and it just sounded so perfect to me. To begin with; I really don't like the cold.  I know, being an ice skater from Sweden and living in Canada you would think that I'm used to it but I've never liked cold weather. Also, on a ship I get to see the World without having to pack and unpack all the time. So, I submitted a VHS tape of me skating along with my resume and I was hired!
I started my first contract in March, 2004. At the time, Royal Caribbean had five cruise ships that had an ice rink. The ship I joined was Voyager of the Seas – the first one to have an ice rink onboard. I thought she was absolutely beautiful. What a dream job, ice skating in the Caribbean onboard such an amazing ship.
We skaters don't rehearse on land like the dancers do. We join the ship together with a choreographer and have two weeks to learn the show while the current cast is still performing it. As an amateur you really just skate to the music by feeling it and the only person on the ice is you.   Now, I had to start learning to count the music so I could do each move on a specific count – and to match with nine other skaters. It was a lot to learn, especially since the other girls had already been on Voyager and performed in that specific show. I spent a couple of hours in the gym every evening in front of the mirror trying to remember the steps I had learned that day… Being a new hire, you need to also learn the ship's safety training. Needless to say, the first weeks onboard were very intense but still a lot of fun.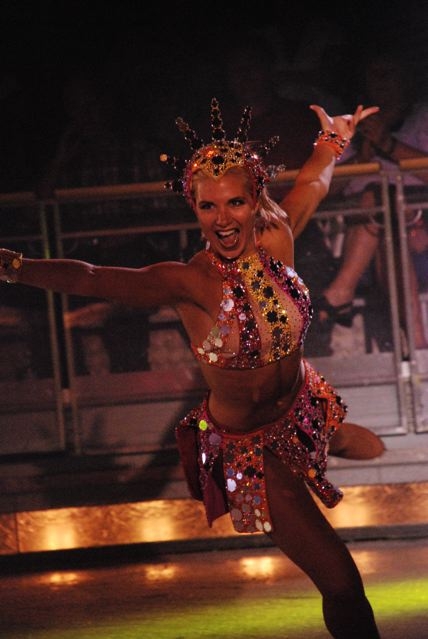 When I signed on my first contract I thought, I'll try this and if I like it, maybe I'll do one more before I move onto something else.  Here I am, 7.5 years later.  I did take a 2.5 half year break to perform on land and also to earn my personal trainer degree but last fall it just made sense to come back for another couple of contracts. So, what is it that makes this job so great? Well, to me there are many things. To begin with, I absolutely love to perform and I got my love and passion back for skating. I've also been 100% free of injuries since I finished competing. I've met so many amazing people and I've learned so much, not just about skating but about life in general. It's also a great way to save money. Living onboard a ship is of course a very different lifestyle from living on land. I don't think it's for everyone but I think it's a great experience for anyone to try.
Right now Royal Caribbean has ten ships that have an ice rink. There are ten skaters in each cast and every ship has a different show. Our cast on Allure has skaters from nine different countries. Our contracts are normally around six months long and of course sometimes it feels like a long time to be away from home. As an Ice Captain I'm in charge of the other skaters both on and off the ice so they better behave!  In order to ensure the shows are maintaining a high standard, I watch a DVD after each show so I can provide corrections and bring the cast in for rehearsals if needed.  I suppose my counting skills have become a lot better from my first contract.  I'm now in charge of knowing every count in the entire show and I even catch myself counting music playing wherever I may be.
In addition to the shows, I have some other duties. Onboard we offer Ice Skating for the guests and the skaters are in charge of that. We're also helping out the Production and Aqua casts by spotlighting their shows and they do the same for our shows. Twice a week there's a big Parade onboard that the skaters are a part of and I'm one of the people in charge of it.  A great part of my job is that I'm almost always off when we're in port so I actually get to enjoy all the fantastic places we go to. As I'm sure you realize by now, I really love my job and what's not to love? I think my sisters are summing it up pretty good when they tell my nieces about my job. They say that at Auntie Åsa's job people are standing up and clapping for her.