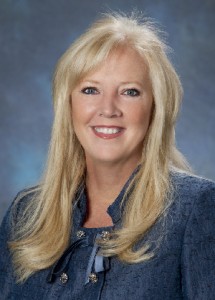 Busy Day on Allure!
Today was unusually busy onboard Allure of the Seas as each of the key departments had a number of unique things happening.  We kicked off our "Polishing the GOLD" training sessions.  This program is built upon evolving our Gold Anchor brand standards and is very focused on encouraging our crew to ensure they are offering personalized service.  The training helps to identify the barriers of being able to deliver the service, and also gives examples of "heroes and legends" around the fleet complete with stories of how others are Delivering the WOW with personalized service.  Another objective of the training is to identify ways that our supervisors and managers can reward, recognize and reinforce the crew at the time that they see personalized service being delivered.  Due to this, we are also revamping our shipboard recognition program.  Everyone onboard is very excited about this program.  Polishing the GOLD has been rolled out on Freedom of the Seas, and will be a fleet wide program by the end of the year.
Our Entertainment & Activities Team was officially stress testing the DreamWorks characters today with a photo opportunity session.  We invited the crew to get their pictures taken to evaluate how long the pictures take, the correct poses with the characters, how we handle multiple guests in one picture, and the overall process.  We then reviewed the photos with the characters so they can see what looks best and know how to pose in the most photogenic way.  We believe our guests will really love the photo opportunity and want to ensure it is an easy process.  The characters can only be in costume for 20 minutes, so we also have to rotate the characters.  Here is a sample picture with the shore side entertainment team lead by VP Peter Compton.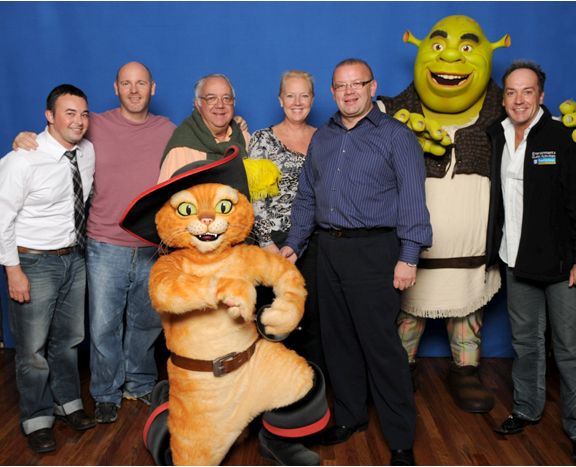 We met with all the wine tenders onboard to introduce another innovation on Allure.  It is an iPad application for Vintages, our wine bar.  It is very interactive and will give guests the opportunity to learn about different wines, regions, and food pairings and also play games.  Guests will be able to order wine and tapas and "set their table".  The order will automatically go the wine tenders to place the order.  We did a contest for the crew to name the new program, so I will announce the winner in a few days.