My name is Ken Rush, Cruise Director for Royal Caribbean International and currently assigned to Allure of the Seas. While onboard I am in charge of all of the activities and entertainment.
Royal Caribbean International as a company sponsors quite a few charities and one of them is a personal favorite of mine, Make-A-Wish® which grants wishes to children with life-threatening medical conditions.
Every week onboard we hold a Make-A-Wish, "Walk for Wishes" event where guests have the opportunity to make a donation to Make-A-Wish and receive a complimentary t-shirt that reads, "I helped grant a wish". Then if they choose, they may go for a group walk 2.25 times around our jogging track. Guests really enjoy doing this and on Allure I have seen us raise anywhere from $1,000 to $4,000 a week for this great activity.
The month of June is my favorite month onboard as that is what Royal Caribbean calls, Destination Joy. In addition to "Walk for Wishes", all of our ships feature many other ways for our guests to contribute to this wonderful charity. In June 2012 on Allure we held live auctions, casino tournaments, a crew raffle, crew donations, and more.
The LIVE auction is one of my favorite events to host. Guests bid on everything from a Galley tour with the Executive Chef to Free Bingo for the entire cruise to dinner with the Captain and so much more. It is amazing how much the guests donate because they know the money goes straight to Make-A-Wish. We sometimes even have guests who walk up and will give $1,000 or more just as a single donation because they want to and don't want anything in return.
June of 2011 was the most rewarding however because I was challenged by the Executive team onboard (Captain, Hotel Director, Staff Captain, Chief Engineer and Human Resources Manager) that if we raised over $20,000 in one week, I would completely shave my head bald. To be honest, I wasn't sure if I wanted to do this  and if you have heard stories about me, you may know that my hair is very important to me….haha…anyway, I accepted and we did raise $23,000 so they shaved my head LIVE on camera to a packed audience that loved it!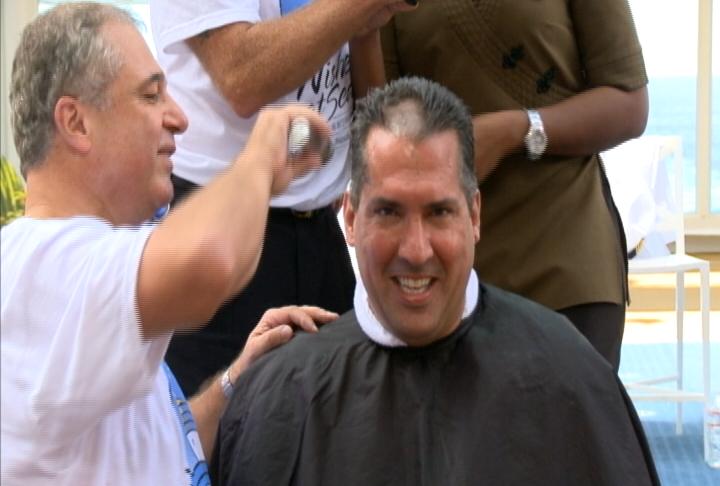 I loved it as well because this is a great charity. I have met many Make-A-Wish children and families and when you see the look on the children's faces you can see they are having the time of their life because of their wish being granted. It is a wonderful feeling. I will continue to support this charity personally and professionally! What about you?