The development of our global interests, even in difficult economic times, is key to our future. As a result, my most significant travel is to countries where cruise markets and/or ship deployments are very promising but in a less developed state. Often that means China, Singapore, Australia, Brazil or even Dubai where I visited last week and am pictured here with a representative from Abu Dhabi. I like to say that our guests and crew come from everywhere and our ships go everywhere. This is more obvious with each passing year. Royal Caribbean International is already a truly global brand with even more global opportunity ahead whenever the worldwide recession abates.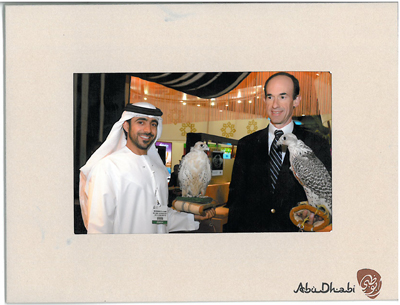 There is never an issue generating media interest when I visit one of these countries. The reputation of our brand and the features of our ships are compelling to journalists and consumers the world over. As we get closer to the delivery of Oasis of the Seas, interest in our brand is reaching a feverish pitch.
Governments usually focus their interest on whether our ships will be based in their largest ports and whether the ships will bring in foreign visitors to spend money in their countries. It's usually an interesting dialogue because while we are very happy to attract guests from far away to cruise on any of our itineraries, we are often primarily interested in growing the local source market. So typically we attempt to impress upon our hosts that the win – win proposition is to do both simultaneously.
As a result of traveling to these countries and interacting with the media, one of my roles in the industry is to be vocal about the need for interested ports to build modern facilities that can properly handle the size of ships we want to bring. Someone reading the last sentence might think that a statement of the obvious. Yet throughout Europe, Asia and Latin America, I find myself risking controversy in calling for appropriate investments by port authorities to support the cruise industry. I expect to continue playing this role.