If you're sailing with us in the next month or so, chances are you've already received our new electronic guest document, also called an "eDoc."
This past March, we launched our new guest document platform which allowed us to transition to eDocs. I'll spare you the techy details, but as Adam mentioned in a previous entry, we endured many episodes of three steps forward and two steps back. Thankfully, our project team for this global initiative was very passionate and dedicated to doing whatever it took to bring this program to life. including many late nights, working through weekends and missed vacations. But, that's what happens when you push the boundaries of innovation.
In my opinion, the term "eDoc" does not provide an accurate representation for what we've created for our guests. This document is more of a "customized mini-website, pre-cruise planner, get-excited-about-your-cruise, and brag-to-your-friends-and-family-what-an-incredible-vacation-you-are-about-to-take" document. However, that title is a bit long, so I guess "eDoc" will have to do for now. No matter what you call it, its way better than our old document which, felt more like reading homework than preparing to be WOW'd on your next vacation.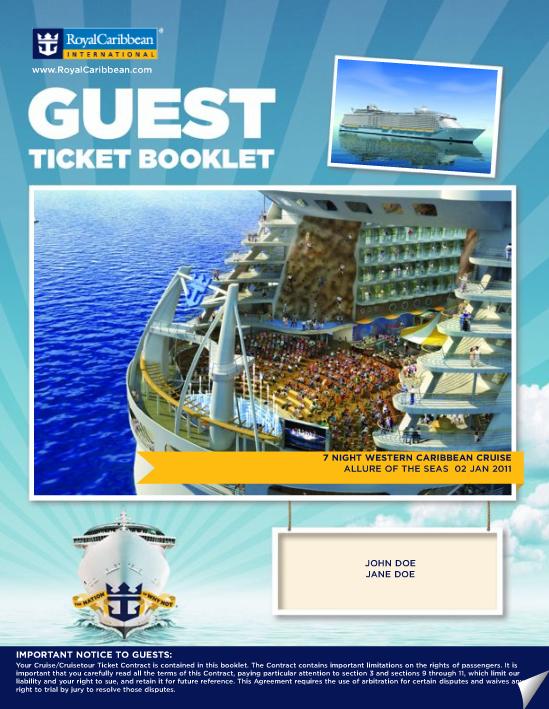 Some have commented that our eDoc has a lot of pages. This usually comes from people expecting a simple 3 page boarding document – which we still have available to guests who complete online check-in before they board with our Set Sail Pass.
Our eDoc is not meant to be a boarding pass. There are a lot of people here at Royal Caribbean who would like to share information with you to ensure you have an incredible experience. For example, Guest Port Services would like to ensure that you know how to locate the pier, who to call if you can't find it, and how to purchase ground transfers so we can take care of the hassle for you. Hotel Operations wants you to know about everything you can do before your cruise, like: pre-reserving Specialty Dining, booking Spa treatments, and signing activity waivers so you don't have to worry about doing it once onboard.

Our Shore Excursion team wants to provide you with information on all of the available excursions for your cruise so you can pre-reserve your preferences and not risk missing out on the most popular activities that sell out first. And of course, the Guest Document team wants to ensure that you know the details of your cruise booking, remind you to complete your online check-in, and to order your personalized set of 8 complimentary luggage tags at least 14 days prior to sailing. As you can see, there is too much important information to fit into 3 pages.
The beauty of the eDoc is that (in addition to being an environmentally friendly option) there are videos and links for more information, you can email it to friends and family, you can cut & paste information into your own personal online photo book, and you can opt to print as many or as few pages as you like.
We still offer a professional printed version of the eDoc for $35 per person, upon request. So far, less than 5% of our guests are opting for the printed version. However, I have heard that some travel agents are printing the document for their clients versus sending them the eDoc. I'm guessing this is partly because their clients may be older and so they assume they are not as computer savvy. I think they might find that they are actually very accepting of the electronic world. My 85 year-old grandmother even pays her bills online! So, if you'd like to receive an eDoc, be sure to let your travel agent know – it's free and it's fun to view.
Just like our onboard experience, it's all about options. And when it comes to our guest documents, (thankfully) there is no longer an option that resembles homework!
Check out a sample of our new eDoc:
https://secure.stage.cruisingpower.com/eDocs/getDirectEDocsFlashReq.do?a=lr%257DoB%25293q%257D%2560o_2cmnkm2plbt%2528gmv.ooiq%257Dcw%255Dw-ncw%255Dw-%253C.&txnId=3&br=R
Article by Angela Stephen, Director of Sales and Marketing Services for Royal Caribbean International