Today I have the pleasure of asking Doug Santoni, our Senior VP, Revenue Performance, to tell you in more detail about a new approach to combining a cruise with air travel. I hinted at this recently because I have been so anxious to get the word out that I could not control myself. In the 1990′s, we used to debate internally a concept we called "one stop shopping." What some of us imagined is now here and actually, with the benefit of today's technology, the new offering is far beyond what we had envisioned back in the day. Congratulations to Doug and his team.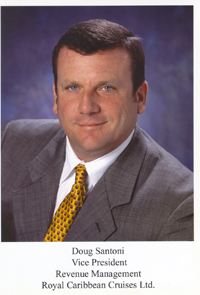 Last month Adam shared some thoughts with you about the "Why Not?" philosophy that we subscribe to in our Nation. As he explained, "Why Not?" is supposed to expand our thinking about something that might surprise you, seem serendipitous, improbable – or even impossible. So it may surprise you that the topic today focuses on "Why not simply do what makes sense and will make our customers happy?"
When it comes to traditional cruise line air/sea programs, we have become more accustomed to hearing our customers ask "why?" Perhaps you have asked some of these same questions:
• Why can't you tell me my flight itinerary at the time I book my cruise?
• When I finally see my air itinerary, why is it such an inconvenient schedule?
• Why does the fare seem higher than those I see on the internet?
• Why do I have to fly from one of your approved gateways?
Questions like this led us to think…
Why not invent a new Air/Sea program that enables our citizens to choose the flights they want, whenever they're ready to choose them, paying the most competitive air fares, and being able to take advantage of seat assignments, airline frequent flyer programs, and many other special services that they'll love?
"Why not?" indeed.
We did.
Introducing ChoiceAir.
Over the next few weeks, you'll be hearing more about this innovative Royal Caribbean International program that provides our citizens (and guests of our sister brands Celebrity and Azamara Cruises) the opportunity to select the itinerary of their choice, at the time of their choosing, taking advantage of exclusive specials offered just to our guests, as well as nearly any published airline fare.
ChoiceAir will enable our guests to book their airline travel in the same way they book their cruise over the phone with their travel agent, or with our Certified Vacation Planners – or if they prefer – they can simply access the ChoiceAir website and make their choice online. The website has the familiar look and feel of consumer travel sites with a fast, simple way to see what's offered, choose the flights, and get confirmed.
As much as ChoiceAir is about providing you with all of the available options, it is really about peace of mind. ChoiceAir provides the peace of mind one gets from knowing your itinerary well in advance, knowing you got a great fare, and knowing that our ChoiceAir department has visibility to your flights on the day of travel and can assist you in the event of schedule interruptions.
ChoiceAir will launch in the U.S. and Canada on August 3 through travel agents, our reservations teams, and online. A cost of $15 per person for domestic and $25 per person for international air travel will apply to ChoiceAir bookings, and will include access to the ChoiceAir support desk, aid in cases of flight delays, and assistance in making alternative flight arrangements in the event of missed embarkation. Also, we will be introducing the ChoiceAir option to our guests in many other countries around the world in the weeks and months ahead. Stay tuned for more details on this.
In the Nation of Why Not? our citizens have the most extraordinary options when it comes to their cruise vacation. We wondered "Why not extend that element of choice to their airline arrangements as well?" With ChoiceAir, we have.