Before continuing to the next part of my journey, I should tell you that I'm no stranger to Haiti or its people. Leading Royal Caribbean's nearly 30 year-long relationship with the country, my involvement in Haiti's revival began long before the earthquake. While developing Royal Caribbean's private destination at the port of Labadee for the Oasis of the Seas, my tourism path took an unexpected twist. I became a humanitarian aid coordinator overnight. From mobilizing deliveries of food and medical supplies on our ships to teaming up with smaller organizations to support the construction of schools and orphanages, this assignment has transcended the word "job" and become a life-changing undertaking.
I'm proud of how Royal Caribbean has put real people on the ground in Haiti and positioned teams spanning medical relief to infrastructure rebuild. We've chosen to pitch in and advance, rather than pull out and abandon Haiti in this grief-stricken hour. As one of its loyal investors, Royal Caribbean has played an integral role in Haiti's economic progress. Stationed inside the temporary housing camps, I'm eager to share my account of Haiti's aftermath, recovery—and Royal Caribbean's plan to ensure long-term success and stability to this beautiful island.
My last article left you looking into the eyes of this family in Haiti.  Like most struggling through Haiti's chaotic aftermath, this family was unsure what new hardships each day would bring.  Thanks to housing camps and a collective foundation of order, structure and humanity are being restored.
In speaking with the father, I learned this family had lost everything; they were only able to salvage some clothes out of the wreckage of their house along with some sheets and other materials to make their shelter.  He said he was making the best of the situation and wasn't sure about the future, but they would make it through.  He also made it clear that especially now, the most important thing for him was to make sure his boys went to school and that they looked "respectable."  The father's trust in making the most of their present situation and his commitment to his children's education shows his courage and his strength.  Looking at the picture of him standing next to his sons, it is easy to see the love that holds them all together.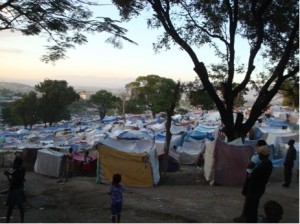 Going though the camps, you saw this situation a lot; fathers and mothers trying to keep their families together through very tough times and trying to do the best for their children.  Being a father myself, you try to put yourself in this situation and anything else going on in your life seems trivial compared to this family and what they will have to go through in the next couple of months, especially during the rainy season.  To help ease the challenges, Royal Caribbean is supporting ProDev's temporary schools and the installation of water tanks to help provide education for the children and clean drinking water for the people living in the camps.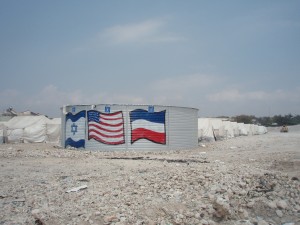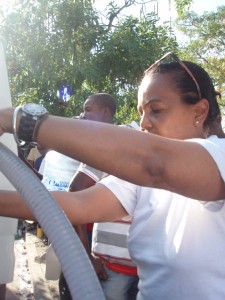 The children in the camps really kept me focused and were huge motivators.  These kids are the future for Haiti's recovery and helping provide these children with a quality education is very important for the long-term success and stability of Haiti.  When you walk through these camps, children are everywhere and love to interact with you.  They really put a meaning into why you're in Haiti trying to make a difference.  Here are some of the children who live in the camp: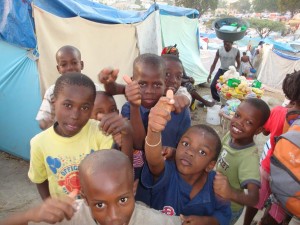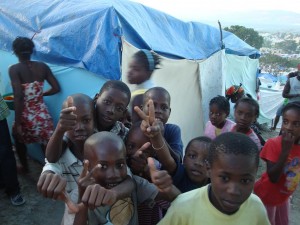 Join me again next week when I'll take you inside the temporary schools erected in the housing camps. We'll meet the team members behind these feats of construction, and witness their compassion and dedication to this community.  Brightened by the faces of smiling children, it's within these classrooms that Haiti's rebuild will become a reality.
Article by John Weis, Associate Vice-President of Private Destinations for Royal Caribbean International