By Lisa Bauer
When we were thinking about ways we could differentiate Allure of the Seas from her sister ship Oasis of the Seas, one of the areas we discussed was the art program.  We are very happy with the program we have on Oasis of the Seas that features artists onboard our ships, and wanted to continue that concept with a twist.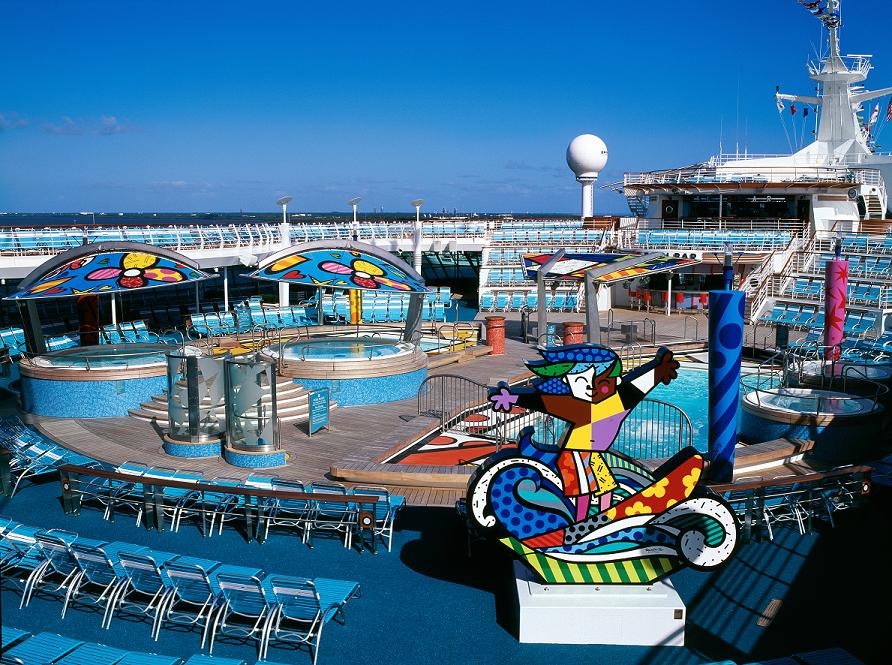 It is actually ironic how we ended up expanding our relationship with Romero Britto.  (Many of you may know his work is featured on the pool deck on Mariner of the Seas (above) and we've sold his artwork across our fleet for years).  I was casually speaking to Richard Fain and said I thought we should do a gallery and perhaps could approach Romero because I loved the look of the Britto store at the Miami Airport and the space on Allure of the Seas is almost exactly the same square footage.  As fate would have it, Romero actually called Richard a few weeks later to have lunch and we all agreed it was serendipitous!
Romero has been involved in every aspect of the creative approval of everything and it has been very fun and exciting to see this partnership come together.  He also has an amazing team that we've worked with and it has been a great experience. I am especially excited about an original piece that he is creating for us featuring our Crown and Anchor Society logo.  If you view the webisode you can actually see Romero starting the painting!  I have to admit I have already gotten a sneak peak and it is a WOW.
We are going to the shipyard in the first week of September for a press trip where Romero will be unveiling the original, on September 1st in Turku, Finland, and pictures of the finished piece will be available right after the reveal.  Romero will make reproductions of the original painting to be sold onboard. We haven't decided what to do with the original yet – where it should be displayed or kept, but I think it would look great in my living room

In addition to the custom painting, Romero is also in the process of developing a custom bear that will incorporate elements of the original painting.  This will be a limited edition piece and sold only on Allure of the Seas.  Yes, you have to sail to get one of these collector's items.
We've been keeping Romero busy because he is also working with our new build team to create a unique sculpture, from his well known Butterfly Sculpture, to sit in Central Park.  This will be guaranteed to be a great photo opportunity.
I am also very happy to share that Romero will be joining us for the Maiden Voyage celebration on December 5th and will be hosting a number of fun activities including a paint party, meet and greet, photo opportunities, and signing events just to name a few.
We are all excited about this partnership and look forward to sharing this with you while onboard Allure of the Seas!