Each day a new set of opportunities, setbacks, advances and delays unfolds in and outside Haiti. The UN is obviously a major player in the relief and recovery effort. As previously noted we have worked closely with them especially in connection with President Clinton, Special UN Envoy to Haiti, and his Deputy Special Envoy Dr. Paul Farmer.
They have an absolutely enormous job on their hands and while all of our efforts are helpful to them, we have decided to provide more direct and immediate assistance in a form I believe will be exceptionally productive. We have agreed to second John Weis, our Associate VP, Private Destinations, to Paul Farmer for three months. John did a phenomenal job getting Labadee ready for Oasis of the Seas prior to the earthquake, and since the earthquake he has done a exceptional job of mobilizing our relief effort. While we will certainly feel John's absence, we are proud to contribute him in this fashion. I have asked him to comment on this new twist in his relationship with Haiti:
I want to convey my thanks to Royal Caribbean, Adam and Craig Milan for giving me the opportunity to take on this challenge. My wife Stacy also supports this so I want to thank her as well. Over the past 3 three years, I have had the opportunity to do a lot of work in Haiti, so I have made many friends there and have grown to appreciate the friendliness of the people, their ingenuity and their endurance. So in short, I have a huge amount of gratitude for the team supporting this relief effort and the opportunity to work on something I have a great passion for.
My first and immediate task is to look at the logistics framework from a long-term perspective and establish a storage and distribution depot here in South Florida. I will share more details on this in the weeks to come.
The relief and rebuilding effort will be monumental and it is going to be completed one step at a time. Looking at everything that needs to be done to rebuild an entire city that has been destroyed can be daunting. People on the ground, like Maryse Kedar, and people back here, like Richard Pruitt, who is coordinating the relief effort on the Royal Caribbean side, will make sure this becomes a reality. I wanted to share with you some of Maryse and her team of eight's efforts – which includes two crew members that went to her for help and are now playing a big role in the water distribution.
So far, she has been able to help 120,000 victims get the water that they need for their survival. She is now expanding this distribution network by setting up permanent water tanks throughout Petionville with the assistance of 200 Israeli soldiers. She is also coordinating medical assistance within the area as well. Below are some pictures of the distribution effort.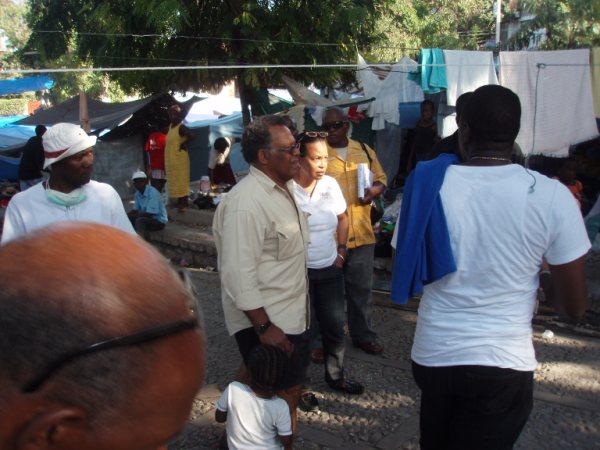 At Labadee, efforts continue to be coordinated by David Southby in conjunction with the UN, Food For The Poor and the local Haitian government. Included here are pictures of some of those efforts.
Interested in helping? Royal Caribbean International is working with Food For The Poor and the Pan American Development Foundation. We encourage guests to make monetary donations to either of these organizations which are currently engaged in the relief effort. For even more information on Royal Caribbean's humanitarian relief to Haiti, click HERE.