I am Jill Weiss and as Director of Global E-Commerce for Royal Caribbean International my responsibilities include overseeing our Social Media initiatives.  Meredith Bado, our Senior Producer for Social Media, leads our team and we are thrilled to formally "introduce" ourselves today on Adam's blog! It is an honor to be at the helm of such a bustling community, and we couldn't be happier to give you a peek behind-the-scenes.
As many of you probably already know, Royal Caribbean has over 1 Million fans across Facebook, Twitter, YouTube, Google+, Instagram and Pinterest. In addition to our online communities, thousands of people visit Adam's blog regularly and post comments, ask questions and share their stories. Despite such a vast and growing community we strive to make a personal connection with almost everyone who comments, tweets and pins within our pages. We love connecting with our guests on a one-to-one level as we feel this is what the Royal Caribbean experience is all about, on or off our ships.
What we truly believe brings our social properties to life, though, is YOU. Our fans do an amazing job of lighting up our pages with photos of their favorite destinations and onboard activities, comments and tweets about what they loved onboard, videos brimming with photo collages and footage from their most recent vacation, and more.
Believe it or not, we see each and every one of your posts! To make sure that we're responding to as many of the questions directed at us in Social Media as possible we have a robust team across all of our departments (customer service, dining, etc). We're also very lucky that oftentimes, especially on our Facebook page, we see that our loyal fans are quick to step in and answer a fellow guest's question (special shoutout to Ed Tinkertoy, Patty Medina and Linda Stern!).  Our cruisers are eager to share their onboard experiences and it's a real joy to see them using our social pages as a lively hub to interact with each other.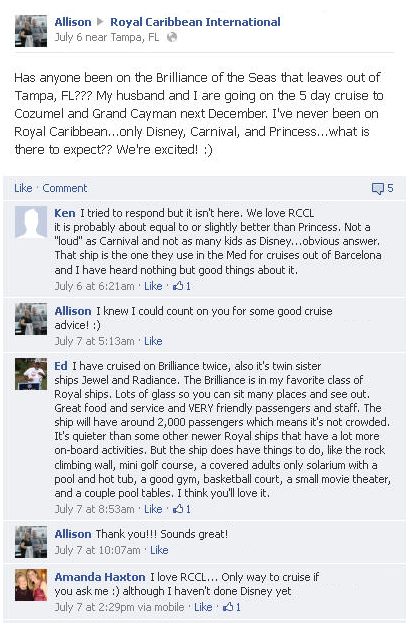 It's important for us to provide an enriching experience across the different social media channels that our fans spend time on, so we were excited when we recently welcomed a new member to our social family – Pinterest. We've filled it with even more imagery of our ships, destinations and excursions, but we're sure there's more to share so don't hesitate to tag us in your pins so we can add them to one of our boards!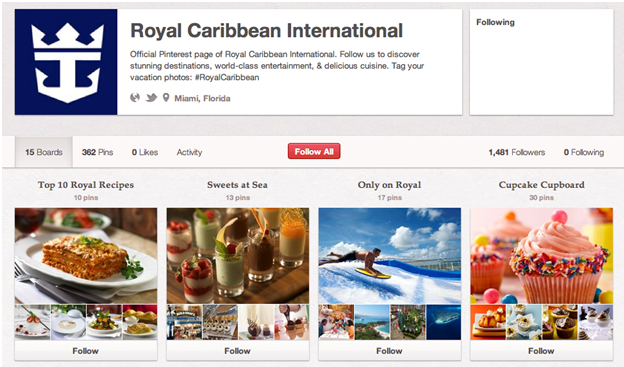 We're excited to see where social media takes us (and our fans) next, and look forward to discovering new ways to connect even more closely with you. In the meantime, we welcome you to post, tweet, pin, comment and share with us.
Is there anything in particular you'd like to see us feature on our social channels? Or do you have an idea for Adam's blog? We'd love to hear from you!