Announcing the godmother for a beautiful new Royal Caribbean cruise ship is always a big deal.  For the introduction of Quantum of the Seas, our goal is to involve our godmother in an unprecedented manner thereby creating a WOW in and of itself.  We are very excited about this and we hope our loyal readers share in our enthusiasm.  I have asked Lisa Bauer to give some color commentary on our recent announcement.  Get ready for 20 months of WOW.  And that's before Quantum is even delivered!
-Adam
During the telecast for the 2013 Academy Awards our TV commercial answered the question, "Who is Royal Caribbean's next big star".
We were very excited to let everyone know that Kristin Chenoweth will take on the role of godmother to our newest ship, Quantum of the Seas, which is set to debut in the fall of 2014.
The role of the godmother for a ship is very special.  Not only does a godmother christen or name the ship and serve as a guiding spirit, but she also plays a key role in the festivities of the naming ceremony and provides a blessing on the ship for the guests and crew and all who sail on her.
The godmothers of Royal Caribbean cruise ships have had a wide variety of backgrounds including Olympic athletes, humanitarians and ordinary women with extraordinary achievements.  Oasis of the Seas had seven godmothers – one for each neighborhood!
When we talked about Quantum of the Seas, and how we wanted everything about her to be a quantum leap forward, we decided that the godmother would take on a greater role than we have done in the past when we announced the godmother within a few weeks of the official ship's naming.  In this case we announced Kristin as the godmother well in advance so she could introduce the ship's features over the next 20 months.
Royal Caribbean is a brand that has been recognized for world-class entertainment and we thought Kristin was the ideal embodiment of this key signature of our brand.  Kristin is widely known for her effortless transitions between stage, music, television and film and is an Emmy and Tony award winning actress.  Royal Caribbean was the first cruise line to introduce Broadway shows onboard and it seemed natural to look to one of the entertainment industries' best to join our brand.
I remember in 2003 when I first saw Kristin in the Broadway show, Wicked, when she played Glinda the Good Witch.  I was so WOWed by her and since then I've seen her in everything from The West Wing to Glee and The Good Wife.  Most recently I attended the American Country Awards in Las Vegas and Kristin was co-hosting the show.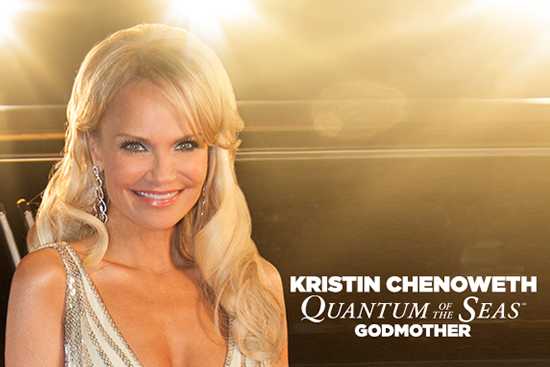 When Adam and I met with Kristin to present our idea of the role of godmother to Quantum of the Seas, the meeting only reinforced our decision.  We were very impressed by her sense of humor and warmth and felt that she was a natural fit for us.  On a purely personal note, I also love the fact that Kristin is as passionate about dogs as I am!
Kristin Chenoweth will play a very important role as Royal Caribbean begins to showcase more about Quantum of the Seas and all I can say is you need to Prepare to be WOWed!
-Lisa Bauer