I am very proud to be a member of the Energy Security Leadership Council. The goal of the Council is to support a comprehensive, long-term policy to reduce U.S. oil dependence and improve energy security. The Council was acknowledged in President Obama's State of the Union Address earlier this year when he said "Indeed, much of our new-found energy is drawn from lands and waters that we, the public, own together. So tonight, I propose we use some of our oil and gas revenues to fund an Energy Security Trust that will drive new research and technology to shift our cars and trucks off oil for good. If a non-partisan coalition of CEOs and retired generals and admirals can get behind this idea, then so can we. Let's take their advice and free our families and businesses from the painful spikes in gas prices we've put up with for far too long. I'm also issuing a new goal for America: let's cut in half the energy wasted by our homes and businesses over the next twenty years. The states with the best ideas to create jobs and lower energy bills by constructing more efficient buildings will receive federal support to help make it happen."
I am also proud of the steps that our company has taken to help make this goal a reality, specifically installing electric car charging stations in the "Green Parking" lot.  This service will also make life a little easier for the employees in our Miami office who drive electric vehicles.  I have asked Sam Carr who was instrumental in getting this accomplished to share this story with you.
-Adam Goldstein
My name is Sam Carr and I'm the Building Systems Engineer for Shoreside Facilities at Royal Caribbean Cruises LTD. I'm in charge of all Facility related systems such as air conditioning, lights, electrical power, and fire alarms just to name a few. As a result of the newly adopted green vehicle parking spots in our Miami office we discovered that there were some electric vehicles parked there along with several hybrid vehicles. At a recent Facility trade show I met a representative of a company that was supplying electric car charging stations at certain locations around South Florida. I am proud to say that Royal Caribbean's Miami office now has one of the first electric car charging stations in Miami-Dade County. I predict that someday, in the not too distant future, electric car charging stations will be as common as gas stations are now.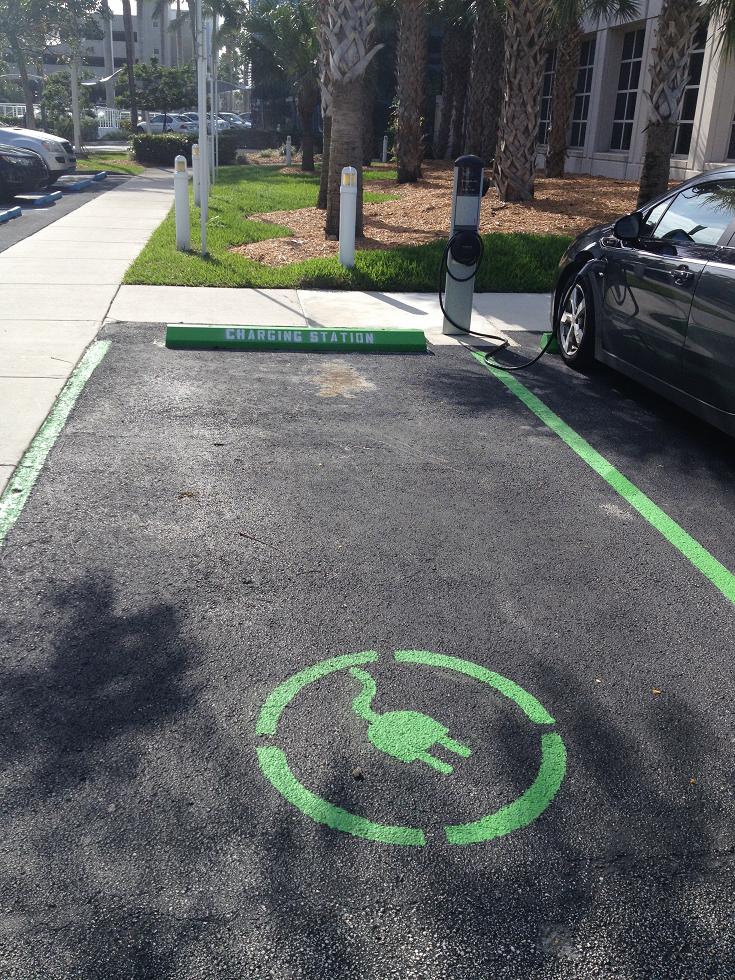 Our new car charging station is a small step in a new direction to reduce our dependence on oil. I know one charging station is not going to change the world overnight but it's a start. Having the ability to charge an electric car at work might be what it takes to convince someone to purchase an electric car.  The ability to recharge the car's battery at work doubles the employee's mileage range.  It wasn't that long ago when owning a hybrid vehicle was thought to be a crazy idea. Now you can see they are everywhere.
I recently watched a movie about a man who was fired from his job for taking too many risks. Another employee in the film said that the leaders are always the first ones to fall off the cliff and that it was safer to stay in the middle of the pack. I couldn't help thinking that if the Fords, Thomas Edison or the Wright Brothers of the world ever felt that way where we would be now. No, it is the risk takers that will always continue to move this country in the right direction. I am happy to be part of this new direction that we are moving toward.