For many cruisers, a vacation hasn't officially kicked off until they're waving goodbye to the port with one hand, and holding a frothy drink in the other. Whether your cocktail of choice is a classic margarita or something more adventurous, it's the mixology teams that create the libations served on Royal Caribbean International cruise ships, which for many guests, are sometimes as memorable as the vacation itself. We recently caught up with Matt R. Howard, one of our talented Mixologists, who told us all about what it's like to create cocktails for the high seas.
What is a Mixologist and how is that job different than that of a bartender onboard?
The role of an onboard mixologist is one of a highly skilled, vastly experienced and considerably knowledgeable bartender, who isn't just confined to the 'flagship' venue on board the vessel but used and re-invested to the rest of the beverage team onboard.
How did you become a Mixologist?
Actually by accident! I worked in food and beverage to put myself through college and when I received my degree (behavioral Psychology) I no longer liked my chosen field so I went full time in to the hospitality industry and that is where I fell in love with the service industry. I have been very fortunate to have worked and learned my trade in London, Paris, St Tropez and Las Vegas.
What are your favorite ingredients to use in cocktails?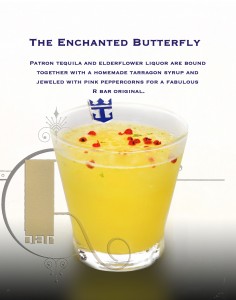 I love to use local ingredients that align with the cruise itinerary; seasonal ingredients such as Dragon fruit and galangal (Thai ginger) when we are in Asia; Earl Grey tea and lavender when we are in Western Europe and all those amazing spices from the Middle East and the Caribbean.
Tell us about some of the cocktails you've created.
During the recent revitalization of Navigator of the Seas we added a modern Mexican restaurant called Sabor and I created a beverage menu that compliments the food offerings. I had a lot of fun creating colorful and modern recipes using familiar ingredients in a completely new fashion. For example, I am especially proud of my chantenay carrot, fresh pineapple and red pepper Margarita topped with a chili/cinnamon salt ; also a spicy, citrusy Jalapeno and Cucumber Margarita and an earthy Avocado Margarita that has a cool creamy finish. But my favorite item on the menu was adapted from a 3,000 year old Mesa-American recipe for hot chocolate that combines bitter chocolate gnash, Mezcal, almond liquor and two types of chili peppers. The Aztec Martini is available as a dessert on the menu at Sabor.
Will the Cocktails from Sabor be available on all ships?
We are moving forward with dedicated cocktail menus for each restaurant, so the drinks at Sabor will not be available elsewhere. On Quantum of the Seas and Anthem of the Seas the beverage menu will complement the culinary menu in each restaurant. When developing the beverage menus we selected ingredients and techniques more commonly associated with gastronomy rather than mixology. For example in Silk, which has a Pan-Asian menu, we took the Lassi, a classic Indian lunchtime refreshment that is yogurt based, and added a homemade mango chutney, homemade lime pickle (an Indian condiment) and homemade saffron simple syrup to fresh yogurt, Arrack (a sub-continent liquor) and ginger soda to make a sweet, spicy, aromatic cocktail that is fantastic with the tamarind short rib on the entrée menu.
I am also excited for our guests to try some of my other contemporary classics like Buttered Popcorn Sazarac garnished with a spear of absinthe glazed red pepper popcorn at American Icon. And a must is a visit to Wonderland for the incredible molecular gastronomic food creations along with crazy cocktails. Can you imagine cutting in to a real orange and finding a Lemon drop Martini with Japanese Agar or finding a Banana Daiquiri inside a honeydew melon? Well you can at Wonderland.
What is your favorite cocktail to drink?
A gin gimlet shaken hard served up and garnished with a slice of seedless cucumber. It is a classic drink with a contemporary twist.
Do you have any tips for our readers that entertain at home?
Create a list of your favorite dessert, childhood smell, a favorite song and a special place to go on vacation. Then go to your refrigerator and create how those things make you feel. My list would consist of marzipan, my mother's coffee, Bleissimo (an Old Italian song) and the Amalfi Coast. This is how I created a Tiramisu Martini.