On Thursday afternoon, Navigator of the Seas played host to Florida Governor-elect Rick Scott.  Governor Scott conducted a week long "Jobs Tour" of the state and understandably wanted to feature the cruise and tourism sector which collectively is the state's largest employer.
The event consisted of a "town hall" style gathering in the Ixtapa Lounge at the forward end of the Royal Promenade with about 80 travel and tourism professionals and public officials in the audience.  I had the privilege of introducing the Governor-elect and moderating the Q&A, not that Governor Scott needed any help.  Afterwards, we walked the Royal Promenade and then ascended to the Viking Crown Lounge for press interviews.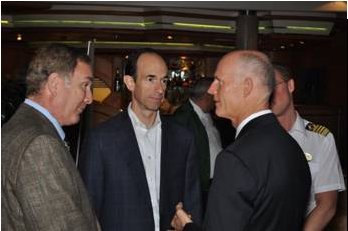 Many of the attendees were struck by the spirit of cooperation amongst the cruise and land-based tourism interests.  It's a little sad that such cooperation should be cause for celebration, but it was and so I guess this is a case of better late than never.  One thing is clear- everyone in the Broward County area is justifiably proud of Terminal 18 at Port Everglades where Navigator of the Seas was docked for the event.  It is truly a world-class terminal and it enables the tourism ecosystem that encompasses our Oasis-class ships and all of the economic benefits that accrue to the surrounding community.
Governor Scott certainly gave every indication that he will support the continued growth of our industry.  In the mean time, I am serving as team captain of his child welfare transition team subcommittee.  Our report is due in a week even though we just got started.  You'll all be pleased to know that I have found enough to keep me busy following the introduction of Allure of the Seas and our company board meeting.
Final notes on Allure of the Seas:  there were many, many highlights over the course of three remarkably successful weeks.  One of them was the private function hosted by our Chinese colleagues where the winner of "China's Got Talent" played concert-level piano with his toes, since he has no arms.  That was truly amazing.  Congratulations to all of Allure's officers and crew for a great introduction and for delivering the Wow on the first two actual cruises.  Congratulations also to Lisa Bauer and Bill Wright and their respective teams for their leadership and hard work that really paid off.
Here are a couple of photos from my time onboard Allure during the inaugural cruises. You can see the rest of my pictures on Facebook here: http://on.fb.me/gDnJOQ