This is an exciting week for Royal Caribbean International. And Why Not? After all, today is exactly six months since Oasis of the Seas departed on her four-night sailing to Labadee. And it's exactly six months until Allure of the Seas does the same thing!
But that's only one reason for the excitement. The main reason is the enhancements to the Crown & Anchor Society that we announced earlier today to our Crown & Anchor Society members. There are two things we know about our members. One, their loyalty to us is incredible. Two, they're not shy about voicing their opinions about the Society and the benefits of membership. So, we have a lot of feedback to work with. We trust our members will be pleased by the enhancements taking effect today. And in our "super-secret, futuristic Society think tank," we are already working on additional enhancements that will one day cause their own excitement. But let's do the present now and the future later.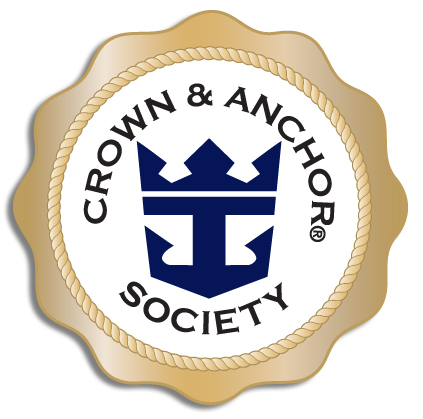 Our goal is simple – to better recognize and reward our loyal members. Not only during the time they are guests onboard but throughout the vacation cycle from cruise, to cruise, to cruise.
Our readers can refer to our Crown & Anchor Society page for all of the details on today's announcement. I would like to highlight a few of them.
Crown & Anchor Society members will now have the exclusive privilege to reserve their next cruise while onboard a Royal Caribbean ship. The new and exclusive "Onboard Booking Bonus" offers members an onboard credit of up to $200 per stateroom for making a reservation on a future sailing. This Bonus can now be used with either a Crown & Anchor Savings Certificate or a Balcony & Suite Discount (the latter applicable for our Platinum, Diamond or Diamond Plus members), offering members great savings for their next cruise before their current cruise ends.
Previously, there had only been two Loyalty Staff members on our four largest ships. There are now two Crown & Anchor Society Loyalty Staff onboard each of our 21 (going on 22) ships. Our Loyalty Staff can help answer members' questions and help them reserve future cruises to take advantage of the new and enhanced vacation savings, available only to members of the Crown & Anchor Society.
Members will continue to enjoy first-to-know priority notice and access to new developments, special events and exclusive offers that reward their loyalty. Onboard, members will be recognized every time they advance to a higher level of the Society. Members will also enjoy new enhanced benefits in their "Ultimate Value Booklet," filled with new onboard savings for beverages, internet packages, photo and logo merchandise, supplementing classic favorites such as casino and spa discounts among others.
I probably don't need to ask for your feedback on this blog entry. As for this week, please remember, it's only Tuesday.