Recently I took a fitness test that I had been wondering about for some time: the VO2 max test.  According to Wikipedia, this is defined as is the maximum capacity of an individual's body to transport and use oxygen during incremental exercise, which reflects the physical fitness of the individual. The name is derived from V – volume, O2 – oxygen, max – maximum.  I was a test subject for a graduate student course in exercise physiology at Barry University's Human Performance Lab.  It's a pretty serious treadmill test, as the photos indicate.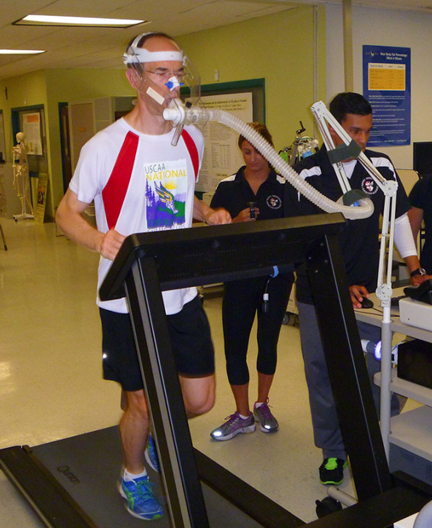 If you've ever had a stress test on a treadmill, it's like that but on steroids. The incline is raised and raised until you cannot go on anymore.  A number of values are calculated from the oxygen intake and CO2 outflow through the mask.  My coach Armando Cruz has these values and is devising new torments for me with this windfall of data.
I thought it was very interesting and I was happy that I scored well for my age, given my training.  My friends at Barry U. apparently thought it was interesting too as they put out a press release about my being a test subject. I applaud them for pushing for more interest in wellness in the corporate community. I am recruiting some more victims, sorry I mean test subjects, from the office to do the test. I figure our general counsel Brad Stein is a good place to start.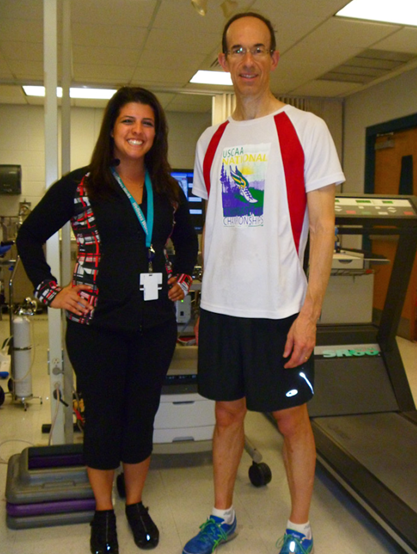 Over the next three months I will discover how my recovery has progressed from last July's calf injury. I am more consistent on my long runs (10 to 14 miles) and tempo runs (@ 6:50/mile) than before the injury. The question is whether I have enough leg speed.  I was please to get through a track workout of 10 x 200m averaging under 39 seconds without incident the other day.  But before my injury I was doing 36/37 without difficulty.  My race season consists of the Corporate Run 5k in late April followed by USA Track & Field meets locally in May, regionally in June and then nationally in July.  The goal remains 1500m in under 5 minutes.