Dominic Barr, Brilliance of the Seas.  Dominic is a Maitre D' (Restaurant Operations Manager).
Turn Around Day – Get ready for a busy day!!!
Turn around day begins with a pre-inspection at 6:00 am.  This is our internal USPH inspection to ensure all my areas are in compliance with the United States Public Health rules and regulations.  At 6:30 am, we begin the main inspection with a briefing from the Food and Beverage (F&B) Director in the dining room on deck #5. All the subdivision heads from the F&B team are present, which include the Executive Chef, the Bar Manager, the Windjammer manager, and the Galley Stewarding specialists. Areas are assigned to all parties to be inspected and I was assigned to inspect the Windjammer Café.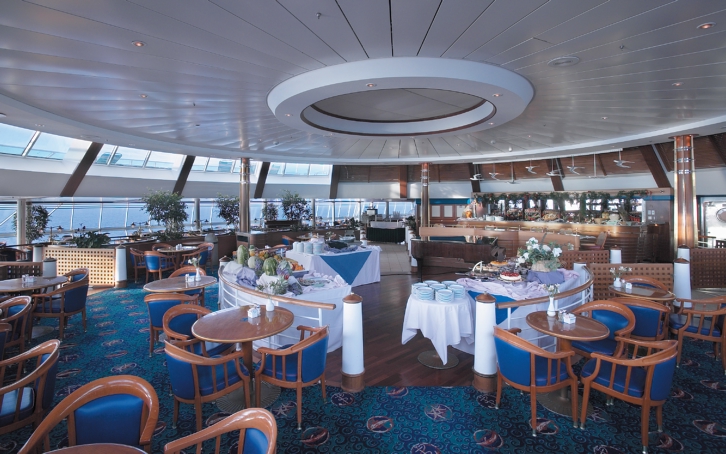 After we are finished with the inspection, we all report back to deck #5 for our wrap-up meeting.  This is where we inform each other of our findings, of corrective action that was taken, and areas that need to remain a focus. After the wrap-up meeting is complete, we all remain in our areas and focus on the departure operation.
As usual, while the inspection and the wrap-up meeting are going on, the departure breakfast is being served in both the Main Dining Room and Windjammer Café. As expected, both of these areas are extremely busy. All guests are ready to go home, no matter how reluctant they might be to leave us! A walk around is done in both dining areas to ensure that there is sufficient man power present to take care of the guests' needs.
Time to double check on all departure lounges and to check that there is still an ample supply of coffee and Danishes for our guests. The last morning of the cruise can be very hectic but it's up to us to make sure our guests have a seamless vacation right until the end!
It is now 9:00 am, with the inspection, wrap-up meeting and breakfast service all complete…..it's time to start all over again and get ready for the next cruise. The boarding of our new guests starts in less than 3 hours!  It's now time for me to go back to the office to review the emails that are needed for the start of the next cruise.
Once the dining room is reset after breakfast, the Senior Headwaiter calls me to do a brand quality walk around with him.  We need to make sure all of our standards are in place before the boarding begins.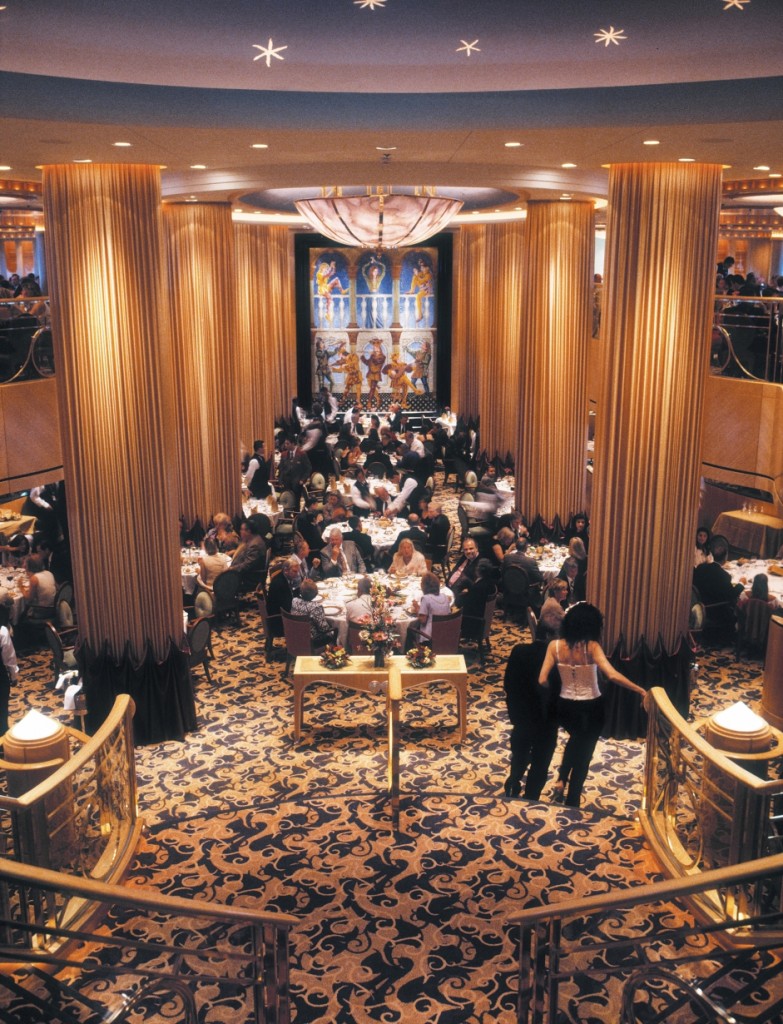 We check the Dining Room, to make sure all set up standards are followed and that all table numbers are visible for our guests so they can check where they are sitting. We make sure that the area is clean, the lighting is right, and the music is playing. Looks like the dining room is ready to welcome our new guests!
It's now time to go onto the pier. We already have guests arriving and waiting to come onboard. We make sure that the refreshment table for our boarding guests is in place, and that the My Time Dining team is set up to assist guests with their dining arrangements.  We also have a wine display table to assist the guests in getting their wine organized in advance for dinner. Everything looks to be in order!
It is now time to revisit the Senior Headwaiter and go around the different set ups that we have on boarding day.  We pass by the "booking table" and the silverware kiosk, to ensure that the entire set up is situated to help assist those guests that would like to change or rearrange their dining room seating allocation. The beverage station is also in place, ready for our guests when it's time to board.
We also need to check the wine display tables, again we make sure all of the set up is in place.  This means having the correct collateral out, ready to sell the wine packages and individual bottles to our guests as they board or before or after they have lunch. At this time, I conduct a quick business meeting with the team and review our marketing plans for the voyage. We look at our pace for the month and set forth on various incentives and initiatives to ensure we meet our targets and guest's expectations.
It's getting closer and closer to the boarding time of our new guests. Time to pass by the Windjammer Café and meet up with the Windjammer Manager. The restaurant is getting set up and ready for our boarding day lunch. Deep cleaning is ongoing, but all is running (at present anyway) according to schedule!
It's now approx. 11:00 am, and an announcement is made saying that boarding is about to begin. Finishing touches are going on, but all is in order.
Lunch items start appearing on the line in the Windjammer Café. The Executive Chef is there to supervise the opening of the venue. The Executive Chef, the Executive Sous Chef, the Windjammer Manager, and I all do a walk around of the buffet. This includes a food tasting of the different items on display so that all is, once again, in order for our guests.
Once the "all clear" is given, it's time to open! "Welcome Onboard!" is heard throughout the venue as the staff welcomes our new guests onboard. It's now approx. 11:45 am.
Back in the dining room, guests are starting to trickle through and check their seating arrangements. The Headwaiter is on duty and has already been provided email messages containing information required for this cruise. He is there to take requests and adjust whatever seating arrangements he can. I check to see that all is well….so far so good…no major issue right now.
It's time again to check back in with the Specialty Restaurant Managers. I need to check that his displays are ready for the boarding day expo, the time where we get to showcase our products to our new guests. At this time, we review business expectations for the specialty venues. They are ready!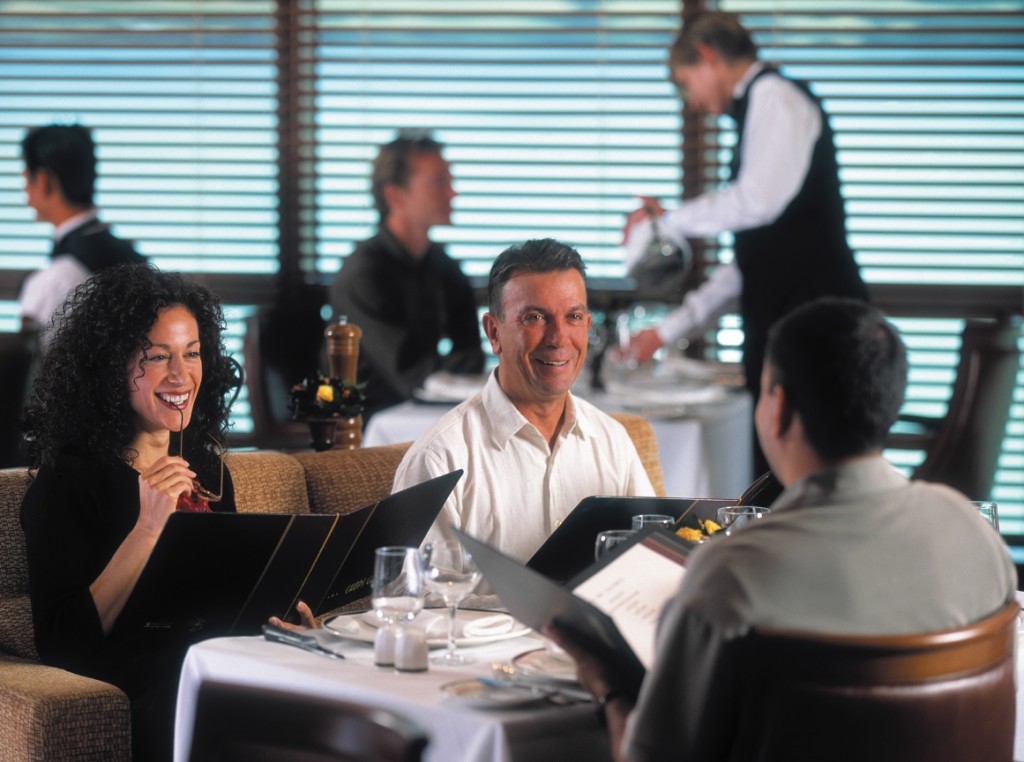 Time to go back on the pier to double check that everything there, such as the refreshment set up, the wine display, and the My Time Dining table, are still in full swing.
It is getting towards 1:00 pm and now that everything is checked…I will try to get a short break!!
3:30 pm……back on duty.  Table changes are completed and it's time to assign and assistant waiters to their stations for dinner service. My Restaurant Operations Coordinator has all the files updated so that the team can do the waiter's station assignment, but my job is to make sure all of the rules are followed and the stations for the new cruise are posted for all the staff to see.
We're coming up to 4:30 pm and it's time for the guest boat drill. The announcements are made and the boat drill begins.
The boat drill finishes just after 5:00 pm. All the headwaiters report to the dining room to have a meeting with me. Discussed at the meeting, amongst other topics, are guests with special requests, any table assignment challenges, guest demographics, and any other information that is needed to pass onto their teams before we open the dining room doors for our main seating guests.
At this time my senior team assigns training topics and safety related topics for headwaiters to review at their section meetings with the waiters. I go to my office to double check my emails again. Many guest related requests from other areas of the ship begin to come in through, and I need to sort these out with my team so that we can accommodate our guests.
It's now 5:50 pm, we open the doors for our main seating guests, the staff is lined up by the dining room entrances to escort guests to their tables. I make sure the headwaiter is in place to see if we can further assist guests with their seating arrangements.
Main seating service for dinner is now going on and is flowing smoothly. I meet with the Executive Chef to update him on the spread of guests between main and second seating, as well as any special requests. We talk about any other issues that we may have. The relationship between the front of the house and back is traditionally an important one in the restaurant business – perhaps the most important.
It's time to go for dinner!
Second seating is approaching, the dining room will open for our second seating guests at 8:30 pm, and again we go through the same routine. The staff lines up at the door to escort the second seating guests to their table. The headwaiter is in place to assist any guests who want to change table. I also spend some time in My Time Dining, which holds about 20-25% of our guests dining in this area. I review reservations and seating times to make sure it's a smooth operation and guests are happy.
At 10:30 pm, all is calm and dinner is coming to an end.  Most guests are in the process of leaving or have already left the dining room. The clean up is ongoing…….for me it is almost time to go and get some rest. However, before I retire, I meet with my senior team to ensure all guest requests and any other areas of concern have been attended to. Day One of the cruise is nearly done and we want to make sure we take quick action on any table or service concerns. We also want to set our goals for the cruise in motion.
I retire for the evening and reflect on a very eventful and successful day. Once again the teamwork from the restaurant's team has provided a flawless product to our guests. I'm proud of what they all have achieved and tomorrow I need to come up with a creative way to show that appreciation and inspire the team.
Well it all starts again tomorrow!