There's something about cruising that lends itself to "Over the Top" stories. A recent example is the story of a family that excitedly arrived at the pier to check in for Liberty of the Seas in honor of their son's Bar Mitzvah. There was only one problem: the family had no documentation for the son whatsoever.
Notwithstanding our and travel agents' efforts to communicate the documentation requirements in brochures, eDocs, web sites and various other ways, these guests did not have anything for their son. Incidentally, we are currently in the process of making the documentation requirements easier to understand in order to help spare any future confusion and last minute emergencies.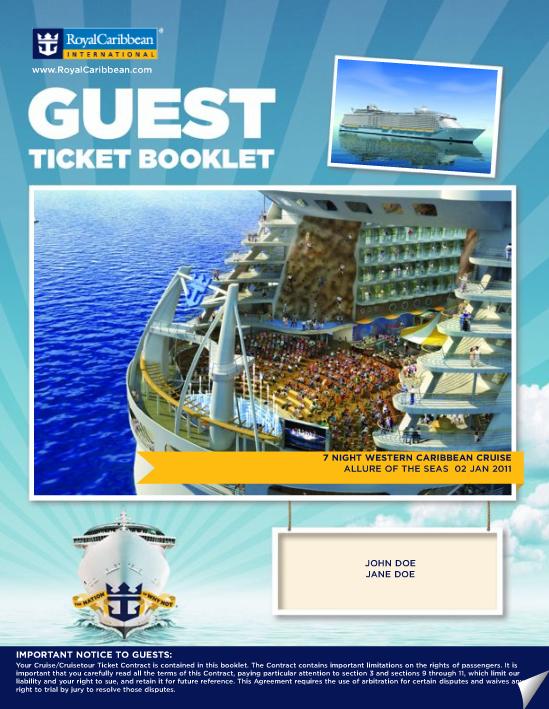 With the sand running out of the hourglass and no family back home, which was a thousand or so miles from the ship, they were able to arrange for a friend to break into their house via the back door window, find and fax the necessary documents. The Bar Mitzvah present was preserved with minutes to spare. In honor of this family's determination (unfortunately not in honor of their advance preparations), I ask our readers to post their "Over the Top" stories of what they or people they know have done to get on a cruise.
A related topic is things that guests, especially children, do to express their appreciation for having experienced the Wow on a Royal Caribbean cruise. I recently received through Customer Relations a phenomenal bound and desktop published PowerPoint from a 5th grader named Abigail. She had a page for every letter of the alphabet to explain something about her cruise on Explorer of the Seas. She did this as a project for school but also sent us a copy. I brought it to my staff meeting and all of the leaders of our brand wrote a comment to Abigail about her work. So my question for our readers here would be, what are the best expressions of appreciation for a cruise that you have ever heard about or seen first hand?