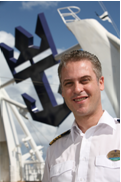 Guest Blog by Captain Hernan Zini, Captain, Allure of the Seas.
Finally, I have found a few minutes on a very busy schedule to reflect on the incredible journey we have had so far with our team onboard Allure of the Seas.
It is incredible how fast and well things are going.  I think we have managed to capture all the hard work done by the crew in order to get all our new products ready, whether it is a new food area like Samba Grill or Starbucks or all the Entertainment options like Chicago: The Musical and the DreamWorks experience.  It is all there.
The other day running from one interview to another I called our Chief Engineer, Staale. I felt that we have not been talking as much as we typically do in normal operation and I wanted to know how things were going for him….Staale's reply was very quick… "No problems…everything is running very smoothly." .I probably wanted to hear a bit more than that but then I thought that in the marine world sometimes no news is good news. The engines, propulsion system and all the machinery onboard have been running very smoothly.
But we should not confuse no news with no work. The marine team has been working very hard during the past weeks, just like any of the other crewmembers onboard, but their story is silent.
Today I wanted to talk about their story. A story that for many marine Officers and Crew started at least six months before delivery of Allure at the yard (STX) in Turku. They worked very hard walking hundreds of miles on the steel decks of Allure, testing all systems with STX as they were being built. During this period, STX operated the systems and we witnessed they were working as intended.
The day of delivery, when the ship was officially ours at 0856, the marine team started a very detailed and extensive testing protocol called Pre Departure checks. Basically, we tested all the systems that have been tested during the past six months one more time over a 16 hour period. Everything from a Black Out test (when you force a power shutdown on the ship and you start the power recovery process), to testing the propulsion system, including the anchors, navigation equipment, lifeboats, etc. You name it, everything was checked one more time. But that time it felt different, because we owned the ship and we were in charge of operating the equipment for the first time.
This detail might seem trivial, but for the marine crew this is a moment of pride, when you finally get to operate your new ship. There was no ribbon cutting for this opening. It was more like a race start. The ship is ours…go…start testing ….and as the delivery dinner and celebrations were taking place that evening, our marine crew was still silently running with their task. By midnight, all of our tests were completed and we were getting ready to sail by 0500. It was a very long and successful day for them, the first of many more to come.
Watch how the engine team and the rest of the crew managed to move the modern wonder that is Allure:
The departure went very well other than a small delay starting one of the Azipods.  But finally I found my keys and we got underway. During the first five hours we were sailing inside the archipelago, a beautiful day. With rocks close to the ship on both sides at all times, this was not a place to have a propulsion failure. The engine team delivered on their task and the navigation went very smoothly.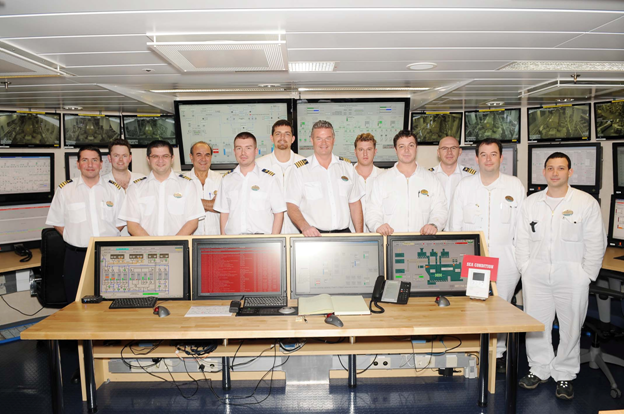 Once in open sea we were in need to start producing fresh water. Not so much for immediate consumption, but to increase the draft of the ship. If we were going to reach the right draft to pass under the Great Belt Bridge the next day, we were in need of producing 2,500 tons of fresh water over the next 24 hrs. I have to admit that this was one of the few items that kept me up at night. I was sure that we would get the plant working soon, but to do it right away and reach full production in such a short time is another task… Staale's team answered again… No problem, it is running smoothly…We also needed to fill up the Aqua theater pool (500 tons of water) in order to reach the correct draft for going under the bridge. I remember that we had some challenges to start this because there was air in the piping system. Our Chief Engineer Jr. Tommy took the lead with the Facilities Manager Jacksa and Chief Officer Mikael and they got the task done just in time.
Thanks for reading the first of my three-part blog series – I'd love to hear your feedback here or on Facebook. Also, stay tuned for Part 2 where I'll be covering more exciting news about the onboard and environmental safety of Allure.