My name is Svein Taklo and I am the Vice President of Marine Operations for Royal Caribbean International and RCL Cruises, Ltd. based in the UK.  My focus is on the day to day safe, compliant and reliable operations of our vessels worldwide.  As a company operating cruise ships, we are governed by a set of specific rules and regulations on an international level and we constantly strive to meet and exceed those requirements as we know that our guests (or "cargo" as us maritime folks affectionately refer to our customers) are quite a bit more valuable than what the average ship in the world is carrying! 
Parts of our compliance requirements include the training of our crew in emergency procedures.  While the regulations require certain details to be covered, our unique operations require additional focus on particular risks associated with the cruise industry.  We have the responsibility for the safety of hundreds of thousands of guests and crew in over 400 ports each year and we take that responsibility very seriously.  One of our procedures which goes above and beyond the basic emergency response requirements is to be able to respond to unforeseen events while the vessel is alongside in a port of call.  While this normally relates to situations such as a surprising change in weather conditions which may affect the normal gangway operations and the vessel's ability to remain alongside, occasionally we deal with issues related to the ports of call in which we are docked such as with the recent situation in Gibraltar. 
Our nautical and port services departments go through a rigorous process of evaluating the ports of call we visit around the world; however, the shipping industry is a very dynamic environment and occasionally we are exposed to unique challenges. The explosion on the pier in Gibraltar falls into this category. 
Our pre-departure procedures include a briefing on the bridge and in the engine control room which gather all involved officers together to discuss the planned departure and specifically the nautical conditions and maneuver to be performed.  On that day, the explosion happened just after our bridge officers had completed their pre-departure briefing and the Captain was standing by on the bridge wing, ready to maneuver when the explosion occurred. 
His immediate response and that of our engineering crew to provide propulsion control to the bridge quickly helped to allow the vessel to depart and increase the distance between the ship and the fire, within 3 minutes of the explosion.  We also owe a big thanks to the local Gibraltar line handlers on the pier who bravely cast off our lines to allow the ship to depart as quickly as possible.
At the time of the explosion nobody would have faulted these workers for immediately running away from a dangerous situation. Again, the action taken by theses brave workers need to be recognized and if they had not responded in the way they did we would have had to cut our mooring lines which would have increased the time for us to move away from the pier.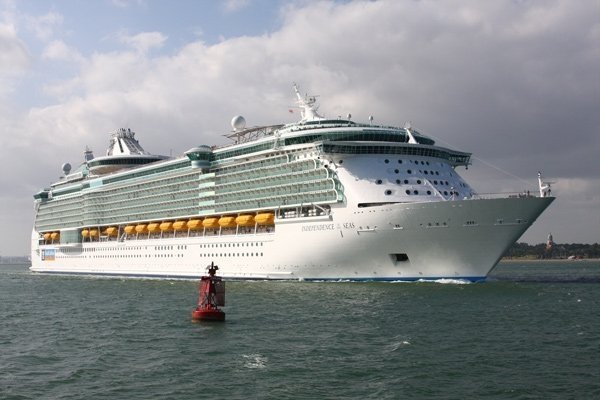 Once the Independence of the Seas was safely away from the port, and the Captain confirmed all injured guests were being properly attended to, he made contact with shoreside support personnel and we immediately convened our shoreside Situation Management Team on a conference call with the ship to provide ongoing support to the guests and crew.  We also made contact with our regulatory authorities to advise them of the situation and ensured guests and crew onboard the ship were updated through public address announcements. 
The quick action of our onboard security personnel in reviewing our closed circuit television (CCTV) cameras gave us very clear insight into the situation just before, during and after the explosion and our footage was found valuable by the local investigators. We were happy to provide them with our CCTV footage as well as witness statements in support of their ongoing investigation. 
While this was quite a stressful day for our guests, crew and shoreside personnel, our procedures kicked into high gear.  Thirteen guests visited the medical facility as a result of the explosion and we are happy that we did not have a higher number of guest injuries.
Prior to joining Royal Caribbean in March 1998 my career onboard ships ranged from fishing vessels at the age of 19 to Coast Guard ships, Cargo ships and Oil tankers as well as Cruise ships. Given the dynamic environment we operate in, we have to be prepared for the unexpected and we are well aware that on calm and routine days we are only a phone call away from a situation that might require our immediate attention and support. Whenever we get a call of an emergency from one of our ships, our Shoreside support efforts are mobilized and at times we do experience an adrenaline rush as the emergency response efforts kick into high gear. 
The ship personnel are on scene and living the experience while we are in our offices many miles, and some cases, several time zones away trying our best to assist.  In these situations, I always find it important to remember my past career, and try to put myself in their shoes in order to respond appropriately and efficiently, and provide the right level of support. 
In closing, on behalf of Adam and myself, we would like to take this opportunity to thank Captain Arnolf Remo and the rest of the Independence of the Seas crew on an emergency situation well handled.  While we continually work to prepare, train and drill our shipboard and shoreside staff to be ready for such situations, but all situations are unique in nature and require some quick thinking and creative response.  I'm sure many of you have experienced emergency situations and we never know how we will react, but I think we can agree that if we all reacted to an emergency situation as well as the crew of the Independence of the Seas and the Gibraltar Authorities we would be proud of our response.