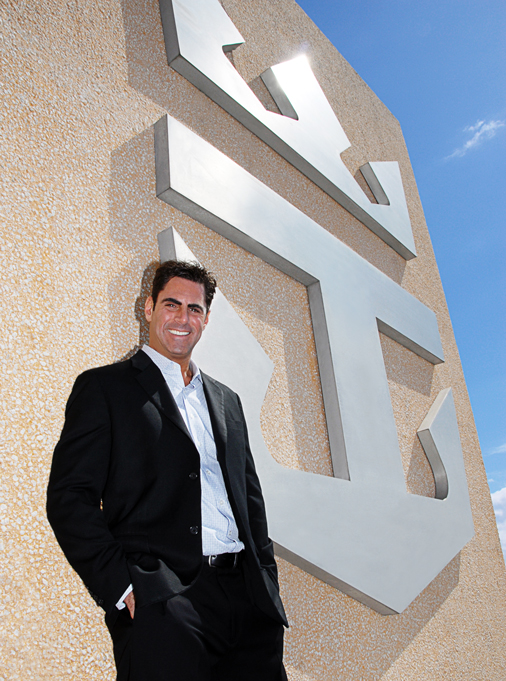 One of my favorite job responsibilities is to make sure my team of Certified Vacation Planners are always aware of the outstanding vacation experiences Royal Caribbean International offers. And this includes the amazing destinations we visit throughout the world on our fleet of 22 ships. My name is Ken Muskat, and I am the Vice President of Consumer Outreach. Our guests have a variety of ways to book their cruise vacation based on what is best suited for them. Whether you choose to book through a Professional Travel Agent, through our website or through our team of Certified Vacation Planners, it is our goal to ensure all offer the guidance, professionalism and expertise you expect.
As a result, I like to take advantage of the fact that I can vacation on the best cruise line in the world, and bring my experiences back to my team so they are trained on the most up to date information and can pass that along to their customers. Most recently I sailed on Liberty of the Seas for New Years. This five-night cruise departing from Ft. Lauderdale visited our private beach destination, Labadee, and one of our newest ports of call, Falmouth, Jamaica. I was so excited about this cruise because I had never been to Falmouth, and while I have visited Labadee many times, there was a host of new offerings that I had not experienced and was very much looking forward to.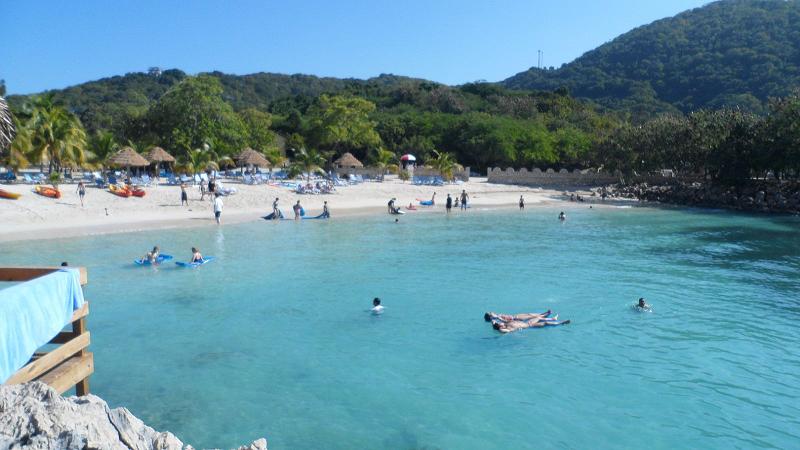 Falmouth was incredible and offers a huge variety of shore excursions that leverage its unique positioning between Ocho Rios and Montego Bay, Jamaica. But what I wanted to spend my time writing about is our private beach destination of Labadee. I call it the "Caribbean's Best Kept Secret" because you'd never have the opportunity to experience it unless you sailed with Royal Caribbean. It is by far one of the best Caribbean ports I have ever been to. Many people, especially experienced cruisers, think once they have seen one private beach they have seen them all. But Labadee offers experiences and views that you will not find at any other private beach destination.
I don't know about you, but when I go on vacation I don't mind spoiling myself some. I took advantage of the new private cabana offering on Labadee and all I can say is WOW. There are 20 cabanas in Barefoot Beach which are available to suite guests to reserve. The Concierge onboard the ship will contact suite guests to see if they would like to purchase a cabana. If there are remaining cabanas left after the suite guests are contacted, they are made available for anyone else to purchase.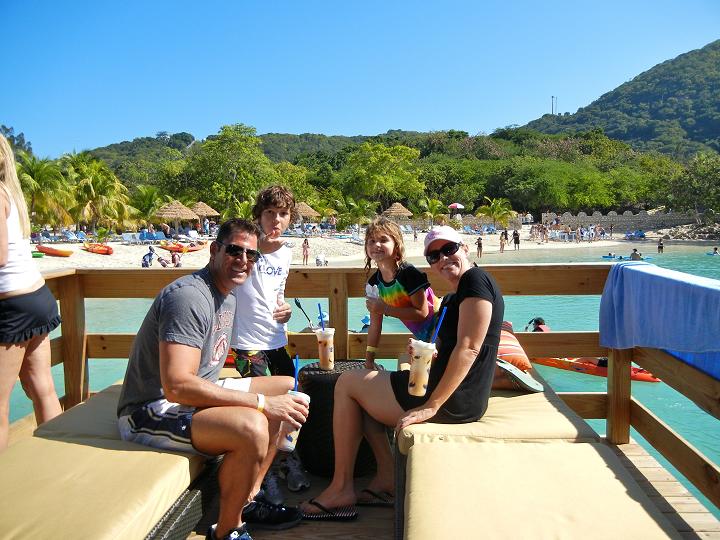 The rental fee for the day includes the cabana (complete with fan, cushioned lounge chairs and coolers of water), floating beach mats, a private lunch buffet area, use of towels and a personal cabana attendant. This completely blew me away and I can't stress enough how worth the money this is. The attendants truly deliver the Royal Advantage with outstanding service and cater to your every need. Due to the popularity of the cabanas, we are adding additional cabanas on Nellie's Beach and they will be available to reserve online starting with sailings on or after January 16, 2012. Oh, and did I forget to mention the limo service they provide? Well, beach limo that is. If you need to go anywhere they are happy to drive you around in golf carts.
After getting settled in our cabana, we immediately went to do the Dragon's Breath Flight Line which is the Caribbean's longest zip line over water. The staff does a great job teaching you the proper way to zip line and even have a practice course to complete before you head up the mountain for the real thing. The ride up the mountain is an experience itself, but once you get to the top it is simply breathtaking. The ship is in the distance and you are overlooking the entire of Labadee. When you stand on the ledge about to go, it is this overwhelming feeling of OMG – but once you push off, it is like you are bird flying through the air without a care in the world. As you come toward the end of the zip line, the ship's photographer is there to take a photo of you and you'll want to buy this for the memories.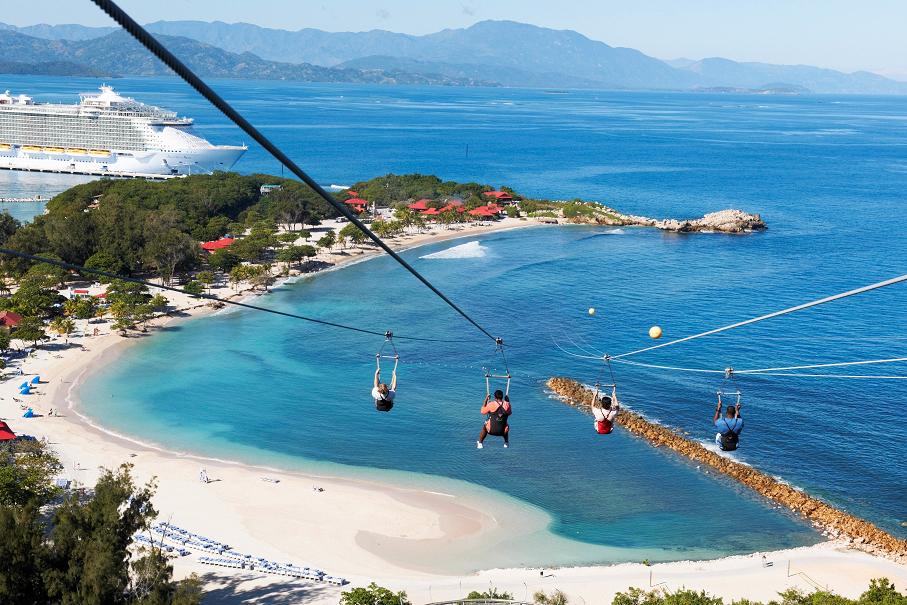 But wait, there is still more. We had one more thing to do before relaxing in our cabana and that was the new Dragon's Tail Coaster. This is an alpine roller coaster that was recently built and I had never experienced it before. I didn't know what to expect, and I was not disappointed. Labadee is very mountainous and full of foliage. This coaster takes you up through the mountain as you click, click, click up the track, and then you simply go flying down the mountain with twists and turns that even had me screaming with excitement. Now granted, you control the speed of your car, and being the fast driver I am everyday on I-95, I figured I'd keep it full throttle. At 40 miles per hour, I had a blast. We all got off the coaster and got right back in line to ride again. Finally we made our way to our cabana to enjoy nothing but relaxation for the rest of the day. The private lunch area is great and the frozen drinks (delivered by our cabana attendant) were plentiful. The stairs from the cabana went right into the water where we just soaked up the sun on our floating beach mats. This was truly heaven (and much deserved because we work pretty hard at Royal Caribbean). The Labadee experience is great for all ages and for those of you who have never visited, trust me, you will be pleasantly surprised and hooked from the moment you step off the ship. Speaking of that, I forgot to mention that a dock was built at Labadee two years ago so there is no need to tender anymore!
This is just a sampling of what Labadee has to offer, and I hope you can experience it for yourself in the very near future. I am heading back in March of this year and already counting down the days.