Hi my name is Lauren Ledford. This summer I was a social media intern, or "low woman on the totem pole" in the Royal Caribbean International Marketing Department. My various responsibilities included bringing my bosses' coffee every morning, making copies, and waiting on my superiors hand and foot. I mean that is the job of an intern right?
I am writing to say that all of those common intern preconceptions can be thrown out. Royal Caribbean gives college students, undergraduate and postgraduate an awesome opportunity. The Emerging Leaders program allows these students to not only gain insight into a large global corporation but also to get a look into a company culture that is passionate about their product.
This year the program received a total of 1,500 applicants, 66 of whom were accepted into the program and placed in various departments throughout the organization. The Royal Caribbean intern portal outlines the program requirements and has a list of departments with openings. Human Resources (HR) then places you in a department based on the information on your resume, past experiences and interests.
I'm not here to give a plug to the intern program but to tell you my story: The Life of a Royal Caribbean intern.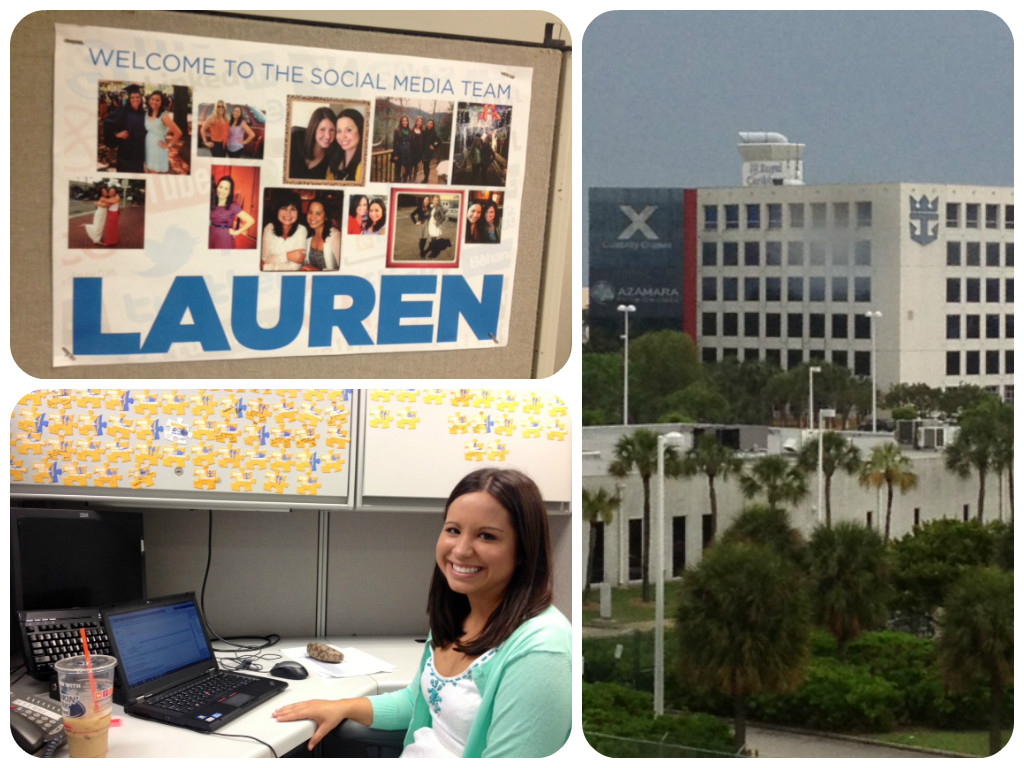 I have been lucky enough to grow up in a family full of frequent cruisers. At age 8, I went on my first cruise with my parents and grandparents and upon boarding the ship I was in total shock. It was Royal Caribbean's Monarch of the Seas (which was a baby compared to Allure and Oasis), but at that time it was the biggest thing I had ever seen. Over the years I continued cruising on several different cruise lines and ships. But, it was that first cruise that will always remain my favorite.
Flash forward to my senior year of college. Summer was just around the corner, and with plans to graduate in December, I knew that I needed to secure one additional internship. From a Google search I discovered that Royal Caribbean offered a summer internship program. I applied and about a month and half later, I received a phone call saying they were interested in my application. After a couple more phone calls and delivering a small assignment I was told that I would be interning with the social media department. A few weeks later with the help of HR, I found roommates that were also summer interns and an apartment.
When I arrived in the office the first day, I was handed a laptop, given an employee badge and walked to my cubicle that had been decorated with a poster welcoming my arrival, (of course this made me feel important). I was introduced to my manager, the Senior Social Media Producer. She was very helpful in welcoming me into the company by setting up "meet and greet" sessions with different team leaders in the department. This provided insights into how they all work together to get things accomplished. My manager wanted to ensure that I was making friends in the office so she delivered four dozen cookies to my desk followed by an email to the entire Marketing Department introducing me and stating if anyone wanted a cookie they needed to visit me.  Who knew that chocolate chip cookies would be such a conversation starter?
As the seven weeks progressed, I was fully engaged in the company. I attended meetings with my team, sat in on conference calls and also got to attend various speaking engagements. I was given different projects throughout the summer that allowed me to work with my managers and other Marketing department colleagues. I also got the opportunity to have lunch with the VP of Digital Marketing, Jeff DeKorte. This meant a lot to me because even though he is busy he made time to sit down and ask questions about what I was interested in and my plans after graduation.  One of my favorite parts of the program was the intern breakfast every other week where speakers from different executive levels of the company spoke to us about how they got to where they are now and shared some interesting stories.  I found these sessions to be truly inspirational.
I spent the summer learning new ways to communicate.  I also learned new words used in Ireland.  For example when one of my roommates asked, "Can you pop the boot?" she was referring to the trunk of my car.  I brushed up on my Spanish since it is commonly spoken in Miami.  I learned that online chat and email are a great way to bug your coworkers with questions, and that the Royal cafeteria has great chicken salad sandwiches. But more importantly, I learned that this company is filled with smart and innovative people that truly care about their brand, employees, crew members and guests.  I don't know where my path will take me after graduation, but I know that I will always look back and remember how great of an experience this summer truly was.
I encourage you all to challenge yourselves and reach for new experiences because if you never try you will never find out what you are truly capable of. Apply for those jobs or internships with dream companies, travel to a place you have never been before and just discover yourself and the person you want to be. Thank you, Royal Caribbean, for giving me this opportunity.