Table tennis is a fantastic game and I have greatly enjoyed my eight years of once a week lessons from my instructor Juan Ly. There are so many advantages to the game that it's a wonder it hasn't really escaped its status as a basement game children play. I played constantly until I was 12 and then not again until I was 43. I'm very happy I started up again and wish I hadn't waited 31 years.
If you want to read more about the organized sport of table tennis, try the official website of USA Table Tennis – teamusa.org. According to the site, Parker Brothers trademarked the name "ping pong" which explains why the sport must be known as table tennis today. The web site says there are 285+ clubs in the U.S. so there may be one near you. In other countries it's even more popular. When I play on the ships or at cruise industry events against all comers, I almost always find the players from other countries are tougher to play.
You can become reasonably proficient just rallying with someone. Just doing that is worthwhile as an anti-aging remedy, in two senses. First, because the hand-eye coordination exercise is good brain food. Second, because the game happens so fast that the brain also benefits from the processing of strategies and tactics at such high speed.  Despite the speed and the aerobic demand table tennis presents, I find it to be quite relaxing. When I'm playing with Juan, there is nothing to think about except the hitting the ball and preparing for the next shot.
Although I am getting to the point where I probably could play tournaments without embarrassing myself, my running takes priority. Nevertheless, recently I had two memorable table tennis experiences in two days, both charity related.
On Allure of the Seas, we hosted a fund raiser for the Israel Center for Disabled Sport.  This idea apparently got going when someone read about my table tennis interest. One thing led to another and here I was (along with Juan Ly and also Adam Ceserano of the Florida Caribbean Cruise Association) playing an exhibition against two remarkable Israeli athletes with disabilities. One was a 16 year old girl who was born paralyzed and is one of the top female wheelchair players in Israel.  She hopes to represent her country in Rio De Janeiro at the 2016 Paralympic Games.  The other was Danny, a 26 year old male player. They are both way better than me and it was incredible to see them in action.  Even Juan had to work hard to beat the young lady. The event raised about $50,000 for the ICDS.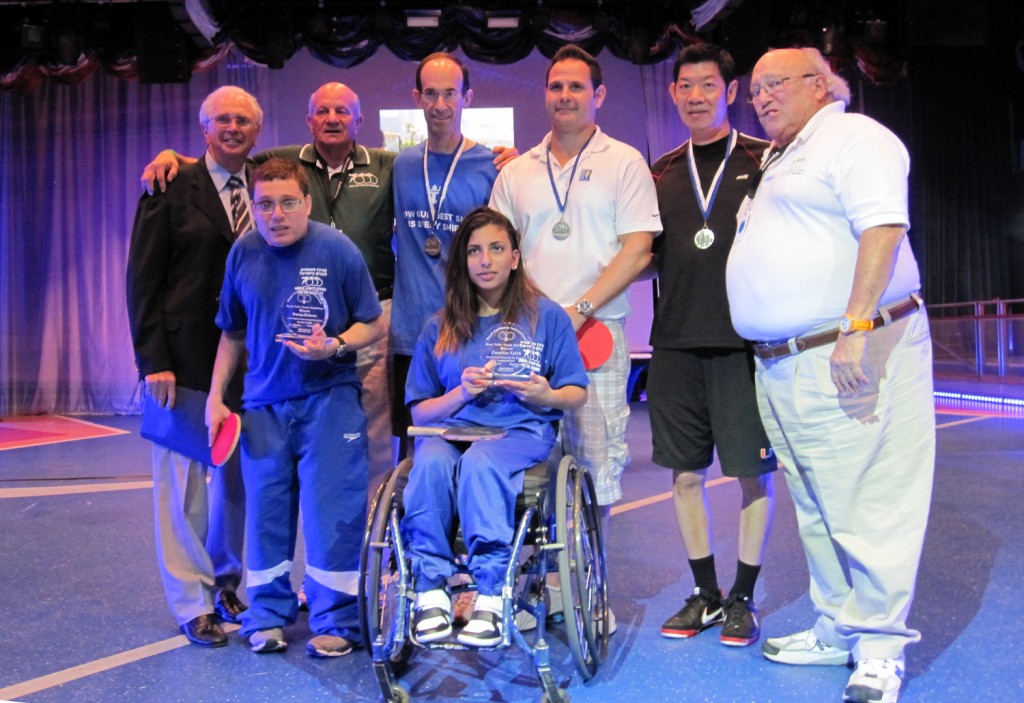 The next night I played with Juan in the Jason Taylor Foundation annual JT Ping Pong Smash doubles tournament. In prior years I had been paired with a Dolphins cheerleader, a policewoman and a retired Dolphins defensive lineman.  Those efforts produced a series of first round exits. Playing with Juan was of course an entirely different experience and we won the tournament. The final was a very competitive affair and we had to fight off four game points in the second game before winning in overtime. One aspect of that game reflected what a great sport competitive table tennis can be.  I was not able to handle the spin serve of the better player on the opposition, however at 10 – 8 (game point) I made just enough of an adjustment to keep the return on the table and we won the point. My adversary noticed I had made the adjustment and in overtime he reversed the spin and I missed it. Although we won the game, I was impressed that he had done that and we discussed it afterwards.
I encourage all of you to give table tennis a try in the new year.