We have our plan for 2011.  Of course I cannot blog about what is in the plan (stronger! higher! faster!) but I can remind myself and the readers about some of the exciting things that lie ahead in 2011.
First, following Allure of the Seas' highly successful introduction, Royal Caribbean now has 22 ships in service throughout the world scheduled to deliver the Wow to over three million guests in 2011.  Our satisfaction ratings are strong and we are fully engaged every day in learning how to serve a completely global mix of guests better and better.  Our ships, service and destinations are what led us to declare the Royal Advantage a few months ago.  We look forward to adding to the Royal Advantage as often as possible in 2011 and beyond.
It's particularly pleasing that our loyal Crown & Anchor Society members have reacted so positively to the program changes we made in 2010. As I have written here from time to time, we look forward to making the Society even more attractive in 2011.
I look forward to another year of working successfully with travel agents in the U.S. and around the world.  Almost every major travel agency group in the U.S. announced Royal Caribbean as their Cruise Line of the Year during their fall conferences.
We are all excited about the revitalizations that will take place next year.  The features we will add to the still-new Freedom of the Seas and Liberty of the Seas and the extensive facelifts we will give to Radiance of the Seas and Splendour of the Seas will make the Royal Advantage even more obvious on those ships. 
Falmouth, Jamaica will (finally) come on line as a new destination in the first quarter of 2011.  As far as I know, our Falmouth project has been the largest infrastructure development project in the Caribbean basin in recent years.  Our guests from Oasis-class and other ships will be able to choose from shore excursion possibilities from Ocho Rios to Montego Bay.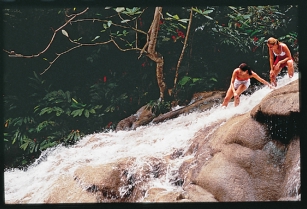 Our offerings in Europe next year are a remarkable step for Royal Caribbean.  With Liberty of the Seas in Barcelona and a total of eleven ships in the region during the summer, we will have more capacity in Europe than any other cruise line.  Remember, if you want to see the Mediterranean and have reliable air conditioning in your hotel room, Royal Caribbean is the way to go in 2011.
There's a lot more I could say; from improvements to our web site to a second ship in Australia (Radiance), to possibly another Royal 5k or two.  But it should be pretty clear by now that three or more nights on a Royal Caribbean ship in 2011 is well worth considering.  Better yet, well worth reserving so you can begin selecting your specialty restaurants, spa appointments and excursions in advance of your cruise.
There are 30,000+ men and women who work for Royal Caribbean International, so there are at least that many reasons for me to express my appreciation for the efforts and accomplishments of 2010.  And a special thank you to my leadership team: Marta Barrios, Lisa Bauer, Michael Bayley, Diana Block, John Fox, Vicki Freed, Eleni Kalisch, Craig Milan, Ken Muskat, Betsy O'Rourke, Barbara Shrut and Bill Wright.  Happy Holidays!