Labadee is a wonderful destination and it keeps getting better and better. I wish I could visit more often. My colleague John Weis, who has posted many guest blogs in this space, and his team in Private Destinations have done a fabulous job in recent years to make Labadee more and more special. Here are two of the latest enhancements:
The Labadee cabanas have been a huge hit and so we have increased the number. Our initial offering at Barefoot Beach club was 20 cabanas and we are in the process of completing four more over the water cabanas there. In addition to regular and over the water cabanas, we now offer 3 cabanas that are wheelchair accessible, using our beach wheelchairs. In addition, there are 16 new cabanas at Nellie's Beach. So there are now 40 cabanas available for rental at Labadee.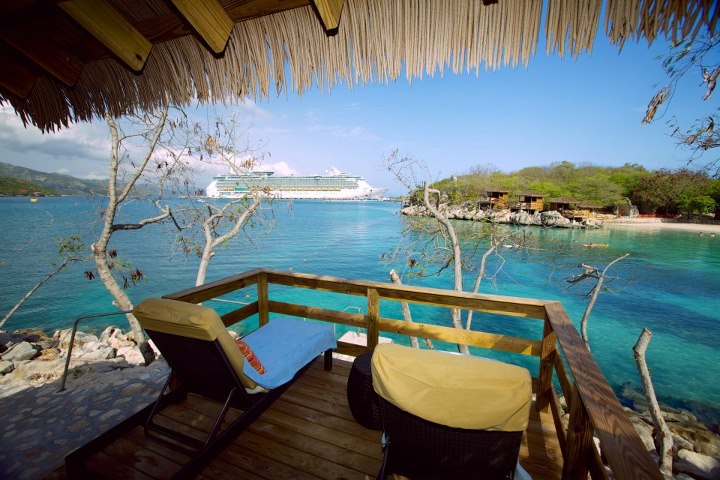 Dragon's Splash Waterslide - Our newest attraction in Labadee is a 300 foot custom built stainless steel salt water slide located at Columbus beach close to the Arawak Aqua Park. The slide officially opened on July 9th when Oasis of the Seas called at Labadee.
To see images of what else Labadee has to offer, please click here.
Note 1 – I've been spending an unusual amount of time at Marlins Ballpark lately. Not to watch the Miami Marlins play in their new stadium but to receive physical therapy on my injured right calf. The University of Miami has a PT facility inside the stadium as a part of UM's relationship with the Marlins. It's pretty cool being in the stadium when it is completely empty. The main reason for going there is a very fancy piece of equipment known as the Alter G anti-gravity treadmill. You can look it up on the Web if you're interested. You can set the machine so that it takes anywhere from 0 to 100% of your body weight. By reducing the percentage of your weight that you're bearing, the machine allows you to walk or jog with a normal gait pain free even if you simply could not do so on your own. I've had a very positive experience there notwithstanding the frustration of being on injured reserve.
Note 2 – I did attend my first game recently, naturally when the Phillies were in town. This game was the annual charity auction to benefit the Miami Marlins Foundation which gives money to support education in the community. The Marlins' television play by play man Rich Waltz spearheaded the event from the Clevelander Bar behind the left field fence. Royal Caribbean donated a "Boat Bash" all day party for up to 50 people on a day when either Oasis of the Seas or Allure of the Seas is in Port Everglades. This sponsorship entitled me to spend one inning live on Fox Sports Net with the announcers. Tommy Hutton is the Marlins' analyst and I was a big Tommy Hutton fan as a Little League first baseman in Philadelphia in the 1970's. Right before I went on air, the high bid for the Boat Bash was $3,500. I didn't think that was good enough so I asked Marlins' President David Samson if he would match a bid of $5,000 in which case we would give two Boat Bashes, one to him and one to the winning bidder. He said yes but only for $10,000 rather than $5,000. Even I thought that was ambitious but with seconds to spare after the end of the game someone called in a $10,000 bid and sure enough we had transformed $3,500 into $20,000 for charity. And Cole Hamels threw a shutout for the Phillies!