Guest blog post by Heather Ferman 
Have you ever had to decide whether or not to volunteer for something new or different? I'm here to tell you that raising your hand can pay off.
In September 2002 my husband, three children, my in-laws and I cruised on Adventure of the Seas.  As Diamond Plus level Crown and Anchor Society members, we have always enjoyed Royal Caribbean; however this particular cruise was a top-tier experience for my middle child, David Ferman, who was eight years old at the time.
One night during the cruise, our entire family went to see a show in the theater that featured the comedy-juggling duo Wilde and Haines.  Sean Haines asked for a random child volunteer, and my outgoing son, David, quickly raised his hand and was selected by Sean to come on stage.
Once on stage, Haines explained to David that he was about to take part in a stunt where two 16-pound bowling balls and a raw egg would be juggled over his body.   At the successful conclusion of the stunt, Haines remarked, "Hey Mom & Dad, we're taking your kid on the road."  The audience laughed and young David received a standing ovation.
The experience had a profound effect on David as he thought Haines' comment was a serious offer for a life on the road in show business. When David returned home he taught himself how to juggle in anticipation of the big call from Haines.  The call finally came, but it took a little longer than David expected.  In fact it was 10 years later.  But I'm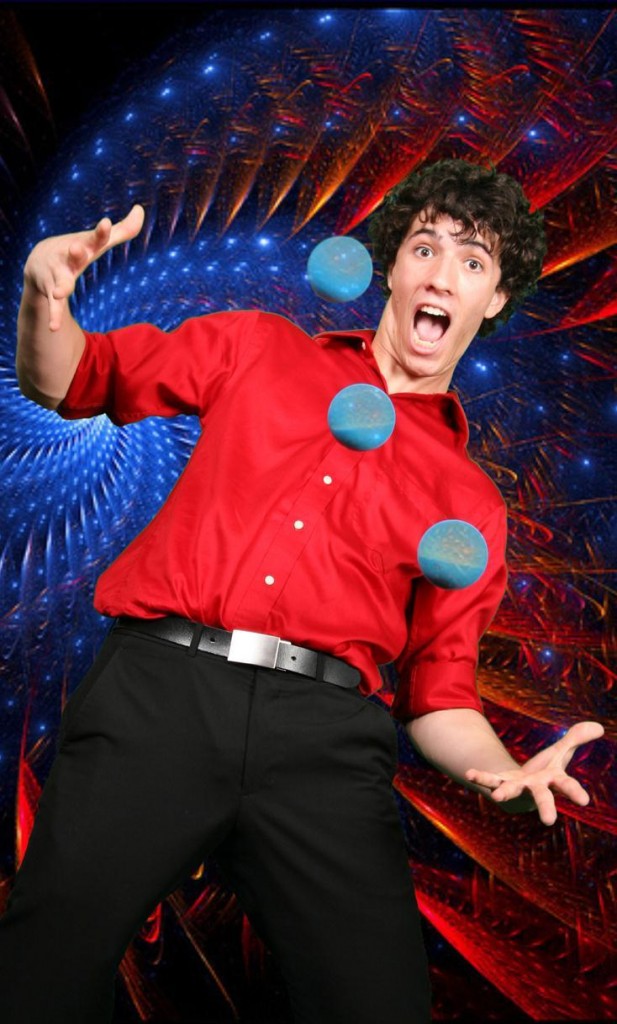 getting ahead of myself.
David was soon hooked on juggling and rapidly improved his skills in the months after the cruise. In a few years he was very good.  In 2006 David attended his first juggling convention, and by 2008 he earned a spot to compete in the finals of the International Jugglers' Association Festival junior stage championships.
As David tasted success, he started to feel that he could possibly make it one day as a cruise ship juggler.  In 2011, David had a breakout year in which he won the International Jugglers' Association Junior Stage championships and reached the pinnacle of success in the juggling world by setting the world record for most balls juggled (10 balls for 26 catches).
Around this time I suggested to David that he reach out to Wilde and Haines and tell them what being in their show had done for him.  David made some attempts to find Wilde and Haines and told other jugglers of his story.  Eventually a friend of Haines posted the video of eight-year-old David on Haines' Facebook page with the message "This kid is performing in Key West. He was a volunteer in your act and that inspired him to get in the game. He's a world record holding juggler now!"  Shortly after that, in the fall of 2012, almost exactly 10 years after their initial meeting on stage, Sean Haines finally called David.
The timing was fortuitous again, as now David was seeking to test his skills on the TV show "America's Got Talent".  David and Sean teamed up to create David's initial act, the Molotov Cocktail Balance.  This death-defying stunt wowed the celebrity judges at David's audition in Chicago and he moved on to the Las Vegas round. In Vegas, David juggled three 500,000 volt stun guns on a 7-foot unicycle, surrounded by a ring of fifty more stun guns.  The judges voted for David to proceed to the live rounds at Radio City Music Hall in New York.  On August 13th of this year, David appeared live on NBC for his last performance on America's Got Talent.   This completed David's third flawless set of the summer on national TV. After America's Got Talent is over, David and Sean hope to partner together and finally go on the road as a new comedy juggling team.
So the next time you are on a Royal Caribbean International cruise ship watching a show and the entertainer asks for a volunteer, raise your hand.  You never know what it might lead to.