We recently loosened the reins a bit as it relates to the tricks guests are permitted to perform on our FlowRider® surf simulators.  You can always look forward to having a great time on the FlowRider while onboard our Oasis, Freedom and Quantum class ships, however in an effort to find the right balance between excitement and safety we had tightened up our rules in 2012.  Maybe a little too much, we heard from a number of aficionados.  As of this summer, guests are able to try various types of fun tricks such as sitting, 180 degree turn, facing opposite direction, lazy boy, drop knee, drop knee 360, layback, boogie shuvit, baseball catcher, 360, skiing, show pony, rail slide, basic ollie, pop shuvit, heel side stall and the toe side stall.   If that sounds a bit intimidating to you (it does to me!), you may want to read this story by Xana-Kai Nash, a teenager who learned how to surf on our ships and is now a World Flowboard champion.
– Adam
———-
My name is Xana-Kai Nash and my 2008 family vacation on Liberty of the Seas changed my life!  One of the days the ship was in port my family remained onboard to check out the ship.  We watched the staff practicing on the FlowRider, a surf simulator located on several Royal Caribbean International cruise ships.  I didn't think I wasn't brave enough to try stand up flow surfing until a man with an interesting accent named Helmut, who I later found out was the Hotel Director, called me over and asked if I had completed my activities waiver.  After making sure that I was properly checked in, Helmut took my hand, and before I knew it, I was riding the FlowRider!  Within minutes we were both laughing as I, not so gracefully, landed upside down and flopped onto the feet of the ship's Captain.   I was 10 years old at the time.
Once I realized my passion for Flowboarding, my father who is a firefighter, my mother who is a teacher, and my brother, and I began taking all of our vacations on Royal Caribbean cruise ships.  This led me to becoming a Diamond Plus level in the Crown & Anchor Society by the age of 14.
My family quickly realized that in order to spend time with me, they were also going to need to learn to ride, which they did.  The FlowRider is a popular activity onboard, so I spent a fair amount of time in line waiting for yet another chance to ride a wave.  I've even been known for skipping meals if necessary in order to get more time on the FlowRider.  There were many times when my parents would bring breakfast to me while I was waiting in line to ride.  I must admit that I met some of the most interesting people while I was in those lines, some of whom have become long lasting friends of mine.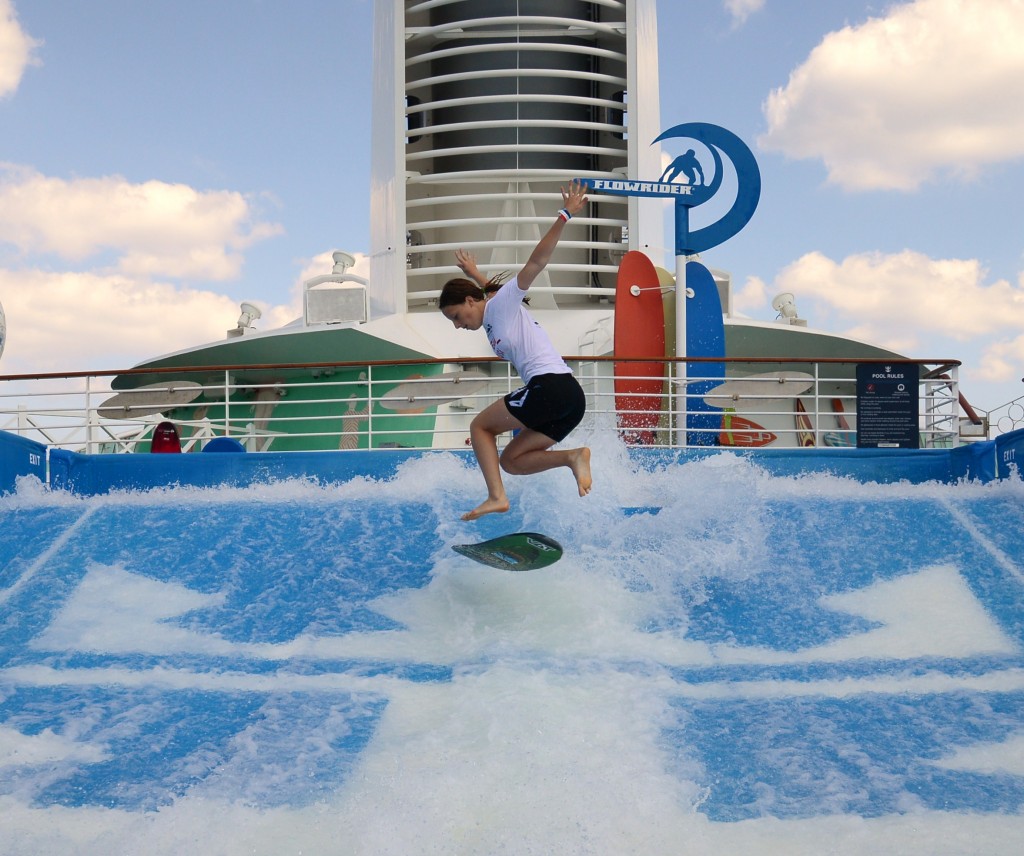 Everyone always asks me if I do anything other than Flowboarding on my vacations.  The truth is that I love the entire sports deck, teen activities, and of course, the Cupcake Cupboard.  My favorite cupcake flavor is Red Velvet, but every time I go on another cruise I discover a new flavor masterpiece that I have to try.  I suppose it is a good thing that I love to rock climb, play dodge ball, soccer, and volleyball.  And that's another thing that I like about cruising – there is always an activity going on that I can participate in.
I am now 15 years old and live on the west coast of Florida.  The closest FlowRider is over 4 hours away. My family has been incredibly supportive in many ways, including driving me four hours each way to training sessions.  Because of the vigorous training schedule and traveling required in the sport of Flowboarding, I have chosen to attend Florida Virtual School.  I am grateful that my former public High School allows me to continue playing soccer and run on the track team.
I am currently in the process of competing in the 2013 Carbon Flow Tour, which began on May 31st in Phoenix, Arizona to defend my National and World Titles throughout the summer and early fall.  So far this year I have won the 1st, 2nd and 3rd prime events in Phoenix, Jay Peak, Vermont and Montreal Canada.  I am on my way to the 4th prime event in California later this month.  In between school, training and competing I am also starting a non-profit organization that I named, "Support Young Women in Action Sports".
I have ridden on almost all of the Freedom and Oasis Class ships and can hardly wait for Quantum of the Seas and Anthem of the Seas!  Making friends throughout the world has been one of the best parts of becoming a Flowboarder.  Active flow riders become part of what we refer to as the "Flow Family".  If you'd like to get updates on my progress while I am on the 2013 Carbon Flow Tour check out this website.  I am so glad that the Royal Caribbean staff originally encouraged me to "board the wave", which began my journey representing my country and winning the World Flowboard Title for the USA.