Two weeks ago I gave a keynote speech at the Cornell School of Hotel Administration on our customer engagement strategy.  I enjoyed this opportunity for a number of reasons.  First, the Hotel School is the premier school of its kind in the U.S.  Second, my mother graduated from this school in the late 1950's when few women undergraduates attended. Third, it was the first Hospitality Research Summit and there was a lot of enthusiasm at the conference. 
While our customer engagement takes place primarily onboard the ships, my remarks and the questions from the audience mostly revolved around the growing influence of social media.  The online environment has completely changed the nature of our interaction with consumers in general, and our loyal guests in particular.  Only ten years ago, two-way interactions with even our most regular customers were limited to their time on the ships.  With today's communication portals the opportunities are nearly without limit.  We take this into consideration in virtually every program, product and service, that we brainstorm and then either implement or reject.  How we obtain feedback, how we launch new ships, how we convey new programs – all of these things have social media at their heart today.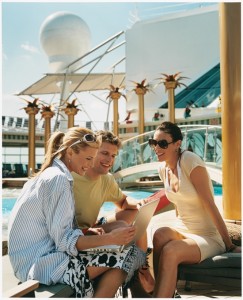 So, it follows that I should ask what you would like to read about in this blog beyond the obvious topic of Allure of the Seas, more Allure of the Seas and even more Allure of the Seas.  Don't worry, Lisa Bauer is on her way over and has her laptop with her to keep you amused as the ship makes its way to Port Everglades.  In any event, I look forward to your suggestions as always.
Personal note – I have started doing 5:30 a.m. sessions with a personal trainer on top of my other athletic pursuits.  My trainer is both a physical therapist and a strength and conditioning coach. He is very capable and I think he is helping me. An alternative hypothesis is that he is killing me.  It's remarkable how much work one can do in 30 minutes without touching a machine.  I don't know yet how this will specifically make me run faster, but I was pretty happy about the whole thing the other night when I ran my 6th 800 meter interval in 2:45.  If I suddenly stop writing the blog you can pretty much guess what happened.