We are ready to announce additional enhancements to the Crown & Anchor Society.  We are so enthusiastic about these changes that we wish we could have introduced them last June with the prior wave of enhancements.  Many of the new improvements required significant work on our computer systems and as we all know that takes time.  But we are ready now and so I am asking Lillian Murphy, our Vice President for One to One Marketing, to introduce the enhancements to you.  We love our Crown & Anchor Society members and we are pleased to move our recognition of our members' loyalty forward again.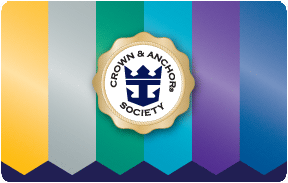 Guest Blog by Lillian Murphy, VP One to One Marketing:
Well the day has finally arrived and we're so excited to be sharing even more news with you today. Adam had noted in a December blog when speaking about the plans for 2011 that we were going to build on the new Crown & Anchor Society benefits we launched in June of 2010.
First let me address why we are making more changes. Our loyalty program is similar to relationships we have with our families, and we do consider our loyalty program members family. As we know the best relationships are built on listening and responding to feedback, and this has led us to the second phase of our enhancements which is about recognition of their value to Royal Caribbean.
There are really three core topics. The first is relative to how our members have an opportunity to achieve their tier level status, the second is about two new tiers of recognition we are introducing, and the third is about personalizing the experience that members have with us and offering choices in preferences, and a much enhanced website experience.
Let me spend a little more time on each of these enhancements.
We are transitioning how a member earns their tier status from 'cruise credits' to  'Cruise Points'.  The calculation is very simple – for every night you sail with us you will earn one Cruise Point, and Double the points when you stay in a suite. The more nights you spend onboard, the more points you earn. It's important to understand that all our existing Crown & Anchor Society members will continue to enjoy all of their current program benefits and status, plus have the opportunity now to advance to the next tier even faster than before. As a one time conversion benefit we have grandfathered everyone's status in the program.
Continued recognition of our members is important to us so we are introducing two new status levels, Emerald and Pinnacle Club. Emerald tier, which sits between Platinum and Diamond status, will provide all the current Platinum level benefits, in addition to some new benefits as they continue to make their way to the Diamond level. Benefits such as higher member savings on balcony and suite category staterooms and a personalized welcome gift delivered to their stateroom on every cruise vacation. Pinnacle Club members, who will now become our top tier program members, are being honored for their incredible loyalty to Royal Caribbean International and will be further recognized with all the benefits of the entire program plus complimentary cruises at certain Cruise Point milestones. I had the pleasure of meeting so many of these members on Allure's maiden voyage and know how special these members are to our family.
Members can now enjoy a more personalized experience once they log into their Crown and Anchor Society account. We wanted to simply provide our members information that is relevant to them. Members can now easily keep abreast of the latest news and offers that are available specifically to them and can establish custom settings for items such as upgrades if they become available, and for our Emerald and higher level members they can select their choice of a personalized in-room amenity.
I encourage everyone to click on www.RoyalCaribbean.com/CrownandAnchor to read all about these exciting enhancements and set your preferences.
Finally, to celebrate the incredible loyalty of program members, we are introducing a limited time offer: 'Bring a Friend' and receive $25 to spend onboard. Members will now be rewarded for introducing new guests to Royal Caribbean International for new bookings made between January 21st and April 30th, 2011. The promotion will offer a $25 onboard credit per stateroom to Crown & Anchor Society members when sailing with their 'first to Royal' friends or family, for up to five staterooms per sailing, depending on the length of their cruise. You can find out all the details about how to register for this promotion by following this link: www.RoyalCaribbean.com/BringaFriend.
I'd like to wish all of our Crown and Anchor members a wonderful New Year and hope to see you enjoying your benefits onboard.
Cheers!