If you go to RoyalCaribbean.com, and then scroll to the bottom to locate "Our Company," and select Environment, you can click on our updated 2009 Stewardship Report.  Admittedly, August 2010 is a little late to publish the 2009 version of the report, but if you knew the work that went on behind the scenes to prepare this edition, you would understand.  The work was prodigious.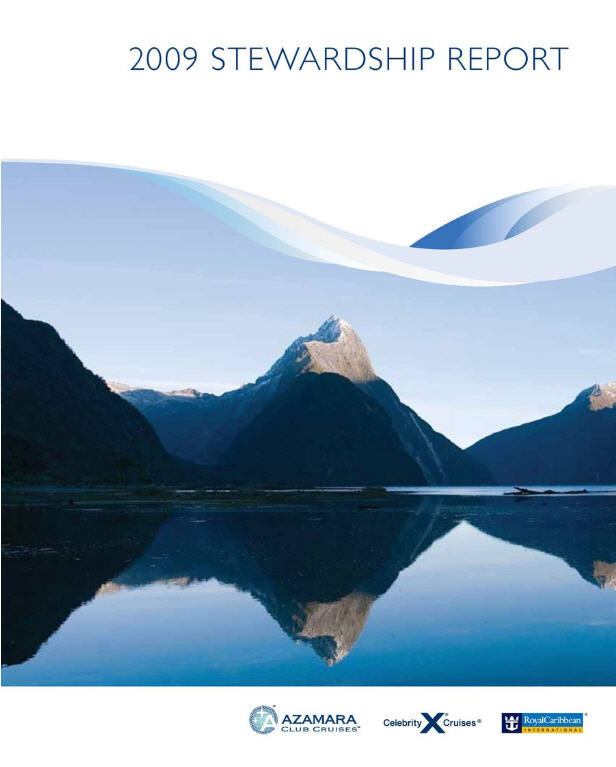 In addition to expanding the coverage of the Environment, we have added sections on Safety, Security, Medical and Public Health.  These critical areas of the business are the collective responsibility of all shipboard and shoreside management at Royal Caribbean Cruises Ltd.  Nevertheless, I must point out that Gary Bald, our Senior VP for all of these areas, and his extremely capable team who work on this terrain 100% of their time, have put together this report and I commend Gary and his team for their work. 
I don't suggest you read the report cover to cover, as I did during one of my vacations this summer to the chagrin of my family.  Go to the areas that are of most interest and check out the work we are doing.  Our intention is to be transparent in our thinking, in our actions, and in our results.  We are continuously working on initiatives behind the scenes, and there are many efforts underway that are not ready for specific mention in the report.  Having said that, there are a remarkable number of initiatives that are highlighted in the report, and we aren't aware of too many comparable reports in terms of comprehensiveness or detail. 
Ever since I took on operations responsibilities in 1999, I have been struck by the significant amount of time I spend on subjects in these domains.  Some elements of focus, such as our company-wide Save the Waves program, have been a core part of our corporate fabric for many years.  More recently, we have created a Sustainability Council within management that is hosted by Dan Hanrahan and me together with Gary Bald and Jamie Sweeting, our VP of Environmental Stewardship.  We have regular meetings with this council, including one last Friday.  If some of the projects we discussed with the council come to fruition, we will have exciting things to talk about in future editions of the Stewardship Report.
I encourage you to take a look at the report and let us know what you think.  Our goal is to continuously improve the report over time, which makes sense because continuous improvement in these areas is what it is all about.  I hope you have the same reaction that one of our summer interns had after working in Jamie's area this summer.  She was truly impressed at the dedication of our people to do the right thing. Kudos to our professionals who are leading the way forward every day.