Intro from Adam:
Recently I asked Maryann Delany to share highlights of her career in entertainment production. Since the blog post generated an exceptional level of feedback from our readers, we wanted to provide a similar entertainment "Day in the Life" guest blog, but this time from a performer's point of view.
_______________
I am Celia Mei Rubin and I'm currently onboard Liberty of the Seas as a featured singer. "What does that mean," you may ask (you may not ask, but I shall tell you anyway). My job entails playing Stephanie Mangano in the musical, Saturday Night Fever, singing in an aerial show aptly called, In The Air, singing in a daytime concert by the pool, Summer Breeze, and singing in a nighttime jazz set in one of the ship's lounges. I also sing a song in a parade and in the farewell show that is performed at the end of every cruise.
Our cast spent a glorious six weeks out in Hollywood, Florida, at Royal Caribbean International's production and rehearsal studios learning all choreography, script, and music for all of our shows. In the case of Saturday Night Fever, we also had hours of dialect coaching to get to grips with the Brooklyn accent. When we came onboard, we still had a five week rehearsal period, during which I overheard some of the crew questioning why, after a six week rehearsal period on land, we would need another five weeks of rehearsal onboard? The answer, to me, is blindingly obvious, but I was reminded that it may not be so for those who are not in my profession. Therefore, I'd like to take this opportunity to answer that question.
First, when a piece of work is created, whether it is literature, visual art, or theatrical spectacle, it is never, ever perfect. Ever. We, the artists, are always striving to make the clearest statement possible, and as there are infinite ways to say a line, tell a story, or paint a picture, the work is always changing and growing. Even after Saturday Night Fever has been open and running for six months, we will still have clean up rehearsals to tighten up choreography and directorial notes to ensure that we are still telling the story the way we set out to tell it. We may never reach perfection, but the strive for perfection (and, on a grander scale, excellence) is never ending.
Once an actor has learned all the lines, choreography, and music of a show, moving that show from rehearsal studio to stage is a gigantic step. There are set pieces to watch out for, props to start handling, costumes and wigs to begin wearing, and sound and lighting cues to remember. Why is all of this so difficult to figure out? Well, it's not necessarily difficult, but there is a lot of information to discover and learn. For example, during a run-through of Saturday Night Fever recently, I was dancing with my partner and as he lifted me above his head, my dress completely covered his face.   Subsequently, the choreographer reworked the dance lift so that my dress wouldn't cover my partner's face.  Seemingly trivial, incidents such as this show us where the action onstage can be made visually stronger, and the action offstage safe and injury free. Working with flying set pieces and floors that move can be a risk to people's safety if not every single person is aware of what flies in and out of the stage at any given time.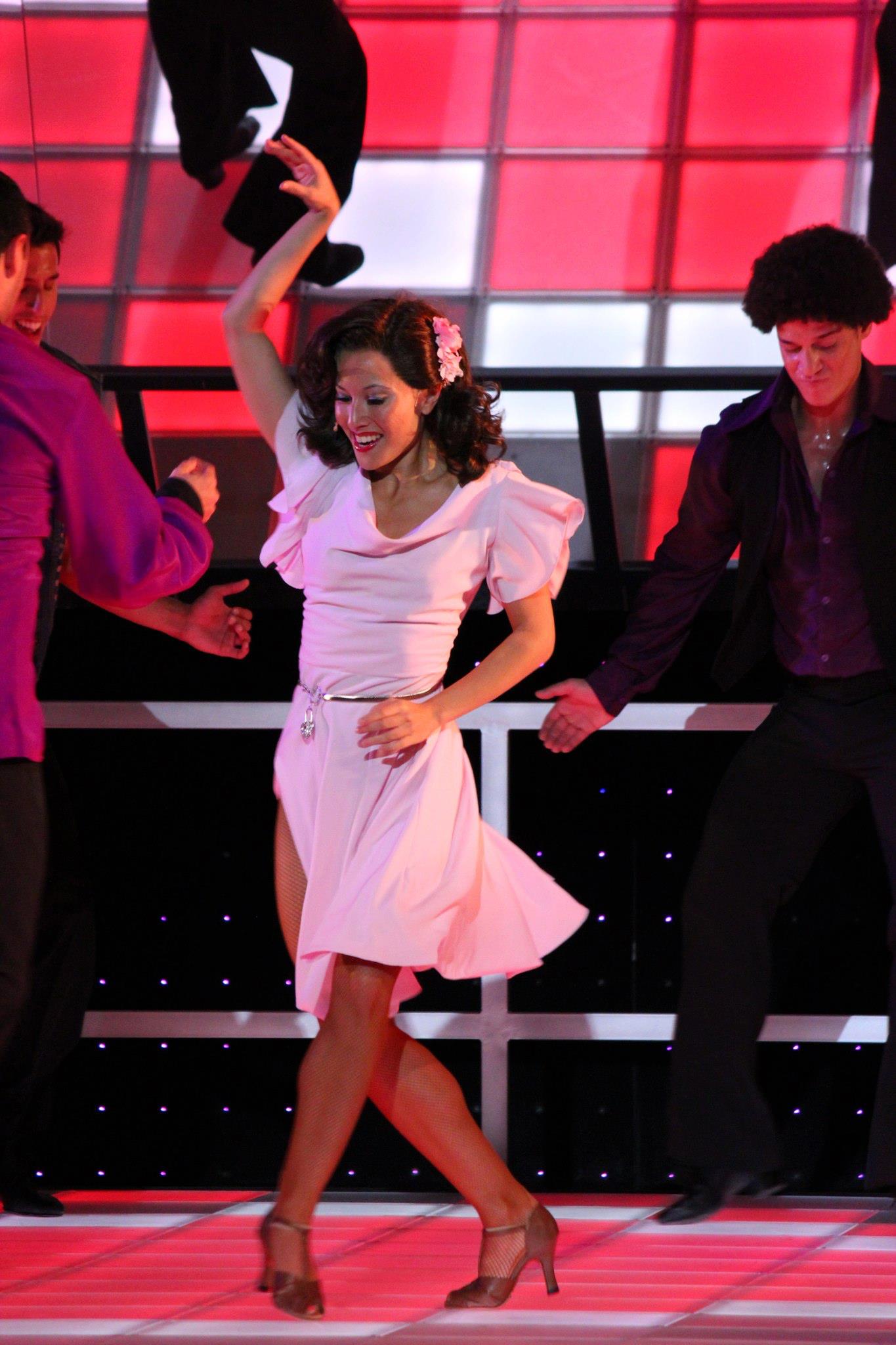 Having opened In The Air a week ago, we are currently teching (clarifying sound, lighting, sets, costumes, and props) Saturday Night Fever which we will open next week. I had my third costume fitting today, and I'm very happy to report that our wonderful costume team has made me look beautiful. Having costumes made for you from scratch is always something that sets my heart racing with excitement. The first time I tried the costumes on, they were humongous; the second time, still pretty baggy; the third time, they fit like a glove. My costumes have literally been sculpted to fit my body, and I couldn't be happier with the result. Stephanie Mangano is a sassy, sexy dancer, and feeling gorgeous when I walk onstage is imperative for me to give the character the confident edge she deserves.
I hope that this has provided a little bit of insight into our rehearsal process. Being part of one of Royal Caribbean's three Broadway-style shows (the two others are Hairspray on Oasis of the Seas and Chicago on Allure of the Seas) is something that I am very proud of. It is not easy to take a full Broadway musical, turn it into an 82 minute version and make it easy to follow for our international audience, yet still maintain a high level of dramatic integrity. Maintain it, we have, and our entire company is looking forward to opening Saturday Night Fever next week. Before that curtain goes up on opening night, though, we have choreography to polish, costumes and wigs to grow comfortable dancing in, and acting moments to time just right so that our audience leaves the theatre having laughed a little, cried a little and invested fully in these characters we bring to life. We can't wait to blow Liberty of the Seas out of the water with our boogie-inducing version of this musical.