Apart from our many Royal Caribbean 2013 goals, I am looking forward to the new year on a personal level as well.
The first half of the year will be the last with both of our children in the house full time.  In September, our son will become our 3rd generation Princetonian and the 4th member of the family to attend PU.  I am incredibly proud of David and while I don't look forward to him leaving the house, there is nowhere else I would rather have him be for the next four years than Princeton.  Meanwhile, the four of us will do as much together as we can before he matriculates.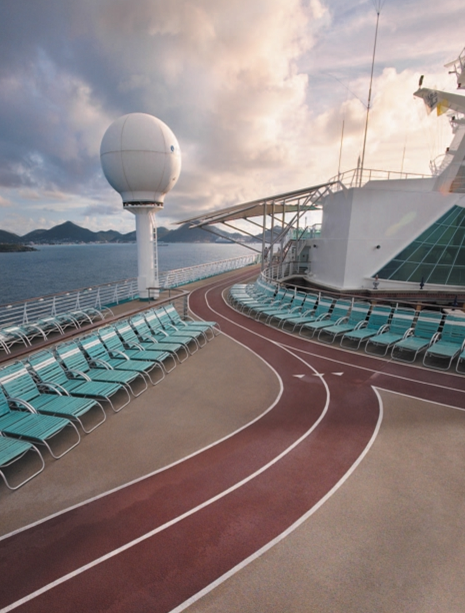 My leg injury in July made for a very different athletic year than the one I had had in mind.  Although I have been cleared for a while and have already attempted to compete once on the track, I am still in recovery mode.  I'm trying to learn from the whole experience and especially to be more precise about running technique.  After two years of twice a week in the gym my strength, flexibility and balance are all better than before I started.  Plus I've started a fairly strict eating regimen (hate to say diet since the last thing I need is to lose weight) that stresses everything natural and avoids lots of stuff that I really like to eat. All of this is a bonus for regular life but the main goal is to stay healthy and run faster.  Once again the target is to break 5 minutes in the 1500 meters at Master's Nationals in July right after the USCAA team competition in San Ramon, California.
Speaking of the USCAA, putting aside my injury which happened there, it's a great experience for our Royal Caribbean Cruisers and I encourage (and challenge!) CEOs from all industries to support a team at the event.  There are blue chip companies such as GE, ExxonMobil, Texas Instruments and Booz Allen that compete at USCAA on a regular basis.  While we only take a small percentage of our employees to the meet, the Cruisers are flag bearers for our company wellness effort.  Please consider it for 2013.
Apart from the above, I'll try to get to Maine as often as possible.  After 44 years of summer visits, we just went there over Christmas for my winter visit.  It's certainly different but just as enjoyable.  The lake happened to freeze during the three days we were there.  We visited friends whose kids were playing ice hockey in a small rink in the side yard.  In addition, we enjoyed a nice day of skiing at Sunday River, my first ski day in the northeast US in nearly 30 years.  A different world from Miami and one we're grateful to visit on a regular basis at any time of the year.