Hello and thank you to all who have said "Why Not take a look at this new blog?" I appreciate your time and hopefully participation as well. I'm not certain the world needs another blog but there is always incredible interest in Royal Caribbean International. If this blog can give useful insight into our world then it should be of value over time.
On April 29th, I participated in a live chat for the first time with a general market audience. Almost instantly there were over 300 questions. Clearly I (and my fellow leaders of our brand) need to make ourselves available online on a regular basis. This blog should serve as a forum for me to address overarching questions such as the Nation of Why Not campaign, Oasis of the Seas and Allure of the Seas, itinerary planning, our Crown & Anchor loyalty program, Swine Flu, etc., new products and services, our amazing people, etc. Of course, for those of you who are keenly interested in following the remainder of the construction process of Oasis of the Seas, our Chairman & CEO Richard Fain is blogging about that at OasisoftheSeas.com.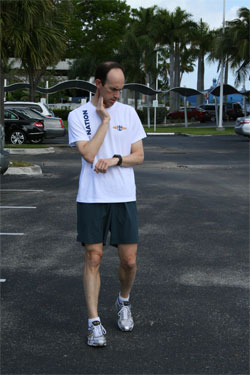 A CEO blog is typically a mix of personal and professional stuff. Your comments and questions will be the arbiter of that mix so I very much look forward to hearing from you. As it happens, I am writing my first blog on the day of the Miami Corporate Run. I have been working towards this day for two years and I definitely have that race day feeling. In fact, I was able to draft this first blog entry because I am looking to do anything and everything to keep myself occupied between now and 6:45 p.m. when almost 20,000 people start this crazy and even somewhat dangerous 5k race.
It's been a pleasure sitting down and writing my first blog post. Thanks to you all who have come to visit my blog. I encourage you to post comments, and look forward to interacting with you.