I grew up in and around the water.  Ever since I was nine years old it's been a big part of my life – lakes, whitewater, the ocean.  That's why I'm really excited about our new marketing approach, because its message, "The Sea is Calling", resonates with a basic human experience that is shared the world over.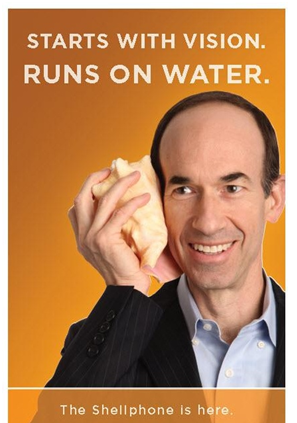 From a business standpoint, I'm excited about our new marketing concept because it came from a truly global and comprehensive process.  All the people who have cruised with us know that to take something as big, broad and complex as a Royal Caribbean International cruise experience and try to create a marketing platform out of that which will resonate in the United States, China, Brazil and Europe is quite an undertaking.  We were hoping to be able to do that in a way that included an emotional pull because we understand that for many of our guests, especially the ones that like to write to me, there's a real emotional tug there about how special it is, how great it makes people feel, how it ends up being one of the most important parts of their year. 
When we tested the concept of "the sea is calling" people and that Royal Caribbean is the way to answer that call, it didn't matter where you were in the world, people just understood.  There is something about the basic human experience that caused people to feel this emotional pull that the sea would like for you to visit it again and there is no better way to do that than with us.
Of course it's always challenging to come up with a simple, powerful, compelling concept that cuts through everything and stops somebody in their tracks.  We wanted to cut through the advertising clutter in the market place and make people think, "Yes, I am living a busy, stressed out life.  I never feel like I have enough time, but now that they said that to me, I would like to stop for a week and have that experience.  I would like to answer the call of the sea, and I'd like to do it with Royal Caribbean."
You may be wondering why we need a new marketing approach.  We are interested in a new way of expressing ourselves because we've changed.  We've been a great brand since 1970; we're a great brand today, that hasn't changed.  What has changed, and I know that our crew feels this no matter which ship they are serving on every day, is that we've become a global vacation provider.  Our guest mix consists of people from all over the world.  TheUnited States is still our number one cruise market, but it's approximately half of our business today.  For most of our history it was 90% of our business. We needed to develop a new way of attracting interest that reflected the brand we have become, while continuing to support the message that we are highly innovative, we do a lot of exciting things; we have incredible ships, incredible service and we visit amazing places.
You can get a glimpse of our new approach by clicking here.  If you've cruised with us, please consider clicking, the "Share Your Story" button at the bottom of the page and let us know how we answered it Royally.  In the meanwhile, we will continue to strive to "Answer it Royally" around the globe every day.